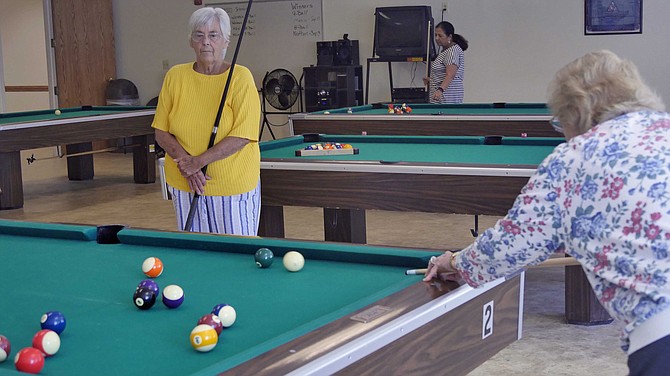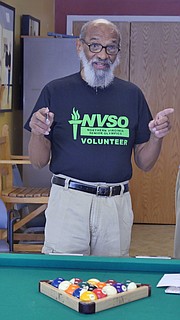 The room is silent except for the crack of the pool balls at Lincolnia Senior Center on Monday, Sept. 16. It is the women's 8-ball pool competition, one of 60 events hosted in 25 venues by the Northern Virginia Senior Olympics (NVSO).

James "Rip" Westray, event coordinator, lays out the rules. "No coaching by husbands or friends or you are automatically disqualified, although you may help your opponent if you choose." Also, he explains, to start the game you may choose flipping or lagging.
Diane Hill from Springfield is paired against Betty Roadcap from Ashburn in the 80s age category. Hill says she has been playing for more than ten years. "My husband took it up when he retired and I took it up, too, because I liked being with him." She says, "At first I was afraid of it."
Strategy? "I just feel lucky when I can hit the ball."
Hill and Roadcap choose flipping a quarter to begin the game. They will play the best two out of three. "Tails," Hill says. "But we forgot to call it ahead. Let's do it again."
The game begins with the snap of 15 balls, seven striped balls and seven solid and one eight ball. Steve Slinker, husband of one of the contestants explains, the first person to get all of her balls in the pocket and then the eight ball wins. "But if you accidentally hit the 8 ball first, you lose." Slinker says it is a good game for old people. "You have to stretch and walk a lot and be coordinated."
NVSO began Saturday, Sept. 14 at 8 a.m. with the 3-mile walk at Thomas Jefferson Community Center followed by the opening ceremony with the carrying of the Olympic Torch by Elease Brooks. The final events are badminton singles, doubles and mixed doubles at Northern Virginia Badminton Club on Saturday, Sept. 28.
In between are the softball hit and throw, swimming and diving, tennis and horseshoes, corn hole toss, bocce and the fastest growing sport, pickleball. If you'd rather sit and think, there is duplicate bridge, cribbage, Bunco, scrabble and jigsaw puzzle, a new game this year. Or you could challenge Doris Woodring, the ranking 109-year-old Mexican train dominoes champion (if you dare.)
NVSO is for seniors 50 years or older in the cities of Alexandria, Falls Church, and the counties of Arlington, Fairfax, Loudoun, Fauquier and Prince William. NVSO began in 1982 with about 80 competitors. In 2019 the registrants broke the record with the highest number of competitors in NVSO history.