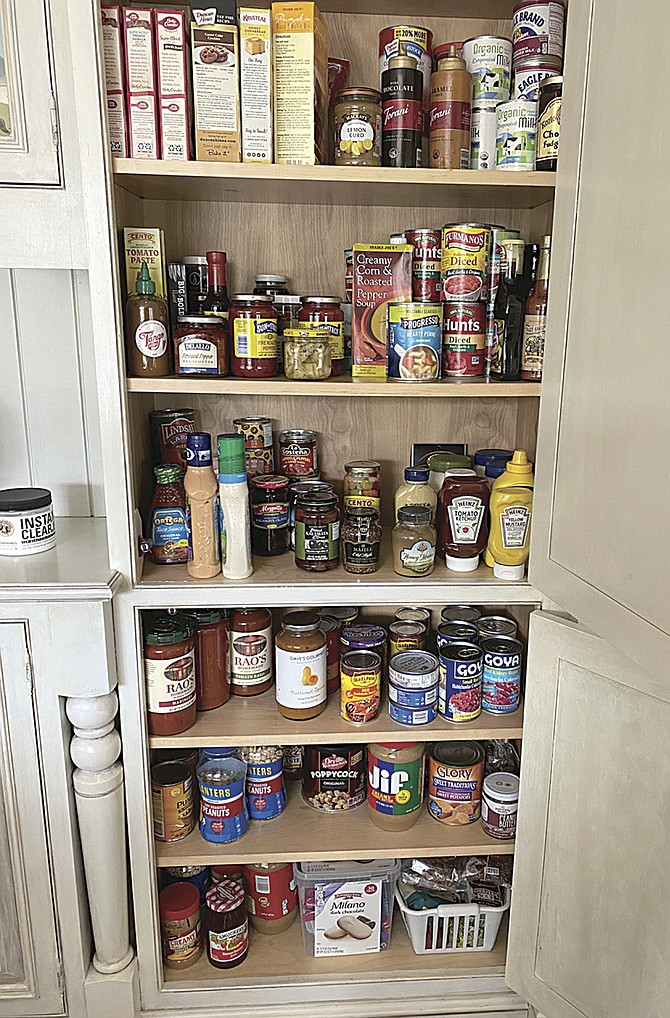 During this time of social distancing, more time spent indoors and fewer trips to bare-shelf supermarkets, stocking the pantry with a food supply that's meant to last for weeks has become the new normal. No longer is dining out an option. From potato chips washed down by soda to canned tuna paired with frozen broccoli, cooking and eating food that's on hand can throw an entire household into an unhealthy culinary rut.
"This is not a snow storm that will melt in a few days. This isn't the time to eat more brownies, drink more wine and munch continually because you don't have much structure in your life," said licensed nutritionist Janet Zalman, MS, of the Zalman Nutrition Group. "You can't say, 'I'm going to go back to eating healthy when this pandemic is over,' because we don't know how long it's going to last. Eating healthy and keeping our bodies healthy can make a difference in a crisis, especially for preexisting health conditions like heart disease, obesity and diabetes."
With a little creativity, it's possible to turn pantry staples into healthy, but savory dishes that can be soul-soothing during this time of heightened anxiety, says Terri Carr of Terri's Table in Potomac. "Stews, chilies and soups [made with] ground meats, potatoes, canned beans and tomatoes and stock or broth cooking in a slow cooker or on the stovetop for a couple of hours release aromas that are inviting and comforting," she said. "Pasta dishes can be very diverse depending upon what ingredients you have available. They don't have to be limited to typical pasta sauces. Adding lots of onions, a bit of garlic, parmesan and even greens at the end of cooking the pasta can be very tasty and healthy."
The right mixture of herbs and seasonings can turn ho-hum meals into flavorful powerhouses. "Pesto is a terrific change and several types of pesto are easily available at grocery stores," said Carr. "I add leftover chicken to pasta dishes to provide protein and use up leftovers. Adding sundried tomatoes gives a big flavor boost in pasta dishes."
Even with the limited availability of some foods, it's still possible to find key ingredients to stock a healthy pantry. "Whole-grain pasta such as brown rice or buckwheat is a complete protein and you can add beans and vegetables on top of that for a complete protein … option," said Teri Cochrane, author of The Wildatarian Diet —Living as Nature Intended, and founder of the Global Sustainable Health Institute. "Dried beans or canned, organic beans are very cost-effective. You can get a bag of dried beans for less than two dollars. You can sauté frozen vegetables and when you pair that with brown or wild rice you can have a full protein meal for almost pennies per person.
"There are no frozen vegetables right now, but fresh vegetables are still in the supermarket," said Zalman. "You can wash them with soap and water."
From savory to sweet, ideas for preparing that produce abound, says Zalman. "You can roast carrots," she said. "Apples are around. You can make baked apples if you want something sweet. Have it with yogurt or ice cream or almond milk and you have a dessert."
Instead of reaching for a bag of potato chips, Zalman suggest slicing and baking sweet potatoes that have been brushed with oil and sprinkled with a dash of salt. "You can make popcorn on the stove and add herbs, a drop of salt unless you have high blood pressure," she said.
When the butcher section of the grocery store is low on meat, it's time to think inside the can. "If you want turkey burgers, but don't have turkey use canned salmon and make a salmon burger," said Zalman. "It's delicious, inexpensive and healthy. "If you have kids you can make casseroles like a tuna casserole or a salmon casserole."
In fact, healthy cooking is a way to spend the extra family time we're given. "A good way to get families together in the kitchen is [making] things from scratch such as soups and breads or treats," said Cochrane.