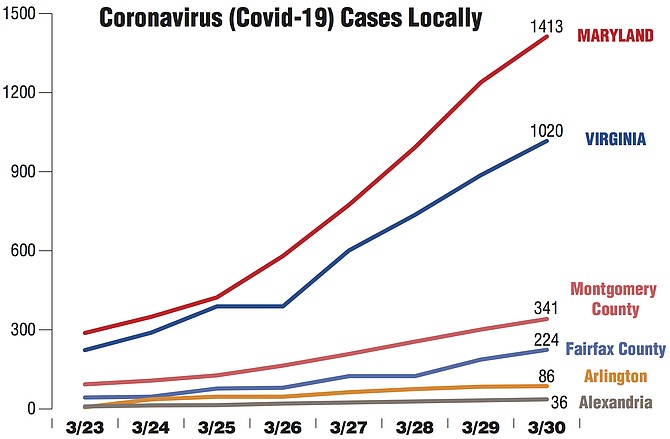 Monday, March 30
341 cases of COVID-19 in Montgomery County
1,413 cases in Maryland
15 deaths in Maryland due to coronavirus.
Governor Larry Hogan issued a stay at home order. No Maryland resident should leave home except for an essential job or an essential reason, such as obtaining food or medicine, seeking urgent medical attention, or for other necessary purposes. Marylanders should not travel outside of the state, and those who have, should self-quarantine for 14 days. See www.governor.maryland.gov. County Executive Marc Erlich said it was the right decision to mandate Maryland residents stay home.
County Health Officer Dr. Travis Gayles said the county is "scraping together" resources to open alternate test sites. "We are working with the State in terms of exploring some of our own venues here to supply those services," said Gayles.
Sunday, March 29
301 cases in Montgomery County
1,239 cases in Maryland
Saturday, March 28
255 Cases in Montgomery County
992 cases in Maryland
Friday, March 27:
208 cases in Montgomery County
774 cases in Maryland
Four Montgomery County Fire and Rescue personnel tested positive, both career and volunteer, none originating at work.
Staff members and residents tested positive for COVID-19 at three nursing homes in Montgomery County. Brighton Gardens on Tuckerman Lane in Bethesda enhanced infection control procedures after three residents tested positive for COVID-19. The residents, two men in their 80s, and one man in his 60s, are currently hospitalized. Residents are being monitored for signs of fever and cough and will be tested as needed per CDC testing guidelines. A staff member at Fox Chase Rehab and Nursing in Silver Spring and a staff member at the Fairland Center on Fairland Road in Silver Spring tested positive for COVID-19.
Hampden Lane Liquor & Wine store in Bethesda is temporarily closed after a county employee tested positive. The employee was not feeling well on Wednesday, March 25, and was sent home. The employee subsequently tested positive for the virus. Anyone who has visited the Hampden Lane Liquor & Wine, 4920 Hampden Lane on March 23 or 24 was advised to monitor their temperature and watch for respiratory symptoms. Gov. Larry Hogan's order deemed liquor stores as essential services as a part of the COVID-19 health emergency.
The Maryland Department of Health announced the state's fifth death as a result of COVID19: an Anne Arundel County resident. He was over 80 years of age.
Thursday, March 26, 2020
580 Cases in Maryland
164 Cases in Montgomery County, more than any other Maryland jurisdiction.
Any Montgomery County Restaurant that has a current on-premises can now sell not only beer and wine to go, but also cocktails and spirits.
Wednesday, March 25
127 confirmed cases in Montgomery County
423 Cases in Maryland
Gov. Larry Hogan announced an extension of Maryland public school closures until April 24, 2020.
In just one week, the Maryland Department of Labor received over 42,000 new unemployment insurance claims.
While the outdoor areas surrounding #MoCoRec Centers remained open, all playgrounds were closed. The county urged park patrons to practice social distancing and to not participate in team/contact sports or activities involving physical contact/sharing of equipment. Keep six feet between you and others.
"Essential Activities" means:
Shopping for supplies or services including: groceries, medicine, supplies needed to work from home, and products to maintain safety, sanitation, and essential maintenance of the home or residence;
Seeking medical or behavioral health or emergency services;
Caring for and/or transporting a family member, friend, or pet, who resides in another location;
Traveling to and from an educational institution for purposes of receiving meals or instructional materials for distance learning;
Engaging in outdoor exercise activities, such as walking, hiking, running, or biking;
Travel required by a law enforcement officer or court order; or traveling to and from a federal, state, or local government building for a necessary purpose.