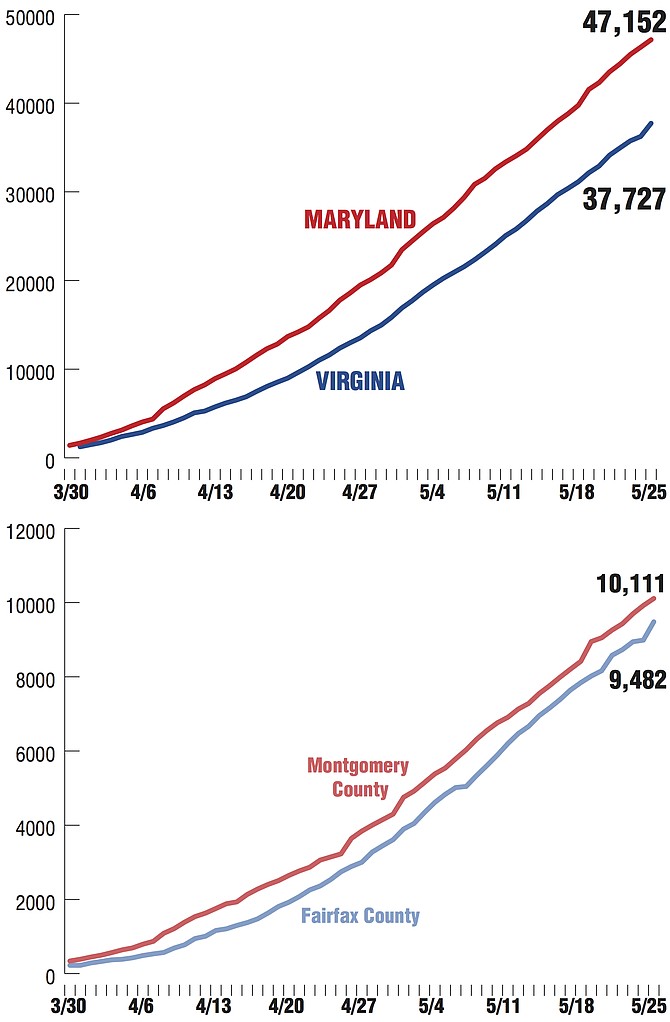 Monday, May 25
Potomac 20854 Cases: 244
Montgomery County Cases: 10,111
Maryland Cases: 47,152
United States Cases: 1,622,114
Maryland Deaths: 2,187
Montgomery County Deaths: 526
United States Deaths: 97,049
Sunday, May 24
Potomac 20854 Cases: 232
Montgomery County Cases: 9,922
Maryland Cases: 46,313
Maryland Deaths: 2,162
Saturday, May 23
Potomac 20854 Cases: 230
Montgomery County Cases: 9,699
Maryland Cases: 45,495
Maryland Deaths: 2,130
Friday, May 22
Potomac 20854 Cases: 227
Montgomery County Cases: 9.432
Maryland Cases: 44,424
Maryland Deaths: 2,092
For listing of what is open and what is not, see https://montgomerycountymd.gov/HHS/RightNav/Coronavirus-open.html
MORE TESTING: Gov. Larry Hogan's emergency order earlier this week authorized the state's nearly 1,200 pharmacies to order and administer COVID-19 tests.
In Montgomery County, CVS Health is offering no-cost coronavirus testing available to qualifying residents at the following drive-thru sites, with more sites expected to be announced in the coming weeks: CVS Pharmacy, 7809 Wisconsin Avenue, Bethesda, MD 20814; CVS Pharmacy, 799 Rockville Pike, Rockville, MD 20852; CVS Pharmacy, 12215 Darnestown Road, Gaithersburg, MD 20878.
Universal COVID-19 testing is underway at all state-run correctional and juvenile facilities in Maryland. Maryland is also delivering more than 20,000 tests per week to nursing homes.
HELP FOR VETERANS The Montgomery County Commission on Veterans Affairs, which is aware that some veterans are having increased mental health issues during the COVID-19 health crisis, is urging veterans and their families to take advantage of the services offered by the Steven A. Cohen Military Family Clinic at Easterseals in Silver Spring. The clinic provides high-quality and accessible behavioral health care to veterans, their families, the families of active duty service members and caregivers. The clinic is located at 1420 Spring St., Suite 300, in Silver Spring, although during the health crisis, the clinic is offering telehealth services. The clinic can be reached at 240-847-7500 or via email at info.mfc@eseal.org.
The Cohen Clinic at Easterseals offers free online workshops in association with the Chesapeake Shakespeare Company, from 6-8 p.m. on Wednesdays starting May 27 and continuing through July 29. Veterans can register for the workshops at https://www.chesapeakeshakespeare.com/registration-form/?wf=z1yrti1j0wk38pl
NOT THE ONLY ONES: U.S. Rep. David Trone (Md.-6) in an opinion piece for The Hill:
"The Disaster Distress Helpline, a federal crisis hotline that provides counseling for people facing emotional distress during times of natural and human-caused disasters, has seen an 891 percent increase in calls compared to this time last year. Dr. Joshua Gordon, the director of the National Institute of Mental Health (NIMH), told me that half of all Americans are experiencing moderate to strong anxiety, along the lines of the numbers we saw during Hurricane Katrina.
All the evidence suggests this will worsen. The jobless rate and our deteriorating economy are negatively affecting our mental health. For every one point increase in unemployment, the suicide rate trends up by 1.6 percent. This month, we learned the unemployment rate rose 10.3 percentage points to 14.7 percent. We are going to lose people if we don't act now."
See full article at https://trone.house.gov/
TENNIS ANYONE: Montgomery County Public Schools outdoor tennis courts are open for walk-on use by the community. Scheduled or reserved use of tennis courts at public schools is not permitted at this time.
DON'T NICKEL-AND-DIME: U.S. Rep. Jamie Raskin (MD-08) joined more than 70 bipartisan lawmakers in urging the Department of Defense (DOD) to extend the activations of men and women in the National Guard for the duration of the President's emergency and disaster declarations so they can continue to assist with the nation's fight against the COVID-19 pandemic. Current activations are set to expire on June 24, 2020. The June 24 deadline would fall just short of the 90 days of service required for many members of the National Guard to qualify for certain federal benefits, including the Post-9/11 G.I. Bill. "To battle this unprecedented crisis, we asked our neighbors in uniform to serve our nation in its time of need, and we hope the Department has not—and will not—nickel-and-dime its Soldiers and Airmen."
Thursday, May 21
Potomac Cases: 223
Montgomery County Cases: 9,260
Maryland Cases: 43,531
Maryland Deaths: 2,045
NEW LOCAL TEST: A new COVID-19 testing plan is made possible by a contract with AdvaGenix, a molecular diagnostics laboratory located in Rockville. The self-administered oral swab test, developed by AdvaGenix, enables the County to expand testing to essential frontline workers, nursing home staff and residents, and the general public, with test results available within 48 hours.
The molecular testing will examine saliva collected by an oral swab or saliva tube to detect the presence of the virus. The test identifies all three genes within the SARS-CoV-2 viral genome. This oral test can be self-administered, making it easier to conduct more tests in a less-invasive with less staff.
In the first phase of the contract, which is underway, the County will receive a minimum of 7,500 tests per week. Priority groups to be tested initially will be first responders; nursing homes and long-term facility staff and residents; and employees of the County's Department of Correction and Rehabilitation. The second phase of the testing plan will begin the week of May 31 and will test County employees who are essential workers, and hospital workers and health care providers. Phase three begins June 8; and at that point, the County will begin receiving 20,000 tests per week. By then, testing is scheduled to begin at sites such as grocery stores and other essential businesses for their employees; and testing will also be available for the general public.
CONTACT TRACING: Maryland's statewide contact tracing operation will be fully operational next week, according to Gov. Hogan. To launch this operation, Maryland will have more than 1,400 case investigators statewide. At the start of the crisis, the state had a total of 250 case investigators working at local health departments.
Fran Phillips, Deputy Secretary for Public Health at the Maryland Department of Health asks: "Please answer the phone if you see 'MD COVID' on the screen; working with our COVID-19 case investigators truly can help save lives."
When the phone rings, the caller ID will read "MD COVID." Depending on whether the contact investigator is calling directly from NORC or a local health department, there will also be a list of phone numbers provided to verify the caller's identity. The contact tracing caller will ask about one's health, any potential symptoms, and the duration of those symptoms. They may ask about an individual's whereabouts and interactions for a specific period of time. Guidance will be provided regarding self-isolation and monitoring for symptoms. They will ask for verification of date of birth and additional contact information, and if an individual has already tested positive for COVID-19, they may request details regarding that test.
A contact investigator will never ask for a Social Security number, financial or bank account information, or personal details unrelated to COVID-19. They will not ask for photographs or videos, passwords, or payment.
For more information on contact tracing in Maryland, please visit https://coronavirus.maryland.gov/pages/contact-tracing
TERP LAND: University of Maryland received Rapid Research Response (RAPID) awards to conduct research related to the 2019 novel coronavirus. The funding was authorized by the Coronavirus Aid, Relief, and Economic Security (CARES) Act through the National Science Foundation (NSF). Projects include:
$187,871 for a project to accelerate research into transmission patterns of the virus that causes COVID-19, informing efforts to improve contact tracing procedures as well as efforts to date the origins of outbreaks in regions where contact tracing is not effective.
$91,938 for research into the effects of reduced human activities on forests in North America as a result of the pandemic, informing projections of the environmental impacts of future emissions reductions. This project will be conducted using existing infrastructure and data provided by the Smithsonian Environmental Research Center as well as the U.S. Forest Service.
$86,177 for the development of a knowledge resource to help entrepreneurs and manufacturers to assemble the supply chains and processes to produce new types of products as a result of the pandemic, in particular Personal Protective Equipment (PPE).
Wednesday, May 20
Potomac Cases: 218
Montgomery County Cases: 9,052
Maryland Cases: 42.323
Maryland Deaths: 2.004
VENTILATORS INCLUDED: Montgomery County Executive Marc Elrich and County Health Officer Dr. Travis Gayles introduced a new COVID-19 data dashboard. The dashboard provides information on hospitalizations, the number of patients in intensive care units (ICU), and the number of ventilators in use, as well as previously available information regarding the number of confirmed COVID-19 cases and deaths. This information will help guide the County's decisions on when to lift its Stay-at-Home Executive Order.
Should the data continue to improve, Gayles and Elrich said Wednesday, May 20 that they expect a phased-in approach to reopening could take place within the next week or two.
Lifting the stay-at-home order and beginning to slowly reopen the county will be based on a variety of measures that include the following:
The number of new cases in the setting of increased testing;

COVID-19 related hospitalization rate;

COVID-19 related ICU rate;

COVID-19 related deaths;

COVID-19 like and influenza-like illnesses presenting to the health care system;

Percentage of acute care beds used by patients with COVID-19;

Percentage of ICU beds used by patients with COVID-19; and

Percentage of emergency/critical care equipment used by patients with COVID-19 (e.g. ventilators).
Criteria will be reviewed based on the most recent 14 days using a rolling average. The Executive Order calls for testing capacity to increase to 5 percent of the County's population on a monthly basis; enough resources needed for enhanced contact tracing (including notification of positive test results and identifying contacts); and using an equity lens in all metrics to ensure differences in outcomes in the diverse population are addressed.
ON OPENING: "We are making positive strides. We're moving in the right direction. We are closer to reopening in some capacity and we will continue working with our partners and neighboring to discuss what that will look like," said Montgomery County Chief Health Officer Travis Gayles. "We want to make sure that all of the different measures that we are looking at are being experienced by all segments of our population and all of the efforts that we plan in terms of our recovery pieces are looked at through a lens of equity."
County Executive Marc Elrich said: "Assuming the data generally continues the way it is, the way it has been, we should be able to accomplish this within the next week or two.
"The Executive Order that I issued, and the Council approved, extended the Stay-at-Home order for Montgomery County. This came after Governor Hogan lifted the statewide Stay-at-Home order on May 15. In lifting the statewide order, the Governor acknowledged that individual jurisdictions might need to maintain the stay-at-home order. This is the case in Montgomery County.
"So now, people are asking, 'When will the County's Stay-at-Home order be lifted?' Although I can't give you a definite date, I can tell you how we're making the decision. First and foremost, it will be in consultation with the County's Health Officer, Dr. Travis Gayles, and it will be based on science, data and public health. …The criteria that we are reviewing and monitoring, which includes testing and contact tracing capacity. It also includes the number of new cases, the number of deaths, hospitalizations, visits to the emergency room, patients in the intensive care units, and the percentage of ventilators in use.
"Additionally, we must collect data by race, gender, age and geographic location so that our policies and practices are reaching the people we need to reach. We are reviewing this information and we are talking with our colleagues in neighboring jurisdictions. We want to get this right."
BALLOT CONCERNS: The County Council wrote to the Maryland State Board of Elections with concern about the distribution of ballots for Maryland's June 2 primary election. Many registered voters in Montgomery County have reported that they have not received their ballots and have reached out to the Council to voice their concerns. All Council Members signed the letter.
"It is extremely concerning, this close to the June 2nd Maryland primary election, that there are widespread issues in delivering the appropriate absentee ballot to voters," said Council Vice President Tom Hucker.
The Council has requested the Maryland State Board of Elections address issues relating to the primary election, including the timely distribution of ballots to all voters in their preferred language and to ensure that Maryland will administer the 2020 primary and general elections securely and effectively.
20,000: Maryland is delivering more than 20,000 tests per week to nursing homes. Also the state's Public Health Laboratory is producing supplies to deliver to local jurisdictions to help boost local testing capacity. Distribution of tests to all 227 nursing home facilities in the state is on track to be completed by the end of next week. Maryland Department of Health is distributing more than 10,000 tests per week for use in local jurisdictions. This includes more than 4,500 tests at community-based and VEIP sites, as well as direct allocations of nearly 6,000 tests per week to local health departments based on population size. For more information on COVID-19 testing in Maryland, please visit https://coronavirus.maryland.gov/pages/symptoms-testing
DISPARITIES: To help address the disproportionate impact of COVID-19 on communities of color in Maryland, members of the Maryland congressional delegation urged Gov. Hogan to use race and ethnicity data to develop a plan. Led by U.S. Sen. Chris Van Hollen and Congressman Anthony G. Brown, including Sen. Ben Cardin and U.S. Reps. Steny H. Hoyer, Dutch Ruppersberger, John P. Sarbanes, Kweisi Mfume, Jamie B. Raskin, and David Trone.
Data shows the pandemic's disproportionate impact on Black and Hispanic residents.
"We believe a critical element of any plan developed must seek to understand the unique needs and cultural and sociological differences of various communities in coordination with a trusted research partner. The plan should follow the lead of other states like New York and Michigan and integrate partnerships with trusted community-based organizations, such as churches and other members of the faith-based community, and bolster the existing public health workforce with members of these communities."
For the 33,138 COVID-19 cases that have race and ethnicity data available as of May 19, nearly 38 percent of patients are Black, and Black residents make up more than 43 percent of COVID-related deaths, while African Americans only make up 30 percent of the state's population. Similarly, despite only comprising 10% of the State's population, Hispanic Marylanders make up nearly 29% of positive COVID-19 cases.
Tuesday, May 19
Potomac Cases: 217
Montgomery County Cases: 8,950
Maryland Cases: 41,546
Montgomery County Deaths: 465
Maryland Deaths: 1.963
GRADUATION, VIRTUAL, UNIVERSAL: Montgomery County Public Schools plans for a Universal Virtual Graduation Celebration. More information with specifics concerning the program, date and time will be sent to students and families soon.
"Recently, we surveyed seniors and their families about their preferences for graduation ceremonies. In early June, we will host a universal virtual graduation for the entire Class of 2020 and their families. We will share details on the virtual commencement celebration in the coming days," according to Montgomery County Public Schools. "Additionally, from May 14 to May 22, we will celebrate our seniors on social media. Students are encouraged to share short videos or photos on Twitter telling us their post-secondary plans-whether they are heading off to college, the military, taking up a trade or apprenticeship, or going straight into the workforce. Staff, parents, guardians and family members are encouraged to share messages and best wishes for seniors through videos or photos. Be sure to use the hashtag #MCPSClassof2020. If family and friends prefer to email a video or photo, send it to pio@mcpsmd.org
REUSABLE BAGS: Some grocery stores have banned the use of reusable bags, and some that allow reusable bags have asked customers to bag their own groceries. Clean and disinfect reusable bags prior to use at grocery stores. See https://montgomerycountymd.gov/bag/Resources/Files/clean-reusable-bags.pdf for easy steps to clean and disinfect plastic and nylon bags. "We are proud that in Montgomery County, most of our residents now use reusable bags as part of their regular shopping routine," said Department of Environmental Protection Director Adam Ortiz. "We hope people will continue using their reusable bags and take the precautionary steps to disinfect their bags to protect themselves, their families and retail workers while also protecting our environment."
200,000: Maryland surpassed 200,000 tests and completing testing of 3.5 percent of the state's population, and now has the capacity and supplies to offer testing to Marylanders who may have been exposed to the disease even if they do not have symptoms. For more information on COVID-19 testing in Maryland, please visit https://coronavirus.maryland.gov/pages/symptoms-testing