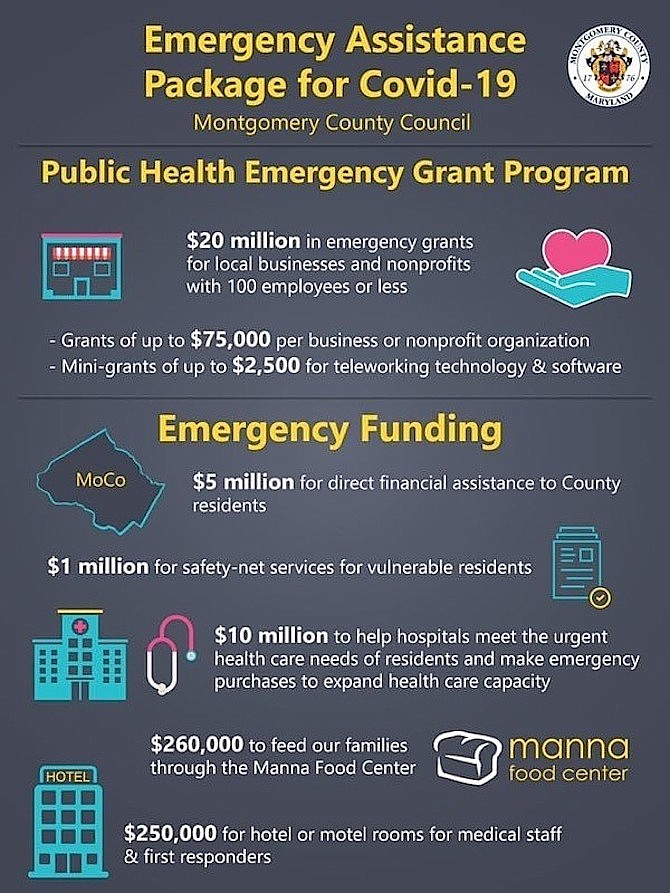 We are facing an unprecedented public health emergency, and we realize how anxious and uncertain this time is for you and your families. Yet times of crisis create moments of character, and I have never been more confident in the resilience and compassion of our community or more humbled to represent District 1 on the County Council. I have been amazed and uplifted over the past few weeks by residents stepping up to look out for neighbors, by organic volunteer groups checking in on older and vulnerable residents, by local businesses changing operations overnight to manufacture hand sanitizer and medical masks, by restaurants offering and delivering meals to high-risk residents for free. We are so thankful for the heroism of our frontline health care professionals and first responders and for so many others who are doing their part to support them, and each other.
This public health crisis has evolved at a rapid pace, and our county leadership has worked closely with Governor Hogan and our state partners following the lead and guidance of our public health experts.

On Monday, March 30, the Governor issued a stay-at-home directive for all Maryland residents. This means staying at home, unless you have an essential reason to leave such as picking up groceries or medications, going to the doctor, or taking care of a family member or friend. Residents can still go outside for walks and exercise. While Montgomery County Police are not conducting random stops to enforce the directive, please know that individuals in violation could be charged with a misdemeanor, and we will do what is needed to protect public health and safety.
On Tuesday, March 31, my Council colleagues and I approved a $20 million Public Health Emergency Grant Fund to help local businesses and nonprofits keep their lights on. Our employers desperately need this support, and we expect the County Executive to implement this program as efficiently and effectively as possible so our local employers can get the help they need.
The Council's total COVID-19 Relief Package totaled $26.5 million, including a series of other appropriations to address this crisis: $10 million to our County hospitals to increase the number of beds available as we prepare for surge capacity; $6 million to support cash assistance for families in crisis and additional funding for social safety net programs; $260,000 to Manna Food Centers to supplement the free and reduced meals for MCPS students; and a $250,000 partnership with local hotels to provide rooms for healthcare heroes between their long shifts on the frontlines of this crisis.
Thank you for doing your part to follow the public health directives so we can flatten the curve of this pandemic. We are in this together and we will get through this together. We are here to help and serve in any way we can. Please don't hesitate by calling 240-777-7828 or emailing councilmember.friedson@montgomerycountymd.gov. For regular updates from the County, please visit https://montgomerycountymd.gov/hhs/rightnav/coronavirus.html.
Lastly, please consider joining us for a virtual "Friday with Friedson" on Friday, April 10 at 11:30 a.m. on Zoom video and teleconferencing software. We will discuss prioritizing wellness and mental health during this trying time. Please call or email us for more information.