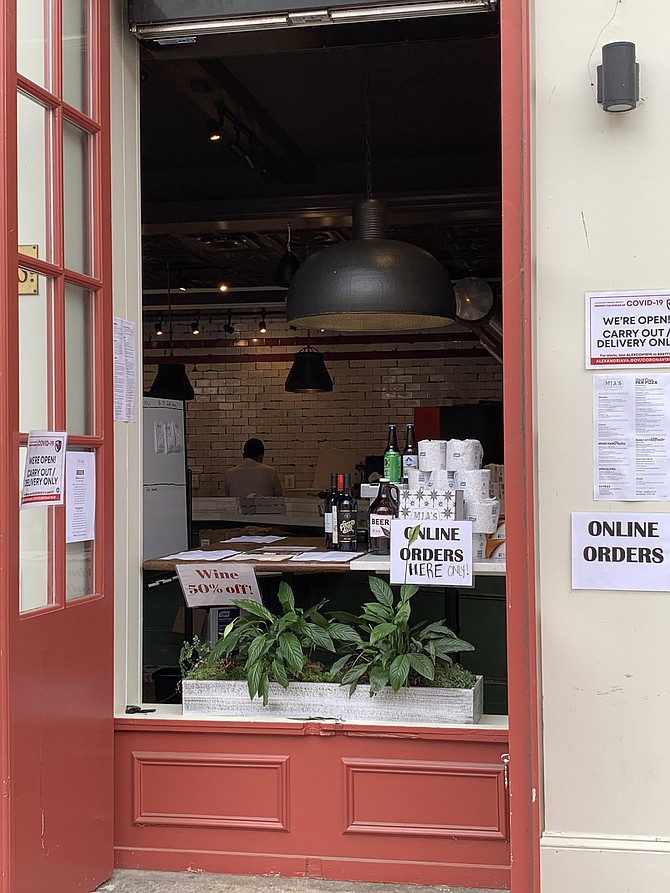 As the stay-at-home order continues through another week, Alexandria restaurants are striving to keep up with demand for a break from the home-cooked norm. As Gov. Ralph Northam's stay-at-home order allows for carryout or delivery, the city's diners can still take a bit of a timeout for some good food – or drink – from neighborhood eateries and breweries. Here are five spots around the city offering up a little something special:
London Curry House, 4906 Brenman Park Drive
Closed for a while at the beginning of the stay-at-home order, Cameron Station's London Curry House opened its doors again this week to offer up carryout from a limited menu. During the latter half of each week, choose your options from a temporary – but still robust – menu featuring samosas, tikka masala, chana masala, shrimp curry, palak paneer and more. Be sure to add some naan into the order, and maybe pick up a dessert to round things out – why not? 4-8 p.m. Wednesday-Sunday. Check out the menu at londoncurryhouse.com and then call 703-419-3160 to order.
Mia's, 100 King St.
Mia's has the curbside-pickup game down to a science. The restaurant is using the beautiful wide windows at the front of the building to serve as various pickup locations for food, beverages (including beer and wine) and more. While the restaurant is offering a relatively limited menu at the moment, all the best sellers are on it: a giant meatball or warm olives to start, the Sunday salad, several pasta options and, of course, nearly a dozen pizza styles. Or pick up a family-style meal instead for about $25. Noon-9 p.m. daily. Order online at miasitalian.com or call 703-997-5300.
Aslin Beer Company, 847 S. Pickett St.
In need of a brew to toast … anything? Aslin has you covered with both curbside pickup and delivery. Order online or call ahead, pay online and swing by to pick up your order during business hours; or let the beer come to you by way of delivery (minimum $75 purchase; a $10 fee applies). From the brewery's Nuances of Meaning IPA to the Stating the Obvious Vienna lager, you'll have a vast array of styles to choose from in the brewery's always-changing stockpile. 11 a.m.-8 p.m. Order online at aslinbeer.com or call 571-431-7603.
Lavender Moon Cupcakery, 116 S. Royal St.
A sweet treat is a must-have in these trying times – or any time, really. And Lavender Moon is keeping the cupcakes coming during the shutdown. Cherry bourbon pecan, pinot noir, Boston crème, vanilla vanilla, flourless chocolate and more are ripe for the picking daily. Call ahead for a curbside pickup, or arrange for delivery within Old Town. 11 a.m.- 8 p.m. 703-683-0588.
Chadwicks, 203 Strand St.
The venerable all-American restaurant near the water is open daily for lunch and dinner, with virtually its entire menu available for the ordering. BBQ ribs. Build-your-own burgers. Crab cakes. Fried green tomato grilled cheese sandwiches. Order your fill for pickup or delivery and comfort food awaits. 11 a.m.-9 p.m. daily. Order online at chadwicksrestaurants.com or call 703-836-4442.
Hope Nelson is the author of "Classic Restaurants of Alexandria" and owns the Kitchen Recessionista blog, located at www.kitchenrecessionista.com. Email her any time at hope@kitchenrecessionista.com.