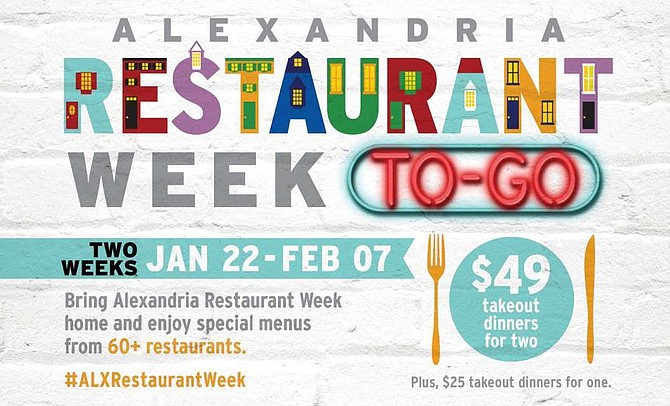 For an extended two-week period, more than 60 restaurants in Alexandria, Virginia, will offer a $49 takeout, delivery or curbside pick-up dinner for two during Alexandria Restaurant Week To-Go, Jan. 22 – Feb. 7, 2021. New this winter, more than half of these restaurants will offer a $25 takeout dinner for one in addition to the $49-for-two deal. This expanded offering was created to meet popular demand from single diners during Alexandria's first Restaurant Week To-Go in August 2020. The online menu book makes it easy to browse delicious selections from dozens of Alexandria eateries and enjoy special menus from the comfort of home, through Super Bowl Sunday.
The new to-go model for Alexandria Restaurant Week, which debuted in summer 2020, reflects current customers' desire to enjoy restaurant meals at home while providing new opportunities to support Alexandria's community of locally owned restaurants. Alexandria's first Restaurant Week To-Go was critical in keeping the city's small business economy energized and essential to preserving a beloved experience of the city for residents and visitors alike as local establishments continue to weather the impact of the COVID-19 pandemic.
New Alexandria Restaurant Week participants include Aldo's Italian Kitchen, an Italian eatery on Eisenhower Avenue; Barkhaus, Alexandria's new dog bar; Carlyle neighborhood eatery Pasara Thai; and The Alexandrian Hotel's new restaurant King & Rye. Restaurants offering to-go deals for one and two people include Los Cuates, Rus Uz, Sonoma Cellar, Village Brauhaus and more.
Alexandria Restaurant Week showcases the inventiveness of local chefs in neighborhoods throughout the city, including Old Town, Del Ray, Carlyle and Eisenhower, and the West End. From neighborhood favorites to restaurants specializing in international cuisine, guests will savor the flavors of Alexandria's distinctive collection of eateries.
View our menu flip-book and make reservations at https://www.visitalexandriava.com/restaurants/restaurant-week/.
Alexandria Restaurant Week To-Go Menu Highlights:
City Kitchen's dinner for two, featuring Vermont Goat Cheese with Blueberry Reduction, a Pork Chop with Bourbon-Cherry Sauce, a Devil's Latte Cream Cake for dessert and the option to add wine pairings for an additional cost.
Hank & Mitzi's, new to Old Town North and named after chef and restaurateur Jamie Leeds' parents, offerings such as Cannelloni Bolognese or Four Cheese Lasagna deals for one or two, with the option to add on a Cannoli Traditional or Chocolate Budino for dessert.
Black-owned business Haute Dogs & Fries offers a $25 Lobster Roll, Kettle Chips and a Split of Sparkling Wine deal for single diners.
Kisso Asian Bistro's $49 for two offerings, featuring a Sushi Sashimi Combo with Seaweed Salad or various seafood combinations paired with Hot and Sour Soup or Meat Dumplings.
Bottles of wine included in meal packages from Bugsy's Pizza Restaurant & Sports Bar, Piece Out Del Ray, Café Pizzaiolo and Murphy's Irish Pub; or add on to-go cocktails for an additional cost from Bastille Brassiere & Bar, Café 44 and more.
WHAT:  Alexandria Restaurant Week To-Go
WHEN: 17 days and 3 weekends, January 22 – February 7, 2021
WHERE: Neighborhoods throughout Alexandria, Virginia, including Old Town, Del Ray, Carlyle and Eisenhower, and the West End
HOW: $49 takeout or curbside pickup dinners for two; $25 takeout or curbside pickup dinners for one
INFO: https://www.visitalexandriava.com/restaurants/restaurant-week/; 703-838-5005
About Alexandria Restaurant Week
Alexandria Restaurant Week was launched in 2009 by Visit Alexandria and has since been a favorite amongst patrons and restaurateurs, occurring biannually in the winter and summer. In addition to serving as an economic driver for Alexandria restaurants, Alexandria Restaurant Week bolsters the city's reputation as a culinary destination.