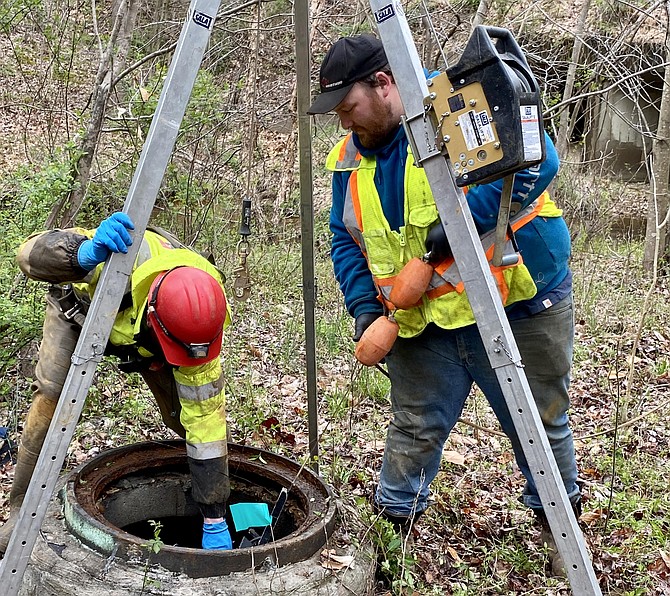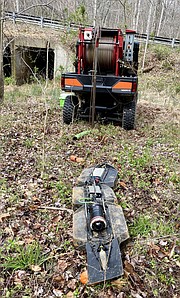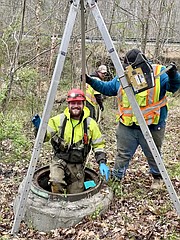 Trail walkers and other users in the Pohick Stream Valley in recent weeks may have seen crews engaged in high tech inspection of county sewage lines. Emergency repairs like sinkholes, collapses, and floods caused by clogged lines, are safety threats to maintenance crews and the public. Periodic line inspection reduces the incidence of emergency repair needs.
Contracted crews use robotic equipment with closed circuit television cameras to inspect Fairfax County's 3,000 miles of pipes that make up its wastewater management system. This newer process, called "inspect to clean," replaces the more costly "clean and inspect" approach. The camera inspection allows crews to more easily identify portions of pipe which need attention, before problems become an emergency, without clearing out pipes that do not require maintenance.
The work requires crews to open each sewage cover, test first for noxious gases, then lower the camera-equipped robot attached to a cable into the 23 inch pipe line. A crew member must enter the opening to place the equipment. The robot then proceeds along the pipeline to the next entry, recording video of the pipe. Taped video is reviewed to determine the pipe's condition when the robot is retrieved. Issues identified are noted for repair.
Three-man contractor crews with support personnel, like the crew seen at work in Springfield, work on systems all over the county, and country, putting in 14-day weeks with 4-day rest breaks. In FY-2018, The County inspected 201 miles and cleaned 502 miles of sewer lines to ensure unobstructed, maximum flow. Fairfax County budgeted $78.9 million for wastewater operations and maintenance for FY 2020. Costs of the system are primarily funded by customers for the system that covers 234 square miles of Fairfax County's 407 square mile area. The County's FY-2020 budget includes a 4.8 percent increase in sewer service charges; about 28 cents additional per 1,000 gallons.
A reminder to citizens: Do not place baby/disinfectant wipes, oil, or medicines into the wastewater or storm drain systems.