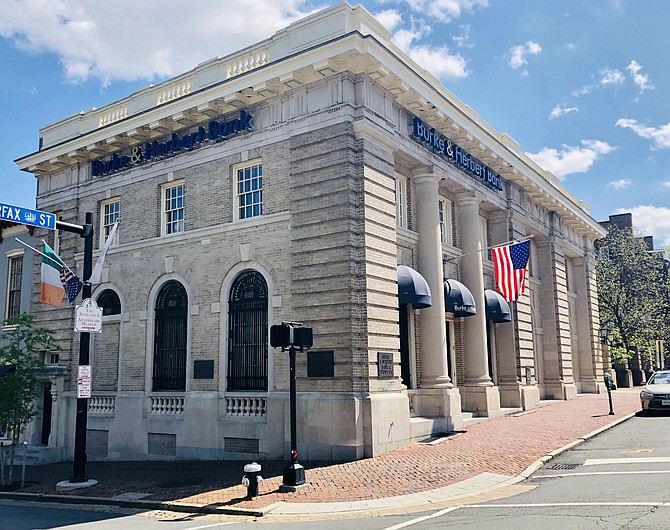 Like many business owners across Northern Virginia, Cyrille Brenac is still waiting to hear back from his bank about his application to the Paycheck Protection Program. That's the $350 billion program that was part of the $2.2 trillion stimulus law designed to offer money to small businesses who can demonstrate they are keeping their employees. For Brenac, who lives in the Cherrydale neighborhood of Arlington, the money would help him rehire about 50 employees of his two French restaurants he laid off when the economy abruptly shut down as the result of the global COVID-19 pandemic.
"The good thing about this PPP is that I can pay them more than what unemployment would pay them," said Brenac. "Once the economy restarts — I don't know how but it will restart sometime — we can reopen. We won't have to hire new people and train them."
Brenac is one of the many business owners who is still waiting to hear back from his bank about the program, which has been overwhelmed by business owners desperate to get their hands on federal money to keep them afloat. The rollout of the program has been confusing for business owners and banks, who say it's been difficult to navigate a system beset by layers of bureaucracy and a changing set of rules. Demand for the taxpayer-backed federal money has been so great that the Small Business Administration and the banks administering the program have had to improvise on the fly, changing the rules after the applications had already been submitted.
"It's kind of put us in an awkward position," said Bill Reagan, executive director at the Alexandria Small Business Development Center. "We were giving businesses the best information we had, but that information began to change last week and we became concerned that what we had told them earlier was no longer applicable."
THE SMALL BUSINESS ADMINISTRATION was initially offering Economic Injury Disaster Loans of up to $2 million, and after Congress approved the $2 billion stimulus that included an advance of up to $10,000. But then later clarification from SBA limited the advance to $1,000 per employee with a maximum of $10,000. That made the loan-forgiveness provision of the Paycheck Protection Program a better deal for many businesses. But those funds are limited to businesses with full-time employees or part-time employees, which excluded many businesses that have contract workers. That was a particularly hard hit to many people in the region's tourism industry, which relies on contract employees.
"I'm very disappointed that I'm not able to pay my 1099 people," said Wellington Watts, owners of Alexandria Ghost and Graveyard Tours. "If there is a failure at the attempt at helping the economy, it's that 1099 independent contractors are being left out in the cold."'
Disaster loans have traditionally been administered directly from the Small Business Administration. Here in Alexandria, the largest dollar amount of disaster loans was from Hurricane Isabel in September 2003, when flood waters in Alexandria rose as high as 10 feet in some places. Most disaster loans issued in Alexandria were never paid back in full, according to records received in a public-records request, and a 2012 report from the SBA's inspector general showed taxpayers were owed $171 for delinquent disaster loans. Unlike those previous loans, though, the new Paycheck Protection Program was designed to be administered to banks, which would receive money from the federal government and issue it to business owners.
"You have to get money moving through the economy, and who can provide that money? Who knows how to do it best? Well, it's banks," said Frank Shafroth, director of the Center for State and Local Leadership at George Mason University. "You can assume there will be some fraud, but for the most part it's going to be by far the most efficient and effective way to get the economy coming slowly back."
BANKS SAY THEY'VE been overwhelmed with requests from businesses struggling to make ends meet and desperate to help their employees from depending on unemployment insurance. Applications are coming from everything from nail salons and barbershops to childcare facilities and professional photographers — all of whom have seen their business models destroyed by quarantine. Some banks are choosing to limit their loans to existing customers while others are accepting applications from business owners that are not existing customers. Officials at Burke and Herbert Bank are ready to start closing on about 300 loans, and they're hopeful the money will start flowing this week. So far, all of those loans have gone to existing Burke and Herbert customers.
"We're sensitive to those whose banks are not participating in the program, and we are taking applications from non-customers," said David Boyle, president of Burke and Herbert Bank. "But we're prioritizing our existing customers first."
Wells Fargo approved so many loans that they reached a cap of $10 billion and stopped taking applications. Then the Federal Reserve took action to lift a restriction on the bank, allowing it to start taking applications again. To qualify for a PPP loan at Wells Fargo, an applicant would need an existing business checking account back in mid-February. That's an eligibility requirement the bank put in place to make sure they could verify applicants and make sure they have the ability to pay back the loan if they are unable to prove they are keeping all their employees.
"We are grateful for the modification to our asset cap to allow us to help more customers," said Manuel Venegas, a spokesman for Wells Fargo. "We are continuing to not only help more businesses through the process but also speed up the process so we can help more customers."
Richmond-based Atlantic Union Bank received about 5,000 applications for more than $1 billion worth of funding, a massive amount of paperwork to plow through before they started making submissions to the federal government. Like other banks in Virginia, Atlantic Union had to shift resources around to make sure they had enough employees to handle the massive workload. Then they had to navigate the federal bureaucracy at the Small Business Administration before they were able to start letting the money flow to businesses to help protect the paychecks of their employers.
"Nearly 90 percent of our non-branch workforce is working remotely, including our call centers," said Atlantic Union CEO John Asbury in a written statement. "Our teammates, including 200 over the weekend, worked tirelessly to put our clients at the forefront of this process, and it really showed in our ability to offer a smooth application process from day one."