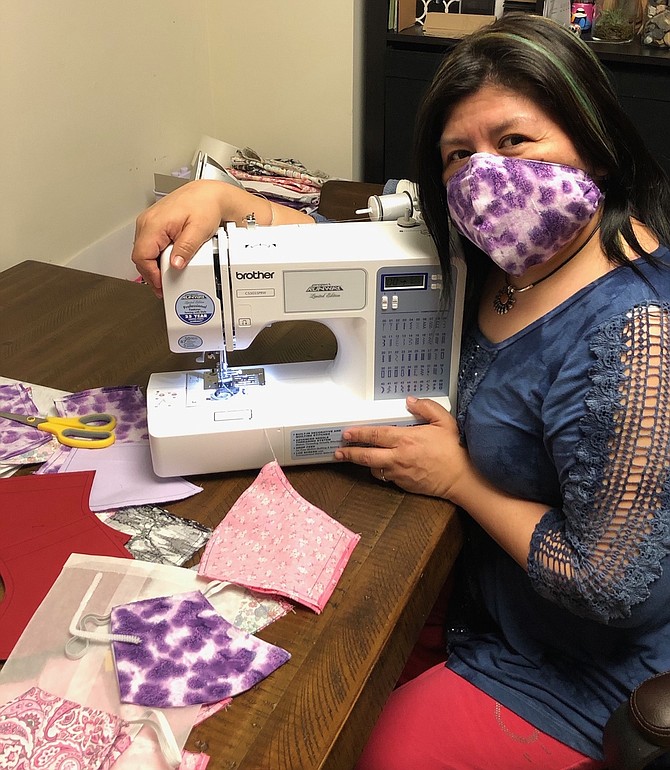 In early April, the Centers for Disease Control urged Americans to wear face coverings in public settings. On April 7, Libby Garvey, Chair of the Arlington County Board, reinforced this directive. But she went a step further by demonstrating online how to fold a red, white and blue bandana into a face mask with ribbons to fit over the ears for those who, she says, "like me, can't sew."
Arlingtonians have stepped up and face masks with stars, flowers, stripes and even plain white are found on faces walking down sidewalks, delivering packages, repairing streets and shopping for groceries.
Customers kept coming in to Arlington Cleaners on Harrison Street asking if their seamstress would make face masks that they could wear when out in public places for protection from the coronavirus. Jung Chou, the owner of the business, said, "I wasn't sure we could make that much in a day."
But they kept thinking, and talking to their seamstress, Mrs. So, and they came up with an idea. Now Mrs. So makes a maximum of 80 a day in her home. Chou says that in the last three days they have had orders for 300 masks. "We try to fill orders within three days, but it may be a little longer because we have so many orders." Customers order them, and then come in when they are ready to pick them up and pay for them.
Chou says it is hard to buy fabric. So stood in line for two hours at JoAnn's Fabric to buy the washable cotton she uses to sew the masks. Then she makes a pocket for insertion of a coffee filter. The men's masks are a darker fabric, and the women's have flowers or whatever fabric she is able to get. "I never know until I see them. I'm going to pick up some now." Chou says So only makes men's and women's masks, not for children.
Arlington Arts has organized a volunteer effort in the community to make face masks. Joan Lynch, Director of Arts Enterprises for Arlington Cultural Affairs, said by April 7 they had over 100 responses from the community. She sent an email to the volunteers. "We are in the process of making bundles with fabric, patterns, elastic, ribbon and thread. We have a very small staff of volunteers, so it has taken us some time to pull together all of your emails."
Lynch says they passed out 30 bundles on Friday, April 10 to volunteers who are already skilled stitchers. They had been working on this project for three weeks, and the outpouring of interest was great. Lynch said they are working in conjunction with the Arlington Department of Human Resources, who decide how to distribute the masks, with the first batch going to Arlington Food Assistance Center.
"We sent 112 [kits] today and 75 last week." Each person received materials to make 24 masks, with a return date of April 20.
Mary Finger, a stitching volunteer, says she first started looking into making face masks several weeks ago and made masks for her family from a pattern online. She couldn't find elastic, so ordered some online. "Now I have 50 yards of elastic." When she discovered that Arlington Arts was sponsoring a drive to make non-medical masks for groups like A-SPAN and AFAC, she decided to join the effort. "We're all stuck in our houses with nothing to do, and I wanted to help." Finger donated her elastic to the volunteer effort but when she unwrapped her own kit she discovered it had material, thread and bias binding but no elastic.
Danielle Rampton, Volunteer Coordinator at AFAC, says they ordered masks from Arlington Arts because in a typical week "we see about 100 volunteers. Most come with their own mask, but we want to be able to offer them to everyone. We would welcome any and all mask donations." Rampton says they probably have 500 on hand now.
Lisa Ostroff sent out her weekly newsletter to her Trade Roots customers telling them about a recent customer plan to send 84 tissue-wrapped presents to shelters to support the families and at the same time to help keep her business going. In highlighted box, she explained "Need a mask? Mirabel is busy making them," and they are free for pick up or delivery. Ostroff says they have made 25 multi-colored masks to date and they are free to people who need them; some customers want to make a contribution to keep her business going.