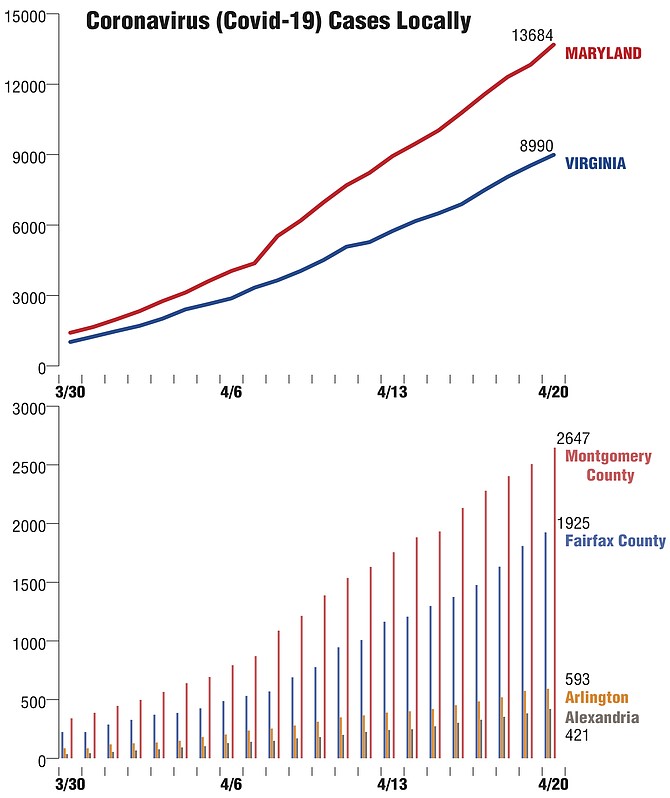 Tuesday, April 21
Fairfax County Cases: 2,077
Virginia Cases: 9,630
Looking for a New Pet? Adopt Virtually
For those looking to add a new friend to the family, the county Animal Shelter has made the adoption process nearly contact free. New pets available for adoption will be added to the shelter's available pet page daily between 10-10:30 a.m. each day. Those interested will then fill out a survey and wait for staff to contact them via phone or email to talk through the adoption process. Once finalized, the shelter schedules a contactless pick up of your newest family addition. Details on virtual adoptions are available https://www.fairfaxcounty.gov/animalshelter/adopt/steps
See Something New Without Leaving the House
The Park Authority has created a new Virtual Exploration Center with resources to help residents stay healthy, connected and engaged while parks are closed. With links to on-demand fitness classes, a virtual history tool and nature bingo, the site provides a plethora of options to suit the needs of any family looking for ways to stay active and involved. The page will be updated regularly with new highlights. https://www.fairfaxcounty.gov/parks/virtual
Parenting Support by Phone or Watch a Video
The Department of Family Services (DFS) has a variety of free supports available for families including parenting videos, articles and online classes. https://www.fairfaxcounty.gov/familyservices/children-youth/assistance-from-a-distance There is also a new Parent Support call line that has been established to help parents and caregivers of children with parenting advice, support and tips (703-324-7720, TTY 711, or email buildingstrongerfamilies@fairfaxcounty.gov). Learn more about Parenting Assistance from a Distance from DFS.
Stay Informed
Health Department Call Center at 703-267-3511 with Coronavirus questions; open 9 a.m. to 7 p.m. weekdays and 9:30 a.m. to 5 p.m. on weekends.
Text FFXCOVID to 888777 to receive updates from Fairfax County about COVID-19.
Email questions or concerns to ffxcovid@fairfaxcounty.gov. This email account will be staffed Monday through Friday, 8 a.m. through 6 p.m.
Monday, April 20
Fairfax County Cases: 1,925
Virginia Cases: 8,990
Sunday, April 19
Fairfax County Cases: 1,809
Virginia Cases: 8,537
Ten Fairfax County Fire and Rescue Department personnel have tested positive for COVID-19; eight are currently positive, two have fully recovered and one is currently in quarantine. All personnel are closely monitored by a nurse at Fairfax County's Occupational Health Center. Fairfax County Fire and Rescue will notify the public if there is any concern of exposure.
Saturday, April 18
Fairfax County Cases: 1,633
Virginia Cases: 8,053
WHERE ARE THE TESTS? Sens. Mark Warner and Tim Kaine joined 44 other Senators in calling on the Coronavirus Task Force and the Federal Emergency Management Agency (FEMA) to conduct a national inventory of the coronavirus (COVID-19) diagnostic testing supply, publicly release data on testing results, and provide a detailed plan and timeline for addressing future shortages and gaps in the testing supply chain.
EQUITABLE DATA: Following reports across the United States of stark racial disparities in COVID-19 cases and fatalities, Sens. Warner and Kaine joined Sen. Elizabeth Warren (D-MA) to introduce the Equitable Data Collection and Disclosure on COVID-19 Act. The bill would require the Department of Health and Human Services (HHS) to collect and report racial and other demographic data on COVID-19 testing, treatment, and fatality rates, and provide a summary of the final statistics and a report to Congress within 60 days after the end of the public health emergency.
While Virginia has received $3.3 billion to support its COVID-19 response, Sens. Warner and Kaine are pushing for the next emergency coronavirus relief package to provide assurances that funding can be used to prevent potentially devastating budget cuts and that localities of all sizes will receive dedicated funding.
Friday, April 17
Fairfax County Cases: 1,476
Virginia Cases: 7,491
Numerous shopping scams, mortgage relief scams and personal loan scams have targeted seniors and others needing assistance during the coronavirus crisis. If you believe you have been the victim of a scam, call the Fairfax County Police Non-Emergency Line at 703-691-2131, TTY 711. Also contact the AARP Fraud Watch Network at 1-877-908-3360 or www.aarp.org/scams.
U.S. Sen. Mark R. Warner (D-VA) and 37 of his Senate colleagues urged Senate and House leaders to ensure that those who have lost their employer-based benefits – and those who are uninsured or underinsured – have access to health insurance.
More than 20 million Americans have lost their jobs in recent weeks. With approximately half of all of Americans receiving their health care coverage from an employer, the COVID-19 crisis threatens to leave a vast number of people without health insurance during the largest public health crisis in a century, adding to the estimated 27 million people in the U.S. who already did not have health care.
The Senators urged Congress to strengthen Medicaid, re-open the Affordable Care Act so uninsured individuals can immediately enroll, and provide premium reimbursement to newly unemployed Americans in accordance with the Consolidated Omnibus Budget Reconciliation Act (COBRA).
Gov. Ralph Northam's Executive Order Fifty-Seven increases the use of nurse practitioners, out-of-state doctors, medical students and telehealth in the state's COVID-19 response. Up to 30,000 additional workers could be needed in Virginia hospitals, long-term care facilities, and public health departments, should a surge occur.
"While we are seeing promising signs in our ongoing fight against COVID-19, we must continue to prepare for all scenarios, and that includes making sure we have the necessary staff to confront a potential medical surge," said Northam.
U.S. Sen. Mark R. Warner (D-Va) was appointed to a White House task force focused on eventual efforts to reopen the economy in the aftermath of the coronavirus outbreak. Warner was one of 13 Senate Democrats invited to participate, along with all Republican Senators except for Sen. Mitt Romney (R-UT).
"My highest priority on this task force will be to ensure the federal government's efforts to reopen our economy are bipartisan, data-driven, and based on the expertise of public health professionals," Warner said.
Northam reported that Virginia's collaborative efforts to release low-level offenders from local and regional jails in response to the COVID-19 pandemic are working to safely reduce the number of incarcerated people.
Northam recommended the following on March 19: Allow sentence modifications to reduce populations in jails; divert offenders from being admitted into jails prior to trial, including the use of summonses by law enforcement in lieu of arrest, and use of local pretrial programs; consider ways to decrease the number of low-risk offenders being held without bail in jails; use alternative solutions to incarceration such as home electronic monitoring.
Since late February, the number of new commitments to local and regional jails has decreased from approximately 10,000 during a two-week period to just over 4,000. On April 7, the jail population in the Commonwealth was 24,000, which is a 17 percent decrease from March 1. Virginia has also seen a 67 percent decline in the number of new commitments for misdemeanors.
Northam also proposed a budget amendment allowing the Director of the Department of Corrections to release individuals with less than a year left to serve in their sentences for the duration of the state of emergency.
Thursday, April 16
Fairfax County Cases: 1,375
Virginia Cases: 6,889
An additional $70 million in Child Care and Development Block Grant (CCDBG) funding through the federal CARES Act will help provide child care for essential personnel.
The closure of K-12 schools impacts nearly 1.2 million Virginia children under the age of 12. In partnership with the Virginia Department of Social Services (VDSS) and the Virginia Department of Education (VDOE), the stimulus funding will provide additional avenues to ensure the availability of child care services for essential personnel and cash assistance to child care providers.
Across Virginia, approximately 2,672 child care centers—nearly 45 percent—have closed, including nearly 40 percent of centers that serve children through the Child Care Subsidy Program. Childcare Aware of Virginia has an interactive childcare map illustrating child care programs across the state that are still operating.
A comprehensive guide to COVID-19 child care resources in Virginia, including information about how apply for the CCDBG grants, is available at www.dss.virginia.gov/cc/covid-19.html
Parents who serve in essential industries and are in need of child care services should visit Child Care Aware at VAchildcare.org or call 1-866-KIDS-TLC for an up-to-date list of child care options in their area.
U.S. Sen. Mark R. Warner (D-Va) urged the Federal Communications Commission to take immediate action to ensure that individuals all across the country have access to broadband, as more Americans are forced to rely on the internet for telework, telehealth, and online learning amid the novel coronavirus outbreak. According to the FCC's latest figures, more than 20 million Americans continue to lack access to meaningful broadband service, with at least 770,000 Virginians currently unserved.
"Under the current circumstances, this lack of broadband access threatens to greatly – and potentially lastingly – exacerbate disparities in health, education, and economic equity," wrote Warner. "On nearly a daily basis, I hear from Virginians who are struggling to engage in telework, supervise their children's online learning, and engage in telehealth over antiquated DSL connections that make even a single one of these activities virtually impossible."
The Virginia Coronavirus Fraud Task Force warns the public of financial scams regarding Economic Impact Payments currently being distributed by the IRS.
"We have reports of criminals attempting to use various phishing techniques, including text messages, emails, and letters delivered through the mail, all attempting to steal your personal information or swindle you out of your economic impact payment. ... Hang up on robocalls, do not provide your personal identifying information to anyone, and always confirm you are accessing legitimate links from IRS.gov," said G. Zachary Terwilliger, co-leader of the task force and U.S. Attorney for the Eastern District of Virginia in Alexandria.
If you think you are a victim of a scam or attempted fraud involving COVID-19, contact the National Center for Disaster Fraud Hotline at 866-720-5721 or via email at disaster@leo.gov.
For more information about the Virginia Coronavirus Fraud Task Force, please visit:
https://www.justice.gov/usao-wdva/covid-19-fraud
Wednesday, April 15
Fairfax County Cases:1,298
Virginia Cases: 6,500
"Virtual Marriage License" appointment program will be the exclusive way to get a marriage license from the Fairfax Circuit Court Clerk's Office during the COVID-19 pandemic. There has been an increase in couples applying for marriage licenses during the COVID-19 pandemic, said Clerk of the Fairfax Circuit Court John T. Frey.
Using the Clerk of Circuit Court's existing "preApp" technology, a couple can prepare the marriage license application at home and schedule a time to appear by Webex to take the oath before a deputy clerk of court.
After customers pay by credit card, the Clerk's Office mails them their marriage license. As always, the couple has 60 days to be married by an authorized officiant, at which time the license gets completed by the celebrant, who returns it to the court. The Clerk's Office holds it in perpetuity as the marriage certificate.
Contact Gerarda Culipher, Chief Deputy Clerk at 703-246-4111.
Fairfax County has a Myth and Rumor Control page on its COVID-19 website to address and debunk some of the erroneous reports and ideas being shared online. See https://www.fairfaxcounty.gov/covid19/rumor-control
"Fear can be its own deadly epidemic if we let it," according to the site. "There are a lot of things being repeated on social media about the coronavirus (COVID-19) that are not rooted in science. So, as this public health emergency intensifies, it's important that we separate facts from fear and gossip that spreads rumors and myths." If you can't find the answer to a question, message ffxcovid@fairfaxcounty.gov or on social media @fairfaxcounty or @fairfaxhealth. You can call 703-267-3511 (9 a.m. to 7 p.m. weekdays and 9:30 a.m. to 5 p.m. on weekends.

Tuesday, April 14
Fairfax County Cases: 1,207
Virginia Cases: 6,171
The Board of Supervisors unveiled a $2.5 million fund to support small business recovery through microloans and counseling. The Fairfax County Small Business COVID-19 Recovery Fund will provide eligible businesses up to $20,000 at 0% interest that can be used for critical operating expenses to offset some of the impacts of the shutdown.
"Small businesses make up 94% of our base and account for almost one third of jobs in our community," said Fairfax County Board of Supervisors Chairman Jeffrey C. McKay. "There are a number of Federal programs available right now to help small businesses survive. Fairfax County microloan funding and supportive counseling are complementary to those programs."
The program will assist businesses in identifying optimal federal or local programs where additional relief may be available. Applications will be accepted starting April 28.
Principal repaid to this microloan program will be deposited into a revolving loan fund, which will continue to deliver capital to small businesses for the recovery period and beyond. This fund, in addition to the Federal CARES Economic Injury Disaster Loans (EIDL) and the Paycheck Protection Program (PPP), is designed to help businesses weather the current restrictions and be positioned to resume operations in the future.
Visit the Fairfax County website or contact the Department of Economic Initiatives at Economicinitiatives@fairfaxcounty.gov.
The Virginia Department of Health's COVID-19 dashboard now shows the total number of cases, fatalities and hospitalizations by state health district. The dashboard also includes two "outbreaks," which represent any single facility with two or more confirmed cases. Data on the dashboard lag slightly behind the case and fatality counts.
Every household in Fairfax County, the cities of Fairfax and Falls Church, and the towns of Herndon and Vienna, should receive a COVID-19 toolkit in the mail. The health alert includes actions that must be taken by each resident in order to stop the spread of COVID-19 in the community: including Instructions on what to do if you are sick, actions to take if you are a close contact of someone who is sick, and details on how to identify and talk to close contacts who are at risk for illness if you get sick.
With the distribution of this health alert, the Health Department is asking any individuals who are sick with COVID-19 to proactively reach out to their close contacts and let them know they are sick. This will amplify the work we already do with contact investigation and tracing, and, given that COVID-19 case volume is increasing, it is important for our whole community to stay involved in slowing the spread. The toolkit is also available online and in other languages (Spanish, Chinese, Vietnamese, Urdu, Arabic, Farsi and Korean).

COVID Cases continue to affect residents and staff in nursing homes and other long-term care facilities in the Fairfax Health District. With the risk of infections spreading in congregate settings and the vulnerability of aging residents, preventing and responding to COVID-19 in long-term care is a priority for the Health Department.
"This is an unprecedented public health crisis and we have mobilized staff from across the Health Department to support facilities county-wide, both those that have cases, and as importantly, improving infection prevention in those that have not had cases," said Fairfax Health Director Dr. Gloria Addo-Ayensu.
The county's health department is giving guidance to facilities including restricting visitors, monitoring residents and staff for illness, providing education about preventive behaviors such as social distancing and handwashing, canceling group activities, providing therapy in resident rooms and enhancing environmental disinfection.
Staff are advised to wear facemasks and strongly recommended to not work at more than one facility. Public health nurses visit facilities to observe their infection prevention and work with leadership to identify materials or training needs.
Data Sources:
http://www.vdh.virginia.gov/coronavirus/