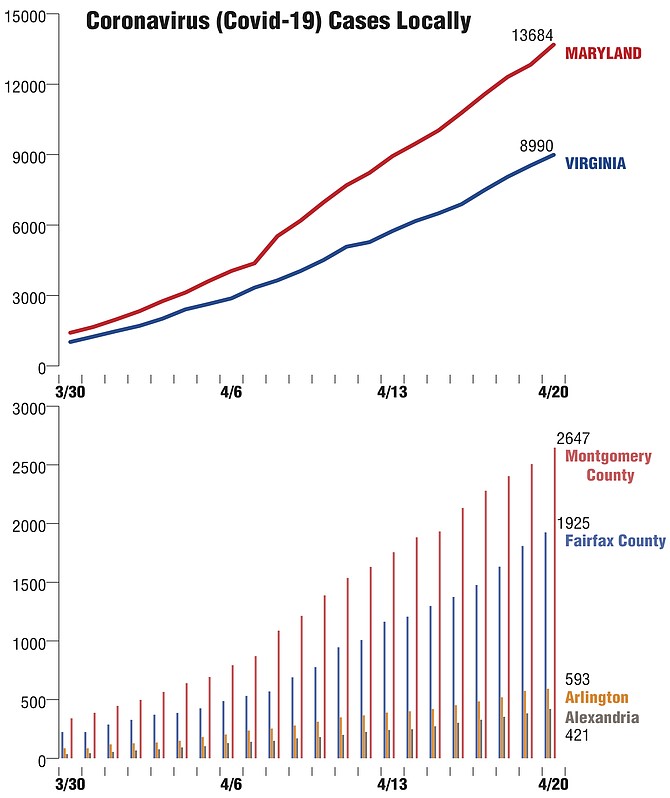 Tuesday, April 21
Alexandria Cases: 462
Alexandria Deaths: 11
Virginia Cases: 9,630
Virginia Deaths: 324
The cumulative number of COVID-19 cases in Alexandria is now 462, including 11 fatalities.
The Virginia Department of Health is now counting cases that are considered "probable" in addition to positive test results in this total number. Probable cases include symptomatic patients diagnosed in a clinical setting, but not tested. This change in case categorization provides a more accurate picture of how COVID-19 is impacting Alexandria.
Monday, April 20
Alexandria Cases: 421
Alexandria Deaths: 10
Virginia Cases: 8,990
Virginia Deaths: 300
The cumulative number of COVID-19 cases in Alexandria is now 421, including 10 fatalities.
Sunday, April 19
Alexandria Cases: 383
Alexandria Deaths: 8
Virginia Cases: 8,537
Virginia Deaths: 277
The cumulative number of COVID-19 cases in Alexandria is now 383, including 8 fatalities.
Saturday, April 18
Alexandria Cases: 354
Virginia Cases: 8,053
Friday, April 17
Virginia Cases: 7,491
The City of Alexandria Office of Housing is offering information for homeowners, renters, property managers and landlords including housing relief programs, emergency financial assistance, mortgage relief, landlord-tenant mediation, eviction prevention,, and more. Call 703-746-4990 or see www.alexandriava.gov/Housing
The Virginia Department of Health's COVID-19 Dashboard includes the number of COVID-19 tests, positive cases and deaths in Alexandria. The dashboard is updated daily before 10 a.m.
In addition to health care providers who already offer COVID-19 screening and testing in Alexandria, the City of Alexandria is providing support for recently expanded screening and testing by Inova Health System and Neighborhood Health.
All patients in Alexandria have access to testing if needed. Testing criteria are established by the U.S. Centers for Disease Control and Prevention and the Virginia Department of Health, and will expand in the future as testing capacity increases.
As of April 16, results have been reported for 1,403 Alexandria residents who have been tested. Of these, 321 or 22.9% have been positive for the virus. Of the positive cases, 36 (11.2%) have required hospitalization and 7 (2.2%) have died.
U.S. Sen. Mark R. Warner (D-VA) and 37 of his Senate colleagues urged Senate and House leaders to ensure that those who have lost their employer-based benefits – and those who are uninsured or underinsured – have access to health insurance.
More than 20 million Americans have lost their jobs in recent weeks. With approximately half of all of Americans receiving their health care coverage from an employer, the COVID-19 crisis threatens to leave a vast number of people without health insurance during the largest public health crisis in a century, adding to the estimated 27 million people in the U.S. who already did not have health care.
The Senators urged Congress to strengthen Medicaid, re-open the Affordable Care Act so uninsured individuals can immediately enroll, and provide premium reimbursement to newly unemployed Americans in accordance with the Consolidated Omnibus Budget Reconciliation Act (COBRA).
Gov. Ralph Northam's Executive Order Fifty-Seven increases the use of nurse practitioners, out-of-state doctors, medical students and telehealth in the state's COVID-19 response. Up to 30,000 additional workers are needed in Virginia's hospitals, long-term care facilities, and public health departments, should a surge occur.
"While we are seeing promising signs in our ongoing fight against COVID-19, we must continue to prepare for all scenarios, and that includes making sure we have the necessary staff to confront a potential medical surge," said Northam.
U.S. Sen. Mark R. Warner (D-Va) was appointed to a White House task force focused on eventual efforts to reopen the economy in the aftermath of the coronavirus outbreak. Warner was one of 13 Senate Democrats invited to participate, along with all Republican Senators except for Sen. Mitt Romney (R-UT).
"My highest priority on this task force will be to ensure the federal government's efforts to reopen our economy are bipartisan, data-driven, and based on the expertise of public health professionals," Warner said.
Northam reported that Virginia's collaborative efforts to release low-level offenders from local and regional jails in response to the COVID-19 pandemic are working.
Northam recommended the following on March 19:
Allow sentence modifications to reduce populations in jails
Divert offenders from being admitted into jails prior to trial, including the use of summonses by law enforcement in lieu of arrest, and use of local pretrial programs
Consider ways to decrease the number of low-risk offenders being held without bail in jails.
Use alternative solutions to incarceration such as home electronic monitoring,
Since late February, the number of new commitments to local and regional jails has decreased from approximately 10,000 during a two-week period to just over 4,000. On April 7, the jail population in the Commonwealth was 24,000, which is a 17 percent decrease from March 1. Virginia has also seen a 67 percent decline in the number of new commitments for misdemeanors.
Northam also proposed a budget amendment allowing the Director of the Department of Corrections to release individuals with less than a year left to serve in their sentences for the duration of the state of emergency.
Thursday, April 16
Alexandria Cases: 303
Alexandria Deaths: 7
Virginia Cases: 6,889
On April 16, the Alexandria Health Department confirmed 30 additional cases of COVID-19 and one additional fatality in Alexandria, bringing the total number of cases to 303, including seven fatalities.
The City of Alexandria alerted residents to expanded unemployment benefits as part of the federal CARES Act, increasing weekly benefits by $600 for workers with unemployment insurance claims effective March 29 through July 31.
An additional $70 million in Child Care and Development Block Grant (CCDBG) funding through the federal CARES Act will help provide child care for essential personnel.
The closure of K-12 schools impacts nearly 1.2 million Virginia children under the age of 12. In partnership with the Virginia Department of Social Services (VDSS) and the Virginia Department of Education (VDOE), the stimulus funding will provide additional avenues to ensure the availability of child care services for essential personnel and cash assistance to child care providers.
Across Virginia, approximately 2,672 child care centers—nearly 45 percent—have closed, including nearly 40 percent of centers that serve children through the Child Care Subsidy Program. For more information, call 703.746.5437 or email lillian.vagnoni@alexandriava.gov. Childcare Aware of Virginia has an interactive childcare map illustrating child care programs across the state that are still operating. For essential personnel seeking child care, see Smart Beginnings Alexandria's child care providers.
A comprehensive guide to COVID-19 child care resources in Virginia, including information about how apply for the CCDBG grants, is available at www.dss.virginia.gov/cc/covid-19.html
Parents who serve in essential industries and are in need of child care services should visit Child Care Aware at VAchildcare.org or call 1-866-KIDS-TLC for an up-to-date list of child care options in their area.
U.S. Sen. Mark R. Warner (D-Va) urged the Federal Communications Commission to take immediate action to ensure that individuals all across the country have access to broadband, as more Americans are forced to rely on the internet for telework, telehealth, and online learning amid the novel coronavirus (COVID-19) outbreak. According to the FCC's latest figures, more than 20 million Americans continue to lack access to meaningful broadband service, with at least 770,000 Virginians currently unserved.
"Under the current circumstances, this lack of broadband access threatens to greatly – and potentially lastingly – exacerbate disparities in health, education, and economic equity," wrote Warner. "On nearly a daily basis, I hear from Virginians who are struggling to engage in telework, supervise their children's online learning, and engage in telehealth over antiquated DSL connections that make even a single one of these activities virtually impossible."
Gov. Northam requested additional federal support for Virginia from its congressional delegations. More money for public health infrastructure; an increase in Supplemental Nutrition Assistance Program (SNAP) benefits; relief for renters, home-owners and those experiencing homelessness; including expansion of unemployment benefits, health insurance, and hazard pay; small business relief, including a federal recovery loan fund and expansion of the Paycheck Protection Program; and infrastructure investment, including funding to achieve universal broadband.
The Virginia Coronavirus Fraud Task Force warns the public of financial scams regarding Economic Impact Payments currently being distributed by the IRS.
"We have reports of criminals attempting to use various phishing techniques, including text messages, emails, and letters delivered through the mail, all attempting to steal your personal information or swindle you out of your economic impact payment. ... Hang up on robocalls, do not provide your personal identifying information to anyone, and always confirm you are accessing legitimate links from IRS.gov," said G. Zachary Terwilliger, co-leader of the task force and U.S. Attorney for the Eastern District of Virginia in Alexandria.
If you think you are a victim of a scam or attempted fraud involving COVID-19, contact the National Center for Disaster Fraud Hotline at 866-720-5721 or via email at disaster@leo.gov.
For more information about the Virginia Coronavirus Fraud Task Force, please visit:
https://www.justice.gov/usao-wdva/covid-19-fraud
Wednesday, April 15
Alexandria Cases: 273
Alexandria Deaths: 6
Virginia Cases: 6,500
Virginia Deaths; 195
On April 15, the Alexandria Health Department confirmed 26 additional cases of COVID-19 and two additional fatalities in Alexandria, bringing the total number of cases to 273, including six fatalities.
All unfenced City of Alexandria parks, trails and fields remain open to the public to provide opportunities for safe, physically distant exercise. Access to outdoor exercise is crucial to physical and mental health, according to the City of Alexandria and the Alexandria Health Department. However, public areas have continued to attract groups of more than 10 people despite Governor Northam's ban on gatherings.
When visiting parks, take the following steps based on guidance from the CDC for how to protect yourself and others from COVID-19: stay at least 6 feet away from others; don't visit parks if you are sick or were recently exposed to COVID-19; don't visit crowded parks; don't use playgrounds; don't participate in group activities or sports.
To encourage physical distancing and slow the spread of the COVID-19 coronavirus, the City and the Alexandria City Public Schools (ACPS) have implemented the following service adjustments: all recreation, nature and art centers are closed; all activities, events and private rentals are canceled; all reservations and registrations are suspended; all public playgrounds are closed; all public sport courts, fenced fields, fenced dog parks, outdoor fitness stations, restrooms and parking lots are closed; transient boater access to City Marina piers is prohibited (open to license holders only).
Visit alexandriava.gov/ParkLink to view the current operating status of park amenities.
Tuesday, April 14
Alexandria Cases: 248, four deaths
Virginia Cases: 6,171
The Alexandria Health Department confirmed two additional fatalities in Alexandria, bringing the total number of cases to 248, including four fatalities.
Alexandria City Council called on the U.S. Congress and the Governor of Virginia to address the immediate crisis of rent and mortgage payments through a potential moratorium, and to suspend the reporting of negative credit information by credit bureaus.

City Council allocated $220,000 to ALIVE! to ensure adequate food supply for food distributions and food pantries through the end of May, following an initiation contribution of $20,000 on March 14. ALIVE! provides nutritious staple foods to Alexandrians in need through direct distribution to clients and by supporting Alexandria's food pantries, meal kitchens, public schools, recreation centers and other community partners.
The ACT Now COVID-19 Response Fund provides a rapid-response grants process to help community organizations provide critical services including emergency food, rental assistance, financial assistance, child care, household and medical supplies, medicine, and more. The Alexandria City Council approved an additional $100,000 contribution of City matching funds for the ACT Now COVID-19 Response Fund, following an initial contribution of $100,000 on March 14.
The Virginia Department of Health's COVID-19 dashboard now shows the total number of cases, fatalities and hospitalizations by state health district. The dashboard also includes two "outbreaks," which represent any single facility with two or more confirmed cases. Note that data on the dashboard lag slightly behind the case and fatality counts.
The City reminds residents to consume alcoholic beverages responsibly and at home. Even though the Virginia Alcoholic Beverage Control Authority has temporarily allowed licensed restaurants and bars to sell beer, wine and mixed drinks for carryout and delivery, the Alexandria City Code still prohibits carrying open containers of alcohol in public. This includes parks, streets, sidewalks, alleys, and any other public or private property open to the public, and includes vehicles in those locations.
WHERE ARE THE TESTS: Sens. Warner and Tim Kaine joined 44 other Senators in calling on the Coronavirus Task Force and the Federal Emergency Management Agency (FEMA) to conduct a national inventory of the coronavirus (COVID-19) diagnostic testing supply, publicly release data on testing results, and provide a detailed plan and timeline for addressing future shortages and gaps in the testing supply chain.
DATA: Following reports across the United States of stark racial disparities in COVID-19 cases and fatalities, Sens. Warner and Kaine joined Sen. Elizabeth Warren (D-MA) to introduce the Equitable Data Collection and Disclosure on COVID-19 Act. The bill would require the Department of Health and Human Services (HHS) to collect and report racial and other demographic data on COVID-19 testing, treatment, and fatality rates, and provide a summary of the final statistics and a report to Congress within 60 days after the end of the public health emergency.
While Virginia has received $3.3 billion to support its COVID-19 response, Sens. Warner and Kaine are pushing for the next emergency coronavirus relief package to provide assurances that funding can be used to prevent potentially devastating budget cuts and that localities of all sizes will receive dedicated funding.
Data Sources:
Virginia Department of Health http://www.vdh.virginia.gov/coronavirus/
Maryland: Maryland Department of Health https://coronavirus.maryland.gov/
Alexandria Source: City of Alexandria and Virginia Department of Health
http://www.vdh.virginia.gov/coronavirus/