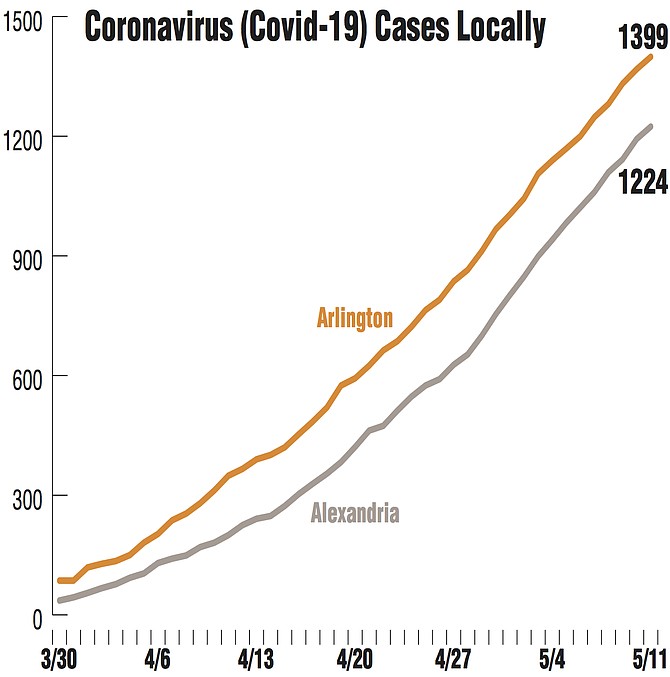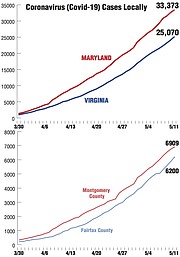 Tuesday, May 12
Northern Virginia Different
Alexandria Mayor Justin Wilson, Fairfax County Supervisor Jeff McKay and Arlington County Board Libby Garvey made the difference: Northern Virginia numbers are different during this pandemic.
Governor Ralph Northam issued Executive Order Sixty-Two Tuesday, May 12, allowing specific localities in Northern Virginia to delay entering Phase One of the "Forward Virginia" plan to ease restrictions.
"While the data show Virginia as a whole is ready to slowly and deliberately ease some restrictions, it is too soon for Northern Virginia. I support the request from localities in this region to delay implementation of Phase One to protect public health," said Northam.
Virginia as a whole may enter Phase One on Friday, May 15, based on achieving certain health metrics, he said.
Monday, May 11
Alexandria Cases: 1,224
Virginia Cases: 25,070
United States Cases: 1,300,696
Alexandria Deaths: 30
Virginia Deaths: 850
United States Deaths: 77,781
Sunday, May 10
Alexandria Cases: 1,193
Virginia Cases: 24,081
Alexandria Deaths: 30
Virginia Deaths: 839
The top elected officials of the five largest localities in Northern Virginia sent a letter to Gov. Ralph Northam, supporting his "Forward Virginia" reopening plan in general but urging him to implement it for Northern Virginia only once regional threshold metrics have been met. Although the metrics appear likely to be met for Virginia overall by May 15, this does not appear to be the case for Northern Virginia. The 2.5 million residents of the city of Alexandria and the counties of Arlington, Fairfax, Loudoun and Prince William represent nearly a third of the population of Virginia and half of the Commonwealth's COVID-19 cases, hospitalizations and deaths.
"We eagerly wish to rebuild our economy and help our residents recover," wrote Mayor Justin Wilson (Alexandria) and Chairs Libby Garvey (Arlington County), Jeff McKay (Fairfax County), Phyllis Randall (Loudoun County) and Ann Wheeler (Prince William County). "It is only through our regional achievement of these milestones that we will be positioned to avoid a more damaging return to business closures later in the summer."
The Forward Virginia plan requires the following metrics be met before the first phase of reopening can occur statewide: 1) a downward trend of positive test results over a period of 14 days; 2) a downward trend of hospitalizations over a period of 14 days; 3) sufficient hospital beds and intensive care capacity; 4) increasing and sustainable supply of personal protective equipment such as masks, respirators, gloves and gowns; and 5) increased testing and tracing. According to analysis by the region's public health directors, none of the five metrics for Northern Virginia have been achieved, or cannot be determined based on currently available data.
Saturday, May 9
Alexandria Cases:
Virginia Cases: 23,196
Alexandria Deaths: 30
Virginia Deaths: 827
The cumulative number of COVID-19 cases in Alexandria is now 1,142, including 30 fatalities.
Honoring Asian Americans: Asian American and Pacific Islander Heritage Month, observed annually in May, is an opportunity to honor and celebrate the contributions that people of Asian descent have made to our Commonwealth, and to our nation's history, culture and heritage. In light of increasing incidents of discrimination against people of Asian descent, the observance this month is a reminder that race, ethnicity, and national origin are not related to an individual's chances of getting COVID-19 or giving it to someone else. Learn what you can do to help reduce discrimination and stigma related to COVID-19, and visit Alexandria Library's Asian Pacific American Heritage Month page for books, activities, and other information.
Increased Telework Protects Employees and Customers: Over the last two months, the City of Alexandria has implemented innovative telework solutions to help protect employees and customers from unnecessary risk during the COVID-19 pandemic.
"Our number one priority is always the health and safety of our workforce and the community we serve," said City Manager Mark Jinks. "Our use of telework, sometimes in groundbreaking ways, has helped us implement guidance from public health officials while improving the efficiency of the services we provide. In many cases, the telework successes we've seen during this crisis will lead to permanent improvements in how we work and deliver services. The City encourages all employers and employees to explore ways to use telework – now and in the future – to protect health and reduce traffic congestion and pollution."
With more than half of employees now teleworking, City government has remained open and operational for the residents and businesses who depend on City services. Telework is only performed to the extent it can be done safely while protecting the confidentiality of any records or other information involved.
Employees whose job responsibilities require them to work on-site are provided with personal protective equipment (PPE) appropriate to their duties, such as cloth face coverings, surgical masks, N95 respirators, gloves, gowns and plastic shields. Since April 6, city employees (below management level) who are are required to work on-site are paid a premium pay supplement of $4 an hour.
Friday, May 8
Alexandria Cases: 1,110
Virginia Cases: 22,342
Alexandria Deaths: 29
Virginia Deaths: 812
The City is developing temporary child-care options to support employees who are required to work during the COVID-19 crisis. This includes workers in healthcare, the food industry, transportation, pharmacies and other essential services. See the City's COVID-19 Emergency Child Care webpage: https://www.alexandriava.gov/dchs/childrenfamily/default.aspx?id=115165
Thursday, May 7
Alexandria Cases: 1,060
Virginia Cases: 21,570
Alexandria Deaths: 29
Virginia Deaths: 769
THE CUMULATIVE number of COVID-19 cases in Alexandria is now 1,060, including 29 fatalities. Due to a delay in reporting by the Virginia Department of Health, the new data represents 39 cases and one fatality reported for May 5, and 38 cases and two fatalities reported for May 6.
DATA BY ZIP CODE: The Virginia Department of Health (VDH) published new data on COVID-19 cases by ZIP code, which show rates in Alexandria that vary from 2.3 to 19.7 cases per 1,000 residents for ZIP codes that can be reliably calculated. Now that there are more than 21,000 confirmed cases of COVID-19 throughout Virginia, the risk to patient privacy is lower and VDH is publishing ZIP code data to help communities identify differences in the distribution of COVID-19 cases.
The COVID-19 virus disproportionately impacts vulnerable populations just as other diseases and health conditions do. The ZIP codes with the highest rates of known COVID-19 cases in Alexandria are also the ZIP codes with higher concentrations of poverty, lower education levels and crowded housing conditions. The populations living in some ZIP codes have historically experienced discriminatory policies and systems, resulting in inequitable access to healthcare, economic opportunities and affordable housing.
Inequitable conditions have created disproportionate rates of chronic health issues resulting in large differences in life expectancy across Alexandria. Now, these chronic health issues also make people more susceptible to severe disease from COVID-19 infection. Additionally, these community members are more likely to work in jobs where they are underpaid, do not receive paid sick leave, and are not afforded telework opportunities, creating additional risk of exposure to the COVID-19 virus.
Since originally becoming aware of COVID-19 in late 2019, Alexandria Health Department has been working with community partners that serve populations at high risk for severe illness if they contract COVID-19. This has included targeted messaging to inform all Alexandrians of all levels of health literacy what COVID-19 is, how to reduce the risk, where to seek testing and medical care, and how to take care of oneself and loved ones at home who may become ill.
SMART 911 is a free service that allows individuals and businesses to create online safety profiles with home, workplace and mobile phone numbers, along with additional information that would be valuable to dispatchers and first responders during an emergency. This information often includes home or work addresses, details about medical conditions, hazardous materials on the property, pets and emergency contacts. See the City's Smart 911 webpage to set up a safety profile, or call 311 or 703-746-4311.
SCALE UP PRODUCTION: U.S. Sen. Mark R. Warner (D-VA) joined Sen. Chris Van Hollen (D-MD) and seven other senators to tell President Trump it is imperative that the federal government fully use its authority to support and expand production of personal protective equipment and testing supplies.
"An analysis by Harvard University researchers found that the United States must, at minimum and under the best-case scenario, double the number of tests being conducted each week," wrote the Senators.
"From the outset of the pandemic, the United States has been dogged by testing shortages and supply chain issues—and Virginia is among the states where that testing shortage has been most severe," according to Warner. Sen. Warner has been outspoken about the need for a cohesive, national coronavirus testing strategy and has fought to secure additional funding for coronavirus testing—including $8 million for Virginia.
U.S. Sen. Mark R. Warner (D-Va.), Sen. Tom Udall (D-N.M.) and 30 other senators urged Secretary of the Treasury Steven Mnuchin to reject politically motivated conditions on financial relief for the U.S. Postal Service. The senators also expressed their strong opposition to the use of coronavirus as a pretext to pursue privatization of the United States Postal Service, which is unpopular with the American people. The senators called the postal service a critical lifeline for many Americans, especially during the COVID-19 pandemic.
CASH THROUGHOUT: Virginia Rep. Don Beyer and Rep. Madeleine Dean (PA-04) sent a letter to House Speaker Pelosi and Minority Leader Kevin McCarthy with recommendations on how to provide Americans with direct cash support throughout the duration of the Covid-19 pandemic and economic crisis.
"So many Americans need help right now, and Congress must not fail them. This is not a time to hold back – leaving people at the mercy of this crisis would be immoral and would hurt, not help, the broader economy," said Rep. Beyer. "We should make [payments] rapidly and get assistance to those who need it, especially the millions worried about making their rent payments or buying food." They emphasize the importance of ensuring all adults and all dependents receive payments, including getting payments out to those who were left out of the last disbursement. "These payments are a necessary vehicle to help American families weather this economic crisis."
PAYCHECK PROTECTION PROGRAM: U.S. Reps. Jimmy Panetta (CA-20) and Don Beyer (VA-08) unveiled a proposal to improve the newly created Paycheck Protection Program (PPP). The PPP, created by the Coronavirus Aid, Relief, and Economic Security (CARES) Act, provides forgivable loans to cover up to eight weeks of payroll and related expenses. However, structural and regulatory issues have hobbled the program, making it difficult for many small businesses, especially in the hospitality industry, to use the loans effectively. The Paycheck Protection Program Improvement Proposal provides dedicated funding for the smallest businesses and prevents publicly traded companies from receiving PPP funding; provides more clarity and flexibility for loan forgiveness and payroll requirements; allows small businesses to spread out payroll payments over a longer period; provides $660 billion for the PPP program overall, with amounts reserved for businesses with fewer employees, including; provides banks increased processing fee incentives for the smallest loans and lowers fees banks receive for processing the largest loans.
During a Senate Health, Education, Labor and Pensions (HELP) Committee hearing, U.S. Senator Tim Kaine pressed Dr. Francis Collins, Director of the National Institutes of Health (NIH), on the Trump Administration's response to the coronavirus and the differences in the death toll in the United States and in South Korea. He asked Dr. Collins why South Korea's death toll increased from 28 on March 3 to 256 today while the United States' death toll increased from 9 to 74,665 in that same time period.
"The numbers are large, but we can't forget that each one is a tragedy," said Kaine.