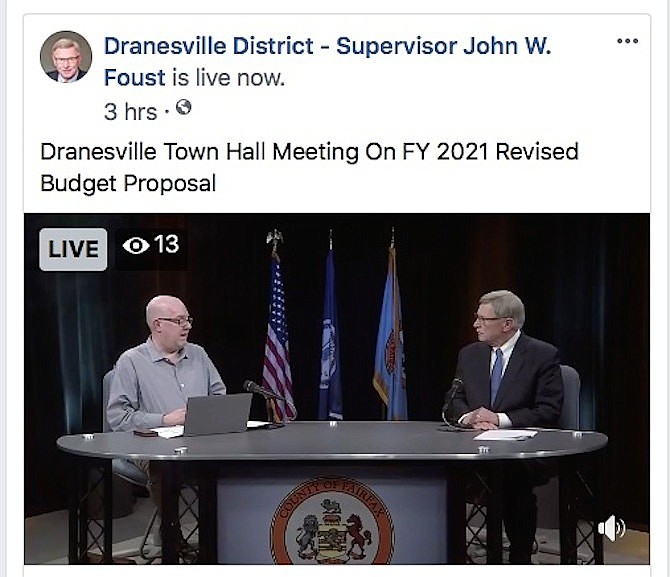 "Having a virtual town hall meeting on the budget was not what any of us expected we would be doing a few short weeks ago... Unfortunately, COVID-19 virus emerged," said Fairfax County Supervisor John Foust (D-Dranesville). On Tuesday evening, April 21, Foust provided residents with the opportunity to learn more about the FY 2021 Revised Budget Proposal and ask questions during the Dranesville Town Hall Meeting. Fairfax County Chief Financial Officer Joe Mondoro joined Foust. "The Revised Budget Proposal reflects the anticipated impact of the coronavirus on our local economy. It is significantly different from the FY 2021 Advertised Budget Plan…proposed in February," said Foust.
Together, for more than 60 minutes, Foust and Mondoro tag-teamed, discussing the Revised Budget Proposal and answering constituents' questions submitted by email, phone and video. Highlights of what listeners learned are that the Revised Budget Proposal no longer included the 3 cent Real Estate Tax rate increase; the rate would remain at $1.15 per $100 of assessed value, and neither did it include the adoption of a 4 percent Admissions Tax.
While the Revised Proposal put a freeze on county hiring, a hold on most new spending and re-prioritized services deemed essential to meet community needs during the coronavirus pandemic and support recovery, the County would preserve existing programs. Transfer to Fairfax County Public Schools decreased from an expected $85.52 million to $7.31 million. General Fund revenues were projected at $4.457 billion, another decrease.
Mondoro shared updates. The County would receive an allocation "in the $200 million range" that would flow from the Cares Act. "We'll be making some recommendations to the board... recognizing that clearly there are needs ... within our nonprofit community (and) within those in the community that have been hit the hardest by coronavirus, lost their jobs... and have some basic need requirements for food, rental assistance, utility assistance... (and) support for the purchase of personal protective equipment," he said. Mondoro said for schools, the state budget adjustments appeared relatively minor, "about $5 million from what was originally anticipated."
Foust cautioned that the action the board takes in early May when adopting the budget would not be final action. "The challenge for us in estimating the budget is that data lags...The budget will be coming back to the board and the community repeatedly and we will be providing updates as we get additional information on the revenue side," Foust said.

Q & A Highlights
Q: How do you compare the 2020 pandemic impact on the County with the 2008-2009 recession?
A: The immediate hit on our budget was dramatic because... the major component of the 2008 crisis was the housing market...It didn't impact every part of people's lives like this is. (Mondoro)
Q: Why aren't we using the reserves that we currently have available to us to fight the economic challenges?
A: Mondoro said there were three main reserves tied to the board's 10 percent policy based on General Fund Disbursements. The first, Managed Funds, had never been accessed in the County's history and was meant for a catastrophe. Staff recommendation was, "we don't go there first." The second was Revenue Stabilization, accessed only when revenue declined by at least 1.5 percent, accompanied by expenditure reductions. I would think that in FY 21, those triggers will be met...The last reserve is the Economic Opportunity Reserve, which is 1 percent of the General Fund. And it has been accessed in response to the coronavirus, initial funding for a Microloan program for small businesses. (Mondoro)
Q: Elaborate a little bit more about the plight of our friends who are homeless in Fairfax County...(and the presumptive) growing number of homeless... due to the failure of people to be able to pay rents and mortgages.
A: We are in the process of expanding the number of hotel rooms that we are renting so that we have more capacity for the homeless and especially individuals who are at risk of contracting coronavirus. We are initiating a number of sites that will provide, not overnight access, but access during the day for restrooms and showers, etc....We have shelters that the County has funded and built and then contracts with our nonprofit partners to provide the direct service in those facilities. (Mondoro)
In closing, Foust said that public hearings on the budget are rescheduled for Tuesday, April 28, 4 p.m. and 3 p.m Wednesday, April 29, and Thursday, April 30. "There will be no in-person testimony. Residents will be able to provide testimony via video, phone or online, and please do...Be safe and be well," he said.
Access additional information, questions and answers including ones pertaining to November elections, phasing of payments for overdue rent and utilities, school boundary adjustments and overcrowding, response to elevated domestic violence reports, accessing loans and unemployment insurance, Climate Action Plan and more at www.facebook.com/JohnFoustva/. The Revised Proposal is available at https://www.fairfaxcounty.gov/budget/sites/budget/files/assets/documents/fy2021/fy-2021-updated-budget-proposal-covid.pdf.