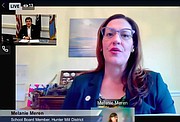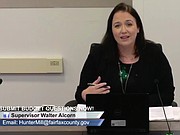 Hunter Mill District Supervisor Walter Alcorn (D) hosted his second virtual town hall on the FY 2021 Revised Budget Proposal April 24, 12:30 to 1:30 p.m. "This is one we wanted to do... to give the most opportunity for folks with different job arrangements and other arrangements...We're obviously looking at a very different budget for next fiscal year than we were just two short months ago," said Alcorn.
Melanie Meren, Fairfax County School Board member representing Hunter Mill District, and Christina Jackson, Director, Department of Management and Budget, joined Alcorn. According to Meren, significant need changes in the student population were occurring. Special education needs were projected to go up 3.5 percent, English as a Second Language up 2 percent and the most significant increase, children living in poverty, up 7 percent. Meren said, "We actually have a third of our students in Fairfax County living in poverty," Meren said she was looking in the budget to ease "teacher overwhelm" through limitations on class size, training, social and emotional behavioral supports, robust learning programs to meet the needs of all learners and "taking care of our facilities." Added to her concern were overcrowding issues related to boundaries.
Jackson provided an overview of the proposal released on April 7. No increases in tax and fees, including sewer and solid waste fees. "We're projecting holding revenues flat...unfortunately, there's a lag in the data...The school operating transfer is proposed to be increased by about $7.3 million... a drop from the $85 million that we had initially." Jackson said they also eliminated increases in pay for county employees, market-rate adjustments, and performance and longevity. "This updated proposal focuses on maintaining existing service levels," she said. According to Jackson, they anticipated revisiting the FY 2021 budget as more data became available.
Jackson said the County received more than $200M from the Cares Act, and as of Wednesday, guidance was released by the Treasury Department in regards to allowable expenses. The County would try to maximize funding to the fullest extent. Unfortunately, those funds could not be used to offset revenue losses. "We anticipate setting aside a substantial portion of funding to help our nonprofits provide basic needs to our residents such as rental assistance, utility assistance, food, also funds to help sustain some of them as nonprofits," she said. The County had also started a Microloan project for its for-profit businesses.
The budget was, Alcorn said, "in an effective freeze into at least FY21."
"As we work through this year, I believe it will give us an opportunity to adjust as we can, and as we must," he said referencing previous priorities.
Q & A Highlights
Q: How will you remain committed to building and preserving affordable housing in the Hunter Mill District during and following this time of economic crisis? (Amanda)
A: We need to make sure we continue doing the things that we have been doing for affordable housing... continue to fund those programs (and) go through to fruition... I believe in the federal CARES Act,... a one-time stimulus program, there is some housing-related assistance that we will be able to do... some of the more critical needs of sheltering people that are at high risk…our homeless population. (Alcorn)
Q: Can you give us any updates on impacts to the library based upon the revised budget... Do we have any updates regarding plans for new library construction in Reston? (Rob)
A: We did have in... the initial Advertised Budget, expanded library hours... That is put on hold. We actually have two library projects either underway or planned. The first one is the Patrick Henry Library in the Town of Vienna. That project is moving forward. The Reston project has been tied up with the larger Reston Town Center North project, something that frankly, I'm looking to kind of hit the reset button. We've got a number of critical public service facilities in that area. It's time for us to sit down and get serious about moving forward and addressing some of those needs. (Alcorn)
Q: How will the next year's curriculum be affected by this new budget? (Phil, age 12)
A: The state has given us options on whether we want to adjust the full calendar... We do need to understand how the curriculum will be different, since some of the state testing is going to happen this year. We don't know the answer just yet (Meren).
Q: Will you work with county employee unions to use federal funds to cover hazard pay for frontline workers? (David Broder)
A: I think that's something we can look into. (Alcorn)
Q: Will the update of the Bike and Trail Plans be impacted by the budget shortfall? (Bruce)
A: I don't think so. This is a project that has already begun. (Alcorn)