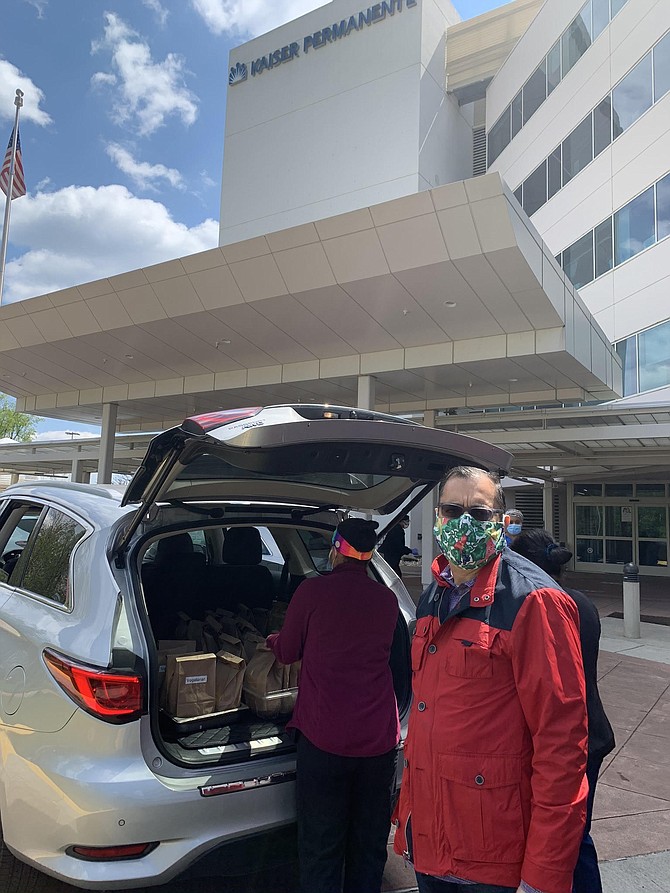 Crisis tests our collective mettle. In Great Falls, it is yielding wonderful examples of leadership, innovation, and caring. Food is the new gold. Beleaguered restaurants here have still managed to become givers. Yasser Baslios, owner of Deli Italiano, sent pizzas over to Inova Loudoun. Finn Thai advertised toilet paper. The Creamery serves up cheese, milk and eggs as well as ice cream.
Mike Kearney, owner of The Old Brogue in Great Falls, has re-invented himself, serving not only as one of the village's premier restaurateurs, but now purveyor of much-sought products such as hand sanitizer. Mike himself has become a traveling man, taking meals to clients who are home-bound, while organizing a team of 200 volunteers providing shopping services for shut-ins. He's also providing lunches to area first responders and hospital staff. His circle has now widened to helping desperate food shortages in D.C.
Ashwani Ahluwalia, the owner of Brx American Bistro in Great Falls, got creative. "Serving the community has always been one of my guiding principles. So, if I can do that through food, this is what I do best," says the restaurateur. With the help of the Rotary Club of Great Falls, he has launched Meals for Heroes, preparing and delivering meals to the doctors and nurses at Reston Hospital, Kaiser Permanente Tysons, and Children's Hospital in D.C. "These people are on the frontline every day fighting this battle. We need to help keep them strong too. If I can help by providing food, then it's the very thing I need to do for them." In another effort to continue to serve the community, he is also planning to stage a curbside barbecue in the Seneca Square parking lot with to-go cocktails, in conjunction with the anticipated opening of his new Brx Oven pizza.
OTHER LOCAL BUSINESSES address different needs of their community. For Great Falls Pilates, the emphasis is on staying healthy. Owner Ashley Gilchrist notes, "Our teaching style has adapted very well to a virtual setting. In addition to Pilates and yoga, we have added classes for beginners, a Men's Mat, thirty-minute core classes, kid's yoga, whole body stretch, and restorative yoga." Meanwhile, the Arts of Great Falls has focused on providing quality leisure. They are moving art classes online with classes on oil painting, jewelry, mixed media and youth drawing via Zoom. Costa's Family Dentistry is readying to reopen May 4 with new safety and sterilization protocols in place.
Tenant rents and PPP head the list of concerns for many businesses. The Rotary of Great Falls has stepped up to serve as a de facto chamber for its business members, sharing business news with local establishments. One beneficiary, interior designer Margery Wedderburn, reported, "Rotarian Joe Yoon at AOG reached out to me about the PPP. I was having trouble with my bank and so Rotary was able to put me in touch with Neddal Abu-Taa, one of their banker members. He helped me to get the PPP." The Rotary also helped put together a community chat room, meeting Tuesdays and Thursdays at 10 a.m. at helpgfbusinesses.com.
ROTARY'S worldwide reputation as a service organization is very much in play at the local level. Volunteers are making phone calls to isolated senior citizens and enrolling as telehealth workers. Besides collecting nearly $13,000 in donations to date for Meals for Heroes, the Rotary of Great Falls has also established a matching fund for Cornerstones, the area non-profit serving the homeless, children in need, and the hungry. In a short time, the Rotary has raised more than $4,200 to help replenish our overwhelmed local food pantries. Contributions to both funds can be made at www.rotarygreatfallsva.org.