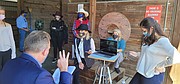 Great Falls recently staged a pandemic version of a Derby: ladies in big hats, a sunny sky, six races with thirteen horses apiece, and big prizes for the winners. The occasion was a charity event for Lift Me Up! (LMU), the oldest philanthropic organization in Great Falls, catering to children and adults with special needs. The fundraiser was staged by the Rotary of Great Falls, generating $10,000 for Lift Me Up!
The races took place in LMU's spacious indoor barn, home to 13 horses of various breeds with fabulous backgrounds. Delfinia is a Norwegian Fjord, dun-colored pony with a signature stripe running from crown to tail. The breed is over 4,000 years old. The U.S. only has six, and LMU has three of them. A few were former fox hunters, another a retired international show jumper, and a third a stately draft horse. Director Georgia Bay, her staff and her horses welcomed us all.
The race itself did not take place in the large indoor rink, however, nor did it run those horses. Rather, thirteen numbered hobby horses were entered in six lists. Each backer's contribution afforded them the opportunity to name their horse, and that was its own source of entertainment. Some hearkened back to the great racehorses of the past: War Admiral, Seabiscuit, and of course, Secretariat. Some riffed on musical themes, like Do Re Mi Fa Sol La Ti Do and Market Doodle. Rotarian favorites included Dark Journey, Real Client, TruStar and Mysterious, and Rotary Rampage. The families whose lives had been impacted by the good work of LMU honored the stable tenants' Rocky, Jax, Mirabelle, Jewel, Shimmy, Snuffy, and Giraffe. Organizer Sean Plunkett staged the races with a deck of cards and a die. Each card's number attached to one of the racers, who were then moved by the Interactors according to the throw of the die. Special spaces carried prizes donated from sponsors Brx Pizza Oven, Scout and Molly's, and Classic Wines. Winners of the first six races were then entered in the Race Finale. First place, carrying a $1,000 prize, went to Isabella, owned by Ashwani Ahluwalia. Second place went to Jaz, owned by Louise Schmidt-Eisenlohr; and third place went to Redding, owned by Beverly Harris. MBM National Harbor supplied the winner prizes, a mix of overnight stays and dinners.
As in other pandemic events, the audience for the races had options. Interactors and some Rotarians gathered at the barns, others repaired to Brx Oven Pizza to chow down while watching the races on big screen TV, and still more were able to watch it on Zoom.
Roz Drayer, President of Lift Me Up!, was deeply appreciative of the event. "We are so grateful that the Great Falls Rotary has stepped up to help us. The work we do is so meaningful to those with great need." Rotary Foundation Chair Dan Lundeen, who got to present a check for $10,000 to LMU, added his thought. "The Rotary Club and Foundation are thankful to all the folks that contributed to this great cause, as well as our sponsors. Kudos to the Rotary of Great Falls for such an imaginative fundraiser." Lift Me Up! is one of only a few facilities in Northern Virginia offering therapeutic riding. For more information, visit https://liftmeup.org/