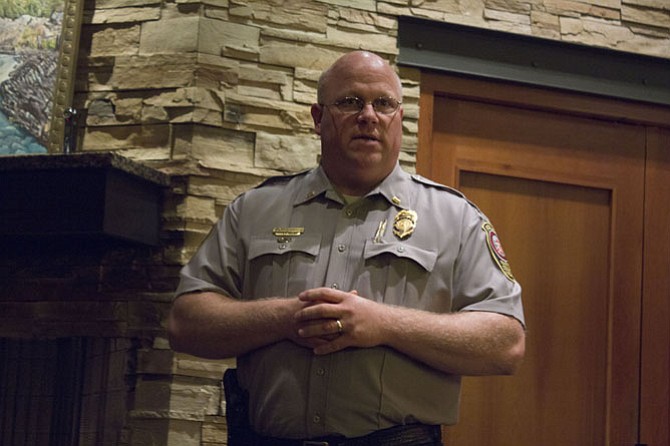 Great Falls — A group in Great Falls raised over $5,000 for the organization Concerns of Police Survivors (C.O.P.S.) that supports the families of officers who have been killed on the job.
For the last eight years, Bob Nelson, a realtor with Keller Williams Realty in Great Falls, has been organizing Military Appreciation Monday. The monthly fundraisers benefit military support organizations and groups. This latest fundraising effort was part of his new Law Appreciation Wednesday events, which will raise money for police officer support organizations and groups.
Brix American Bistro on Seneca Road hosted the dinner on Wednesday, Jan. 25. As the host, the restaurant donates a portion of the evening's sales during the event's seatings. Raffle tickets are also sold for donated items.
"One of the hardest jobs is being a cop," says Ashwani Ahluwalia, the restaurant's owner. "They put their lives on the line … big sacrifice."
The seating for the service was full. As people ate, an officer who patrols Great Falls spoke to the crowd.
"I'm very proud to represent FCPD and the Reston Station in thanking this group for their support," says 2nd Lt. Anthony Lampe of the FCPD's Reston District Station. "Whenever a brush with life comes close, support means that much more."
Officer Lampe was referring to the shooting of one of his colleague's marked police cars just three days before on Sunday, Jan. 22. The car was struck several times by gunfire in Great Falls, but fortunately the officer was not hit.
This is the second of Nelson's Law Appreciation Wednesday events. In December, the group raised $4,000 for HEROES, Inc. The organization assists the families of police officers within the D.C. region who have been killed on duty.
"The hardest part about organizing this is finding groups that support cops," Nelson says.