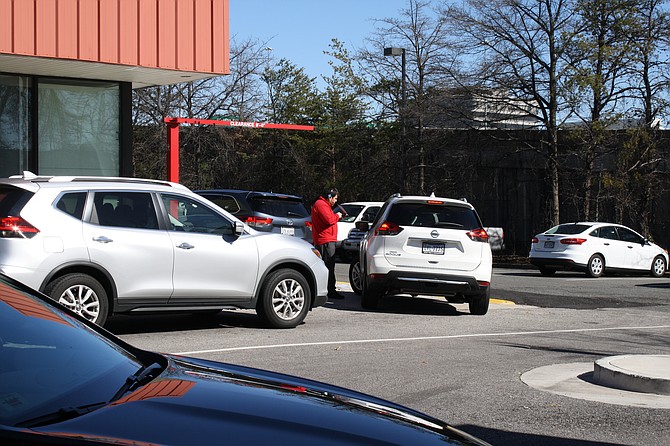 The plans for a new Chick-fil-A in Kingstowne are moving forward, which is good news to the lunch crowd but not so good for the traffic or other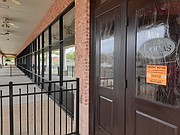 eating establishments in the area, as Kingstowne takes another step, becoming a dining and shopping destination in southern Fairfax County.
Plans are for the new Chick-fil-A to have indoor and outdoor seating, and a drive-up window. Currently, it's early in the planning process, and with the COVID-19 quarantine, it might be months or longer before there would actually be food on the fryer, but wheels are in motion to make it happen. There is chatter in Kingstowne as well.
"My mom told me yesterday," said Sarah Johnson, a nearby resident who was getting something from the Subway store a few doors down from the proposed Chick-fil-A location. Melissa Mirenzi just found out too. "The food is really good," she said.
This new Chick-fil-A would be the second in Lee District, and the other one is across I-95 in the Backlick Shopping Center in Springfield. It has a drive-up window too, but is in a cramped area that gets much congestion at times, and during lunch hour, it's common to see Chick-fil-A drive up traffic clogging the whole parking lot and extending out into Backlick Road.
Paper Trail
There is a standard county process for applications such as this, and Supervisor Rodney Lusk (D-Lee) is looking at the application, but all things are on hold for now due to COVID-19 and dates could change due to the virus restrictions. "It's just a proposal right now," Lusk said. "It's got a whole bunch of steps it has to go through," he added. Lusk is familiar with the Chick-fil-A parking lot situation over in the Backlick Shopping Center, and is looking to prevent something like that. Ideas to prevent a traffic problem include having a mobile order taker along with a dual-line approach to keep things flowing. "It's a pretty popular place," he said of the Springfield location.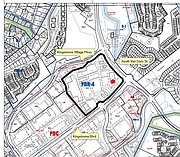 Having another Chick-fil-A in Kingstowne might also help the situation over off Backlick Road. "It would reduce the demand," Lusk said. The two locations are about five miles apart.
Lusk's office will be putting together a staff report over the summer, which is due on Oct. 6. There are a series of meetings that need to be conducted before moving forward though, and as the county has it now, the first one is a public comment hearing scheduled for Oct. 21.
Chick-fil-A History
When a new Chick-fil-A opens there is a certain amount of hysteria because the company offers free food for the first 100 customers. This happened at Backlick and the Burke locations a few years ago, and some camped out all night, so Kingstowne can probably look forward to the same. At Chick-fil-A random events, folks throw on the cow outfits to get into the spirit. Most times, a free sandwich is involved.
It all started in 1946 when Truett Cathy opened a diner called the Dwarf Grill, in the Atlanta suburb of Hapeville. He tested various chicken recipes and finally came out with the current formula in 1964. The restaurants were a staple in many malls, but the first Chick-fil-A opened its first stand-alone restaurant on North Druid Hills Road in Atlanta in 1986, company literature stated. The cow became their logo, with the saying "Eat mor chikin," in 1995. In 2014, Cathy died at age 93.
If the county passes everything for the Kingstowne location, they can count on a gala event for the opening.