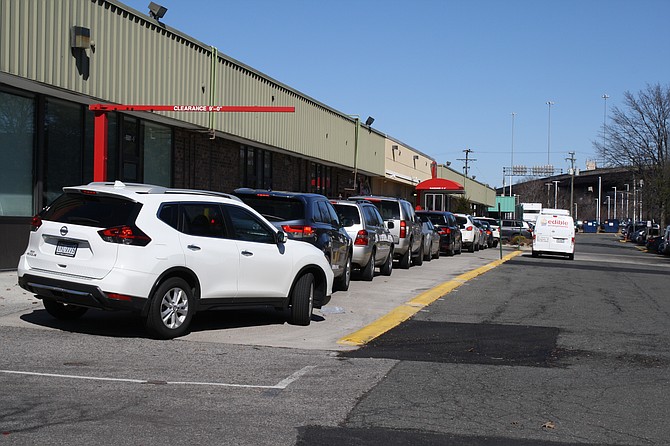 The drive-up window at Chick-fil-A in the Backlick Shopping Center exasperates an area already plagued by traffic congestion and the other businesses in the center are feeling it. During lunch or dinner time, or anytime on Saturdays, it's not surprising to see a line of cars stretching from behind the stores, past the traffic signal, and out to Backlick Road.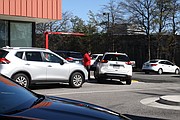 On Saturdays, there is even a traffic policeman on hand to keep the traffic moving.
Next door at Spark Nail Spa, the line is nothing new. "The center is blocked," said manager Nhu Nguyen, while filing Carie Millin's nails. Millin lives in Washington, D.C. but travels to Spark because she has gone there since she lived in Springfield a few years ago. "This parking lot is horrible," she said.
Springfield resident Kaitlyn Sexton was over at the next table getting her nails done as well. "Even if you want to go to Chick-fil-A, you can't, the parking lot," she said. Saturdays are the worst, they all agreed.
The line forms right outside Taco Bamba and manager Jasmine Orozco realizes Chick-fil-A has a right to have a drive thru window, but has heard her customers complaining. "They usually get a pretty big line," she said, "all the way to the light sometimes."
The traffic complaints have also reached Supervisor Jeff McKay (D-Lee) who recognized the problem, but it is a "by-right," issue. There was previously a bank drive through window at that location so the site plans were already in place, but McKay did bring it up with the Board of Supervisors. "I raised some concerns, a bank drive through is a totally different animal," he said. He's been to the shopping center during meal times and "I've never seen a situation where internal circulation is this bad," he said.
With the other businesses struggling in the center, Kimberly Clarke, President of the Greater Springfield Chamber of Commerce, has heard of the gridlock but she has not heard any resolutions for the situation. Attempts to contact Chick fil A have been unsuccessful.
Springfield Connectivity Study
Although there has been much done to central Springfield over the last 30 years, that particular stretch of Backlick Road hasn't changed much. There are still strip mall shopping centers on each side of Backlick, and one traffic light at the 7-11 in Backlick Shopping Center. About 20 years ago, Veteran's Bridge was introduced just north of the shopping center and the four-way stop at Backlick and Old Keene Mill was eliminated, but at the same time, businesses came and went, houses and apartments were built and progress continued for central Springfield. Traffic on Backlick Road got more challenging.
Millin suggested routing the Chick-fil-A line behind the stores, possibly stretching south past the Jiffy Lube, but nothing is planned as of yet. Sexton agreed though, "somehow it needs to be easier to get in and get out," she said. For this to happen, the private businesses in the center would have to initiate the action, McKay said.
Up the street, traces of old Backlick Road are being replaced by new though, in an attempt to renew the area. On the books, there was a Springfield Connectivity Study with that part of Backlick Road in it, and there was a second bridge over Old Keene Mill Road being looked at and that bridge is still on the comprehensive plan. The expense for something like that put it out of reach right now. McKay called it a "major, major project." The few traffic signals that are in the corridor are checked regularly, said VDOT spokesperson Jennifer McCord. "Our signal team regularly reviews and adjusts signal timings, particularly along major corridors, to optimize travel times. We have about 1,400 signals in northern Virginia," which is almost half of the signals in the state, McCord said. Ultimately it is under the Fairfax County's Planning and Zoning Department though, and VDOT just acts as a reviewer in a situation like this at Backlick Road, McCord said.
Last summer, a plan was approved for a new Hampton Inn to be built on the corner of Backlick Road and Old Keene Mill Road, a few blocks north of the Chick-fil-A. Currently there is an old strip of stores is at this location that will be taken out for the hotel, which will be a six-story hotel with a three-story parking garage, according to the application. On the tax plans, this is called "Springfield Gateway," and will have good visibility from I-95 but the access for this new hotel could be challenging.
The Fairfax County Police Department did confirm a request from the Chick fil A store to provide an officer to direct traffic in and around the lot, "at the request of Chick fil A," said Lt. Lieb, a Fairfax County Police Department spokesperson. The department put out the assignment, an off-duty officer was dispatched at several different times, but Chick fil A withdrew that request recently, so no officers have been assigned lately.