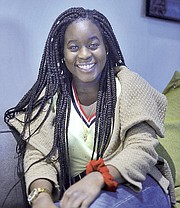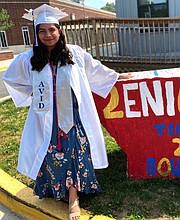 Senior year, 2020 T.C. Williams graduate Mikaela Pozo applied to 17 colleges. Despite the copious essays and application fees, she needed to cast a wide net. An immigrant and first-generation college student, Pozo depended on scholarships to realize her college dreams. So she applied to pricier private universities that could give her more grants as an international student.
But as college decisions came, Pozo had few options. Her top choice rejected her. Most of the colleges that accepted her such as George Washington University and the University of Richmond gave her no financial aid.
She did receive a full-ride to George Mason University, which she will be attending in the fall.
"It's definitely not the school I thought I would be attending," said Pozo. "It was not a part of the plan. The reason why I chose George Mason was because it was the most financially feasible option."
She's just one student whose college plans differed from initial expectations. Several other recent high school grads are re-evaluating college options amid the pandemic and financial crisis. The students behind them, the Class of 2021, are navigating a new college admissions landscape.
"Because of COVID-19, I had to think about what was the best option financially," said Pozo. "Hypothetically, if I did take out a loan and go to the University of Richmond while we have COVID-19 happening, my mom loses her job and can't help me pay for school. Would there be any opportunities for me to pay off the loan? I would be taking a risk."
Reopening plans for colleges don't make the decision making any easier. George Mason University plans to start its fall semester on schedule with a hybrid plan including both online and in-person classes, but final decisions have yet to be made. Northern Virginia Community College (NOVA) will continue most of its classes online.
For some students, the first year of college done remotely is anything but ideal.
María Areyán, a 2019 T.C. Williams graduate who took a gap year, is excited to start her first year of college at NOVA. However, she's not happy about the Zoom lectures.
"I'm not very good at online learning, which is something that I'm scared about," said Areyán. "I'm more functional in a classroom than I am in my room."
College plans aren't the only thing that's changed. Commonly regarded as a rite of passage, the traditional senior year experience is now anything but. The Class of 2020 had their senior year upended with a virtual graduation ceremony, no prom, and a pandemic crashing it all.
"There was so much going on in the world, it was difficult to think about college when there were so many other things I had to think about and process," said Pozo.
The Class of 2021 will have to deal with the same thing, all on top of college applications, possible first days of school over Zoom and rising uncertainty as the pandemic continues.
"We know how hard it is, doing college apps, doing schoolwork and balancing everything," said Areyán. "But I think it's going to be harder now with the pandemic.
Fairfax and Loudoun counties have announced a complete virtual fall reopening for their public school students. Alexandria is still deliberating, hosting public hearings to develop a plan that will be publicized by mid-August.
Kennetra Smith, a rising senior at Thomas Edison High School, feels uncertain about a new online school year. As a low-income student living in a small apartment with five other people, she struggled to balance family responsibilities on top of schoolwork and scholarship applications.
"It's going to be really hard to make those connections with my new teachers this year," said Smith. "How do I put myself out there for my teachers and how do I engage?"
Fairfax had a rocky start to online learning earlier in the spring. A security breach and technical issues with the distance learning platform Blackboard led to the district pressing pause on online learning for several days. Despite the issues being fixed, students will start a new school year with continuing struggles with online learning.
"Our senior year is going to be really different; I don't think it's going to be normal. I don't think anything's going to be normal."
—Fina Osei-Owusu, T.C. Williams Class of 2021
"NOT EVERYONE has the same learning environment," said Smith. "Not everyone has a place where they can be respected. Not everyone has a specific space for this stuff. …We all know virtual learning isn't working. If anything, we're taking a step backwards."
The pandemic is also causing a shakeup in college admissions. Several Northern Virginia schools have adopted pass/fail grading and taking college admissions tests like the SAT and ACT have become nearly impossible. In response, many Virginia universities such as University of Virginia and Virginia Tech have made test scores optional for admission.
Smith is anxious to get standardized testing over with. She registered to take the SAT in August but her testing location in D.C. canceled. She's now scheduled to take the exam in October at a school in Maryland, an hour and a half away from home.
Even with recent policy changes, a good test score can still bring scholarships and college affordability.
"Schools say they're 'test-optional,' but to what extent are they actually test-optional?" said Smith.
She's not the only one who might have to apply to college without test scores. T.C. Williams rising senior Fina Osei-Owusu is banking on taking her SAT in August after having her first one canceled in April. But like many things, there's no guarantee that it will happen.
"Everybody is in the same boat," said Beth Lovain of the Scholarship Fund of Alexandria. "Whatever challenges that they have, every student has."
"I think '21 thought we were safe, that maybe we'd miss some schoolwork. But prom is non-negotiable. As we are going into the year, I'm starting to realize that maybe we won't have prom. …It is what it is."
—Kennetra Smith, Thomas Edison High School Class of 2021
DESPITE THE PANDEMIC, Pozo argues the barriers many disadvantaged students face when applying to college will persist.
"A lot of low-income people and undocumented people experience the college process a little bit differently," said Pozo. "The college process itself shows how inaccessible college education is."
"We're very worried about the students," said Lovain. "But at some point, it all will go back to normal."
But Smith is starting to accept that her senior year probably won't go as anticipated.
"I think '21 thought we were safe, that maybe we'd miss some schoolwork," said Smith. "But prom is non-negotiable. As we are going into the year, I'm starting to realize that maybe we won't have prom…It is what it is."