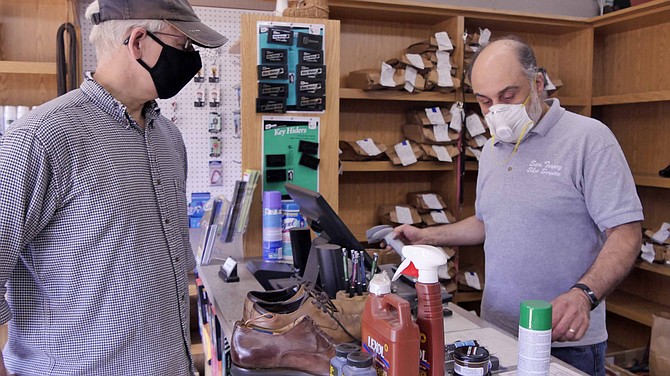 The cubbies and shelves that normally would hold over 500 shoes, purses and other items are now mostly empty as Sam Torrey Shoe Services prepares to close on Friday, July 31. The finisher, cleaning brush and trimmer stand motionless.
Kevork Tchalekian, owner since 1965 says, "Most of the remaining items have been here for six months or so. I've been calling people for three weeks to come pick them up." He says anything left over when he closes will be donated to church.
Usually items were finished in a couple of weeks, but when business was busy or an item was challenging he could have a backlog of six weeks. For instance, reconditioning of the World War II uniform hanging behind the desk, or the French backpack with the broken zipper. "They have different zippers over there. I don't know if I can find one that will work."
A buzz signals a customer has just entered the shop. Joann Perry, who has been a customer for five years, has come to retrieve her high heels. "They've been here for some time, since March." Tchalekian removes the high heels from the brown paper bag for inspection. They've been cleaned and shined up. "Oh they look nice."
He explains he will be moving to Southern Shores where he'll be in semi retirement. "This was a long-term plan but there hasn't been much business for the last five months. I'm 56 and still a young man." So he is moving and will continue to do some business from N. Carolina by mail. Perry signs up to get information.
Tchalekian says he loves the water and fishing. He thinks there might be different business by the ocean. "I don't expect to be doing many shoes but I can do zippers on sailboats, for instance. I have the machine."
Joy Jacobson comes in with a large bottle of whiskey. "I'm glad for you but you'll be so missed." Jacobson says for 30 years she has been bringing her luggage, purses and shoes that she has become fond of and she doesn't want to throw away. "The magic is here."
Another frequent customer comes in with a knee high boot and a pair of shoes. Tchalekian says, "I know you come in a lot but I have to tell you I am closing on Friday and can't take any more shoes."
"Are you sure? My daughter is going to college and I need to get these repaired." Tchalekian explains that people aren't going to work anymore, so they aren't wearing out their shoes. Things are changing. He says people still aren't going out. The woman stands rooted to her location. "I am stunned."
John Lawrence, a COVID contact tracer, hadn't gotten the word on closing of the shop. "It was dumb luck that I came in today." He still goes to work and wears business casual so he is wearing down his dress shoes. "And I have a dog who likes to take long walks so I'm still wearing down these," he says pointing to the shoes he is wearing. He has come in to pick up his shoes as well as some supplies. "Do you have black cream; it's all sold out?"
He says he comes in about every 3 weeks to have a new heel plate hammered in place on his shoes." He decides to buy 20 heel plates so he can do it himself when the shop closes. "I'm glad I came in today. I have no idea where to go."
Tchalekian says, "Yeah not a lot of people do this stuff." Tchalekian came over from Lebanon when he was a child and says the leather craft skill was in the family. "I guess it was instilled in my blood."
He explains if he were to train someone from scratch it would take many years. Tchalekian has one employee who came with a little knowledge. It took five years to get him trained to do the basic work. But it took another five years to fine tune his skills. "He still can't do the finishing. It is pretty complicated. You've got to be careful."
Many of the customers come in and call him Sam. They just assume his name is the same as the shop. "I don't bother to set them straight. It would take too long with all of the customers." And he still has work to do. Tchalekian says he has been working 18 hours a day for 20 years. "And it's hard to shut down when you're rockin' and rollin'."