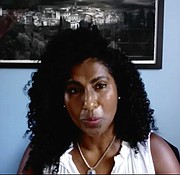 Fairfax County NAACP held a virtual Town Hall on Wednesday, Aug. 5. President Sean Perryman moderated discussion between Education Committee Chair Sujatha Hampton, Ph.D., Fairfax County Public Schools Superintendent Scott Brabrand Ed. D, and other staff. They focused on Fairfax County NAACP Education Committee Priorities 2020-2021 created to ensure educational equality of rights and eliminate race-based discrimination in the school district.
Throughout the 90-minute conversation, Hampton challenged Brabrand to live up to the school district's ideals, push for change and employ metrics and firm deadlines to goals.
"I'm watching you like a hawk," Hampton said.
Brabrand responded that in partnership, they should "watch together and learn together. … I'm committed to doing the work … I am serious as the leader of this system, about taking us where we need to go and I want to be a partner with the NAACP in doing that," Brabrand said.
The Town Hall began with a discussion on COVID-19 and how to protect vulnerable FCPS students, faculty and staff. Perryman said they couldn't talk about systemic racism without talking about COVID and the shutdown of schools. It was going to impact Black students as well as students of color disproportionately.
Brabrand said Covid exposed many inequities in the school system. "We are going to do everything we can to have a very strong virtual start and have all of our kids connected. And we will have metrics to begin the conversation with the community about how we can deliberately, carefully, safely ease back into school," he said.
Hampton said she and others in health and science fields were not comfortable with information the County's Health Department shared.
As a solution, Brabrand said he was working with the Virginia Department of Health and County Health Department for guidelines and metrics. They would establish decision-making policies on how to dial-up or, if necessary, dial-down students attending in-person school. The district would make certain health conditions were as low risk as possible. Brabrand announced the public would see the "first draft at our August 18 Work Session."
HAMPTON voiced concern that the majority of County support staff who worked with vulnerable school populations had not been reached to participate in earlier district surveys. According to Hampton, unions represented only 30 percent of those individuals. "We need you to protect them," she said to Brabrand. Hampton added that the school district must commit "to gathering data, to reviewing the data, to analyzing the data with new metrics that are anti-racist (and) doing follow ups and having deadlines... Otherwise nothing happens, we just keep waiting," she said.
Hampton introduced the second Education Priority of Fairfax NAACP, to create an effective model for the Equity and Cultural Responsiveness Team by the end of the academic year. Brabrand said after hearing concerns voiced by members of NAACP and others regarding the new Chief Equity Academic Officer position, he changed course. He intended to decouple the role and instead create two jobs. One would be Chief Equity Officer with a full range for the entire organization and the other Chief Academic Officer. "I would seek a national consultant to assist us in hiring both those key positions," Brabrand said.
Hampton said they were there to help and might have perspectives not yet considered. "You cannot achieve radical transformation, with exactly the same profile and exactly the same people at the table. It is not possible; and assuming anti-racism is a fairly new thing for systems to be considering, you have to be looking for somebody completely new, a totally different mindset," she said. Hampton offered Brabrand side-by-side "Traditional vs. Anti-Racist" job descriptions.
Brabrand and Hampton turned their attention to racial bias viewed through the lens of the disproportionate number of behavior incidents in the schools involving Black and brown children. Although the district provided School-based Intervention Programs for Behavior with a consulting system of counselors, psychologists, social workers and restorative justice specialists, district data showed an over-representation of Black and brown children with behavior incidences.
According to Hampton, the mostly white teacher workforce "clearly have some issues because Black kids are not so bad." She said, "The problem is that when you only have teachers who are feeling threatened by their students to this degree, and nobody is reviewing whether the systems are put in place before they are disciplined, there's a problem…You should be able to look at the IEP for any child that's there and see their behavior intervention plan. You should be able to see all the things, all the steps the school took before they got there. There are … just gigantic, gaping holes where people didn't do due diligence. And that is tragic." Hampton described differences between schools. "It's a culture thing," she said.
Brabrand said there would be new behavior codes for the school year. They would, as Brabrand said, "make teachers dive deeper before they're referring a kid to the office."
"And we're going to do a paper review of discipline data...Our issue is solving it systematically... Real-time data tracking for discipline; quarterly follow up with Doctor Ivy...If there's trends that are of concern around disproportionality, we're going to address it, just the same way that we would look at addressing attendance or grades," he said.
Dr. Frances Ivy added they had found all schools were not reporting on the same form.
Perryman introduced the third Education Priority of Fairfax NAACP, to increase hiring and retention of Black and Latinx teachers, accessing it semi-annually in a public forum. Perryman asked, "Don't we have something like 26 schools that don't have anything but white teachers?"
Brabrand confirmed the district had 25-26 schools that had no instructional staff of color. He added, "That is a problem, and that is not acceptable."
Perryman questioned why the number of teachers of color had not changed in two years, even though there was a supply out there.
Brabrand explained the district's decentralized hiring process had moved it to central. He said, "(It) doesn't mean you are going to pick diverse candidates out of that bigger pool...This is something I'd love your help on... (and) how to create cohorts of support for new Black teachers and Latino teachers to say yes... We need folks to be able to be courageous enough when they are offered the job to take it with us in those schools… We are not going to have schools that continue not to hire teachers of color… There are some schools that have more work to do to create that environment, and we're going to get it addressed this year."
Discussion of the fourth priority goal keyed into the roles, limits, and domain of Principals and Regional Area Superintendents to ensure during the 2020-2021 school year a system of effective oversight on issues of equity. Hampton questioned outcome differences between schools, given their principals and respective atmosphere in their schools as related to equity. "Maybe you have to look at what has kept principals from running buildings... (You) have that responsibility to do that oversight of principals," she said.
Brabrand responded that in the past, some principals used the resources they had better than others. He said, "This year equity is part of every principal's goal...There shouldn't be any discipline disproportionality… There shouldn't be any academic gaps. We have coaches to help us do that...We need to do it at a deeper level and focus it around equity," Brabrand said. He added they would be held accountable. Hampton said, "You need to put the right people in those jobs. I think that you need to reward that sort of attitude."
NEARING THE END of the town hall, Hampton and Brabrand discussed the establishment of curriculum review committees to study current curricula for racial or cultural bias, especially in the areas of Social Studies/History/English, and to identify resources and teaching practices that could promote a more inclusive worldview and a complete study of the United States and World History. Such would be completed by the end of the 2020-21 school year.
Colleen Eddy, Coordinator for Social Studies K-12 at FCPS, said they were auditing existing curriculum to remove biased, harmful and racist resources, creating a transformative curriculum. "That means partnering with the right people across the state, focusing on the design principles for culturally responsive pedagogy, and adopting anti-bias and the anti-racist outcomes for our curriculum… with a mindset to fidelity of doing good work that's responsible and has integrity to history."
Finally, Brabrand and Hampton reviewed the admissions process to Thomas Jefferson High School for Science and Technology (TJ).
"We want to see obviously that TJ reflects the population it serves," Hampton said. She questioned why Black teens chose not to go to TJ.
Brabrand said, "I expect a conversation about TJ with our school board in the coming months to address a lot of the questions and solutions, not 20 years of status quo where we have tried to do something, but we've settled around the edges, and it has not made a major change. I'm sitting with Karen Keys-Gamarra from the School Board, with Marty Smith, our Chief Operating Officer who oversees TJ admissions, myself and the principal of TJ on a Governor's Task Force led by the Secretary of Education...and the Board of Education Chair. "
Due to time constraints, not all 2020-2021 priorities as developed by the Education Committee and part of its Advocacy and Legislative Agenda could be discussed at the town hall. A follow-up meeting is planned.