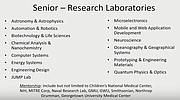 Thomas Jefferson High School for Science and Technology admitted 550 students strong as its Class of 2025. The population reflects broader diversity, equity, and inclusion than any other class in school history. Changes to the TJ Freshman Application Process by the Fairfax County School Board on Nov. 9, 2020, and later decisions to transition to a holistic approach upended the selective secondary school's 36-year troubling trend of racial and economic admissions data disparities resulting in equity gaps. 
In June of 2020, Ann N. Bonitatibus, Ed.D., TJ Principal, sent a letter to the families of TJ students.  She wrote, "Our school is a rich tapestry of heritages; however, we do not reflect the racial composition in FCPS… Do the TJ admissions outcomes affirm that we believe TJ is accessible to all talented STEM-focused students regardless of race or personal circumstance?"
THE SITUATION was not new. Nearly a decade ago, "across all four grades TJ in 2009-2010 school year, approximately 1.78 percent of students were black, 2.84 percent of students were Hispanic, and 1.74 percent were poor," the Connection reported on June 26, 2012. "Fully 25 percent of students in Fairfax County are poor enough to qualify for free-or-reduced price meals. Do we believe poor students are less talented than students from wealthier families?"
According to Superintendent Scott S. Brabrand in a June 23 news release, "Last year, Fairfax County Public Schools moved to ensure increased access and opportunity to TJ for students with an aptitude and passion for STEM. The data around TJ's prospective freshmen class speaks volumes to the fact that when we truly center our work on equity, all of our students have an opportunity to shine."
According to Regulation 3355.14 from the Superintendent's Office on TJ Admissions, TJ is annually designated by the Virginia Department of Education as an academic-year regional governor's school for science and technology. It is under the sole direction and control of the Fairfax County School Board.  Existing in the very diverse County of Fairfax, it serves select students who meet the eligibility requirements not only from Fairfax, including the City of Fairfax but four other Northern Virginia school divisions-Arlington County, Falls Church City, Loudoun County, and Prince William County. 
In 2021, the U.S. News Best High Schools report ranked TJ the number one school nationwide for the second year running.  TJ offers a challenging, comprehensive college preparatory program, with research-based learning emphasizing STEM-related courses and activities. In addition, TJ offers a complete high school curriculum, fine arts and performing arts, and world languages. There are over 180 clubs and activities, according to FCPS.
Previously, attending one of the top three middle schools in Fairfax County, Carson, Longfellow, and Rocky Run Middle Schools, seemed to give students a better chance of attending TJ. Operating under the newly revised 2020-21 Eligibility Requirements for the In TJ's merit-based admissions application process, students were allocated a number to be identified, making it race, ethnicity, and gender blind. For the first time in ten years, every middle school in the Fairfax County Public School division is represented at TJ as seats in the Class of 2025 were allocated for the top 1.5 percent of applicants from every middle school's eighth-grade student population. Students from historically underrepresented schools increased to 30.73 percent versus 5.56 percent (2020-21). 
According to TJ Admissions Data, students in the Class of 2025 are "high performers and are well prepared for TJ's academic rigor." The average GPA [Grade Point Average] for applicants was at 3.9 on the scale between 1.0 and 4.0, slightly higher this year than in the past five years. The average reported GPA, 3.9539, remained high for those offered admissions, in line with previous years.
The new TJ admissions process also resulted in "a significant increase in access to teaching for groups who have faced barriers to entry, including special education students, students eligible for free and reduced-price meals, and English Learners," said Brabrand. 
FCPS staff increased outreach efforts to encourage students to apply, resulting in a 17 percent increase in enrollment applications, 3,034 applications versus 2,539 applications for SY2020-21.
THE CLASS OF 2025 represents greater diversity and inclusivity. According to FCPS: Black students increased from 1.23 percent (2020-21) to 7.09 percent. Hispanic students increased from 3.29 percent (2020-21) to 11.27 percent. Female students increased from 41.80 percent (2020-21) to 46.00 percent. White students increased from 17.70 percent (2020-21) to 22.36 percent.
The most significant increases occurred in the number of economically disadvantaged students [those eligible to receive reduced-price or free meals at school] from slightly greater than 0.5 percent (0.62 in 2020-21) to 25.09 percent. In addition, 2.36 percent of accepted students are special education students, and 7.09 percent of accepted students are English Language Learners. Asian students continue to constitute a majority of the class at 54.36 percent.
"As usual, all newly admitted students will have access to comprehensive support from school staff to ensure a smooth transition and a successful experience for every student enrolling," said Brabrand. "We want to be sure we are providing them the support so that they can maximize their talents."