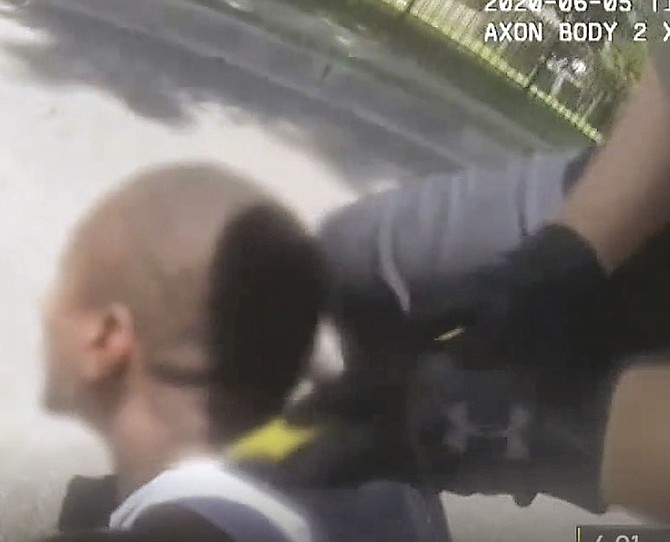 The institution of policing dates back to the institution of slavery. "It has to be acknowledged as such. What happened 400 years ago is actually manifesting itself in practice today," said Fairfax County Chief Equity Officer Karla Bruce.

"Here's what we know," said Sean Perryman, head of the Fairfax County NAACP. "In a county where black people make up a little bit less than 10 percent of the population, we make up nearly 50 percent of the use of force. That's it. That alone should have every Board of Supervisor demanding answers and reform."
Data has to be available and examined to impact policy and practice, both Bruce and Perryman said in separate meetings last week, and the data proves how Black and Latinx communities are disproportionately and negatively impacted.
"We've had this data for a long time, but we're now seeing protests across all 50 states," said Perryman. "The data has always been there and black people have always said that we are being policed differently."
Last week, the Fairfax County Chapter of the NAACP held a Town Hall on June 16, and listed eight demands for police reform, including reporting long-promised data on disparities in police enforcement, removing police from schools, equipping all officers with body worn cameras, and more.
"There is urgency here," said Perryman. "I'm not sure people are recognizing that. This needs to be addressed."
"That alone should have every Board of Supervisor demanding answers and reform."
— Sean Perryman, NAACP
BODY WORN CAMERAS are the reason authorities could see the actions of Officer Tyler Timberlake, who used his taser multiple times on a Black man who did not appear to be a threat on June 10 in Gum Springs. In the released video, officers and fire rescue personnel are calmly responding when officer Timberlake enters the scene with his taser drawn. Then he can be seen with his knees on the man's back when he uses his taser again, directly to the man's neck.
"It was gut wrenching for me to watch that video," said Lee District supervisor Rodney Lusk, also chairman of the Board's Public Safety Committee.
"They are criminal acts which violate our oath of office, and they ignore the sanctity of human life," said Colonel Edwin C. Roessler Jr., Fairfax County Police Chief.
Commonwealth Attorney Steve Descano charged Timberlake with three counts of assault.
What would have happened if there was no video? The Mount Vernon police district uses body worn cameras because it was part of a pilot study, but the Board of Supervisors had defunded plans to expand the body worn cameras to the rest of the county because of the financial impact of the Covid-19 crisis.
Shortly after the incident, the Board reversed course and now will go forward with implementing body worn cameras.
"The number one thing is accountability, accountability is a must," said Descano. "If you're going to collect that video, you have to have someone who is going to watch all of it."
"I would argue that police have some responsibility in watching all of that as well," said Lusk. He asked police to research technology that would help review the footage, as well as technology to automatically turn on body-worn cameras if an officer grabs his weapon, his taser, or uses his voice over a certain decibel or uses types of commands.
"What happened 400 years ago is actually manifesting itself in practice today."
— Karla Bruce, Fairfax County Chief Equity Officer
"WE CAN ALL AGREE there are more issues demanding our attention and items that we can cover in a single meeting," said Lusk, at the Public Safety Committee meeting on Tuesday, June 16. "I've got to say, when Chairman McKay asked me to chair this committee, I never expected so many urgent priorities facing our county would end up under its purview."
"The best way to reestablish trust with the community and through dialogue and communications," he said.
"I'm committed to looking at how we can alter the way we do policing here in Fairfax County," Lusk said.
Perryman said one promise of policing data has been asked for since 2018. "We have had a lot of promises of data and transparency, but we're not actually getting the data. We can't wait until 2021," he said.
Perryman and the NAACP are calling for an end to School Resource Officers in schools.
"That's what we call the school to prison pipeline," said Perryman. "An officer [in schools] will lead to arrests of Black students, Latino students and students with disabilities. It's just not good policy. Police in schools are a danger because they can escalate situations that shouldn't be escalated to a crime."
The School Board has to make the decision first, said Lusk. "I'm certainly open to having the SROs removed from our schools."
Del. Vivan Watts called for NAACP to expand its recommendation on removing officers from schools to include training school administration to refrain from involving law enforcement in what should be school disciplinary issues.
Perryman agreed. "What should have been considered a behavior issue became a criminal issue because you have the presence of a police officer."
SPRINGFIELD SUPERVISOR Pat Herrity said an elephant in the room had not been addressed in the Public Safety Committee meeting.
"We need to do something to not just address our community in crisis but our [police] department in crisis," said Herrity, the only Republican on the Board. "The department really has lost confidence in its chief some time ago. ...
"The rush to pad a national resume and the incident with Officer Timberlake has exacerbated that. You compound that with a Commonwealth Attorney who ran on an anti-police platform who filed not just one assault charge but three for a single incident. …Our officers are at a loss."
Herrity said none of the officers he spoke to are of the opinion that Timberlake's actions were criminal.
Watch the Video
FCPD Officer Charged with Assault
https://fcpdnews.wordpress.com/2020/06/07/fcpd-officer-charged-with-assault-against-community-member/
https://www.youtube.com/watch?v=MjFEDlTCKGE&feature=youtu.be
Viewpoints
Rodney Lusk, Lee District Supervisor:
"There is the need for a softer touch on some issues in our community. Imagine police running up to someone who is in the middle of a mental health crisis and demanding that person to put his hands up. That person is not in the condition to process all of that. If the police don't understand that, they may make the wrong decision."
Karla Bruce, Chief Equity Officer:
"There's just a fundamental distrust of government in the community in particular among the communities that are most negatively impacted. …I think we've heard from the community an interest in taking a broader view of public safety and one that would be inclusive of understanding the root causes and underlying factors and putting as much emphasis into addressing those."
Steve Descano, Fairfax County Commonwealth's Attorney:
"The best person to respond to a situation is not always a person who holds a gun. …Once people are in that system there is a narrow window of what that system can do. It pushes that individual down that path to more recidivism."
Pat Herrity, Springfield Supervisor:
"We need to do something to not just address our community in crisis but our [police] department in crisis. The department really has lost confidence in its chief."
Sean Perryman, NAACP:
"It should be equally disturbing that some elected officials seem to have no recognition that black people have a very different lived experience than white people when it comes to law enforcement."
Daniel Storck, Mount Vernon Supervisor:
"Neighborhood patrols for me are a big deal. We don't do enough of them. … I think it's an important part of how we change the dynamic at least in the Mount Vernon community and other communities that have had histories of policing that may have been less positive."