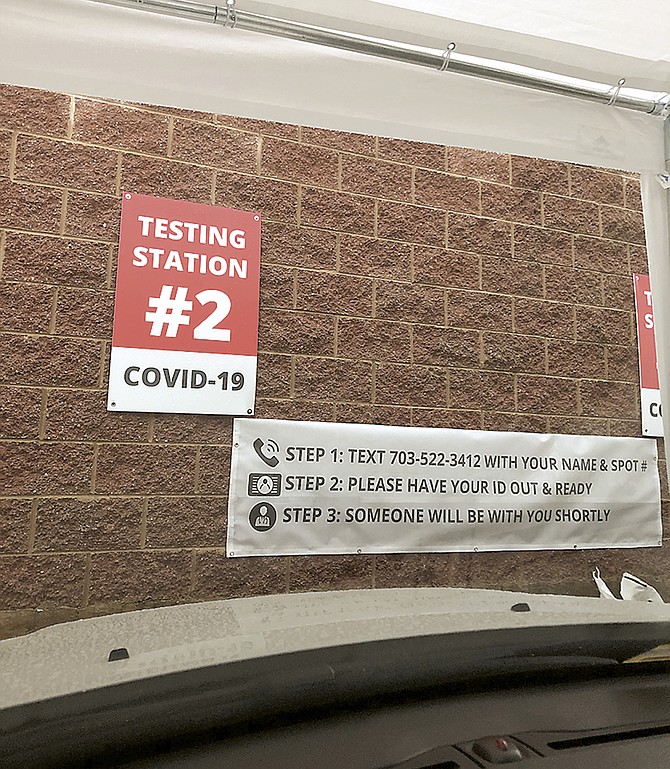 If you thought it would be easy to get a Coronavirus test and quick results in Arlington, think again. With apologies to Dave Eggers, who wrote about being tested in the New York Times recently, and shared a similar mind-boggling experience, this was the scenario:
While walking with a regular dog walking partner, halfway through the walk:
ME: "Hey, you know we usually wear masks and neither of us is! I guess people are relaxing."

FRIEND: Yes, especially since I just got my COVID-19 test.
ME: "What?! Why?"
FRIEND: "Well, I am going to see my 92-year-old mom and so I wanted to make sure I was healthy… (okay) AND I lost my sense of smell and taste a week ago so thought I'd better get tested. And when I finally got a test at INOVA Alexandria after re-dialling about 50 times because they were so busy, the nurse told me I probably had it given my symptoms; many women have it and feel okay but are still transmitting. I'm still waiting for the results and it's been about a week."
ME: Okay, please let me know... I have a daughter about to have surgery.
ME: Two days later when a slight fever and sore throat appear. And my daughter is not talking to me. "Hey, did you get your test results?
FRIEND: "No, but I'm not really worried about it."
ME: "Right." (Now wondering if I should go to the long-planned doctor's appointment I have scheduled that day.)

ME: Doctor, do you still want to see me for this appointment since I have a slight fever and sore throat?

DOCTOR: Absolutely not. Go get tested. I will send you a prescription for a test.
ME: Okay, where should I get tested?
DOCTOR: Look it up on the internet.
ME: Okay, according to the web, Quincy Street in Arlington looks good and I have a prescription so that will be quick.
ME: Whoops. Quincy phone answering with a recording and says they are closed indefinitely.
ME: I call Virginia Hospital. Whoops. They say to go to Quincy Street and give that number. I call again. Same answer. I ask VHC if they can do a rapid test, since they have it. No rapid test at VHC unless you are an admitted patient.
ME: I call Preston's Pharmacy. Whoops. They have no appointments for days.
ME: Maybe CVS, or TARGET, or…. Whoops, they have nothing available.
DAUGHTER: Mom! I'll have to cancel my surgery pre-op if you've been exposed. When is your friend getting her results?
ME: To Friend: Hey, can you call INOVA and ask what is taking so long?
FRIEND: Sure, but they said 10 days is the minimum.
Two hours, 50 redials and 14 phone calls later I reached the INOVA hotline for COVID testing. I have to scan my prescription for someone, make an appointment, and the soonest and closest I can get is in Lorton at 3:30 p.m. This part of the story is a happy one: the line is only three cars long, the staff is efficient and kind. They only shoved the extra-long dipstick twice into my frontal lobe area. They said results would be pending in 3-5 days.
ME: Which is it? 3 or 5 days?
TESTER: Five.
The results came in 7 days. Negative. The friend got results the day before. Negative.
I drove by North Quincy when I saw a policeman outside the entrance and asked him when the place would be open.
POLICEMAN: Tomorrow.
ME: Maybe they should update their recorded phone message and website.
POLICEMAN: Thanks for letting us know: I will tell them.
But that's not all. I had to go to Maine. Maine asked for a COVID-19 test taken within 72 hours of arrival in Maine. My Realtor said no one really cared and it wasn't being enforced, but I could just say I was quarantining up there. My (other) daughter said: "Mom. They are pulling people over on the interstate as you enter Maine to check on compliance." My test would have to be retaken.
This time, thinking that I needed results by the time I crossed the border into Vacationland, I tried Preston's. They promised results in 2-3 days. I made my appointment well in advance since their slots fill up fast. I felt a little as though I were on a GET SMART mission. "Go through the alley in back of Preston's. Park in the numbered slot. Call this humber. Don't roll down your window until asked to do so. Wear a mask." Right. And hand over $35.
The technician took a while to come to my car. She tested me, entering my frontal lobe with her pipe cleaner once again, and had me check the test tube with my name carefully written on it to make sure it was correct. She was nice and efficient.
ME: How long before I get results?
PHARMACY TESTER: 2-3 days.
ME: Which is it really?
TESTER: 3 days?
ME: OKAY.
I entered Maine. No one pulls me over to check on my test results.
I don't get results in 3 or 4 days. I don't get results in 5 or 6 days.
I call Preston's.
ME: Hello? I'm checking on my COVID-19 test results.
PHARMACY: What is your name (date of birth, etc.)
PHARMACY: I don't see anyone by that name. Are you sure you came in with that name? What is your phone number?
PHARMACY: Nope. Nothing.
ME: Well, since I need these results, I would like to know where they are. I don't expect to pay for a test that doesn't get results.
PHARMACY: I'll check with the Lab. They were having an issue a while back.
ME: What? An issue? What kind of issue?
PHARMACY: Lots of tests. They might have lost your test results.
ME: What? Does that HAPPEN?
PHARMACY: It happens all the time.