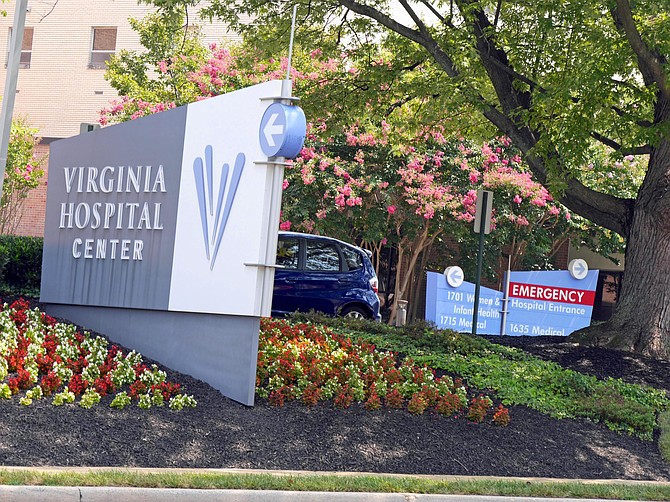 "It's safe to say that coronavirus cases in Arlington are starting to see some leveling off, but not that it is definitely going down," according to Adrian Stanton, Vice President for Business Development and Community Relations at Virginia Hospital Center.
He says, "We see 120-130 cars a week at the drive-through coronavirus collection site on Quincy Street. You need a doctor's order to set up an appointment at this site. If you are insured, the cost is covered; but we're not turning anybody away."
Stanton says early on "We had a limited number of test collection kits so the hours available for appointments at that location were tighter. Now there are more hours for appointments with the availability of more collection kits."
To help more vulnerable low-income residents get access to testing, VHC in partnership with the County and Arlington Free Clinic set up a walk up sample collection site to operate weekdays from 1-5 p.m. at Arlington Mill Community Center on Columbia Pike. To be tested patients must obtain a clinician referral and schedule an appointment.
"I've heard stories about massive lines at some locations in other localities. But the number of people here is quite low, on some days single digits. I'm not sure why. We try to make sure we are getting the word out."
He adds on May 26 there was a single open day testing site at Barcroft Fitness and Recreation Center. It is one of the test sites sponsored by the Commonwealth of Virginia at different locations. It is a free test, no doctor's order or appointment, and a person to be tested can be asymptomatic.
A Hispanic community leader indicated that while the walk up option is important, it's not the primary reason why residents don't go to Arlington Mill for tests. She says because a doctor's order is necessary to be tested at Arlington Mill, many residents went to the one-day testing at Barcroft instead. She explained, "Many in our community are uninsured and don't have a doctor. To get instructions on how to find a doctor can take a two-hour wait on the phone, and people with kids don't have that time." The Barcroft testing site, which was scheduled to be open until 6 p.m., closed over four hours early at 1:30 p.m. when the 1,000 testing kits ran out.
Stanton says of concern to the hospital is that they are seeing fewer emergency room visits which have been down 30-40 percent in March and April. "In the beginning no one understood COVID-19, and this heightened fear about going to the emergency room.
"The key is we don't want people not to come and take care of their health. Patients with conditions which could have previously been addressed are now coming in critically ill because of delayed care." He says one of the things that people heard early on was "stay away" but the context was no one knew much about the coronavirus.
He says the message was don't come to the emergency room just to get tested to see if you had the coronavirus. People were uncomfortable with what happens if you have underlying conditions like diabetes or a heart condition. "There was heightened fear. They were scared to go to the hospital in case they may come in contact with COVID-19."
Stanton says the hospital is "perfectly safe." He said they take extra precautions to make sure everyone is safe, both patients and staff. Before a patient can even get into the lobby, the person's temperature is tested and they are given a surgical mask. "If you have a cloth face mask, we ask you to put it in your purse and put on the surgical mask."
Then the person is asked questions about symptoms and contact with COVID-19. Stanton says if you have no temperature or symptoms, you are able to proceed to your destination at the emergency room or physician's office wearing your mask. "We have different areas where people with COVID symptoms go to a separate place. Some seats have been removed from the emergency room and some of those remaining have been blocked off. Bench seats are marked off at six-foot intervals."
The hospital staff are all wearing protective gear, a little bit different when they are treating COVID-19 patients. They have face and eye protection, practice constant hygiene and are wearing protective gear which they change frequently.
Virginia Hospital Center was never short on gear but things weren't always predictable, Stanton said. "Like other hospitals, we looked ahead at how much of all the supplies we were using, tracking months in advance. When were supplies due to come in? What could we do?" He says, "We knew when regular shipments were due to come in, but then suppliers started changing on us. For instance, when we thought we were getting 5,000 masks next week, and they said we're sending 2,000. That isn't happening anymore; it's pretty true now."
Stanton says they are not asking folks at the hospital to work really long shifts. "We're making sure they are on a disciplined schedule. But this is a tough, long time caring for these patients. It's different for a couple of days but we're into what is it? 12 weeks now? It's wearing on folks physically and emotionally."
As of May 30, Arlington had 2,107 cases of coronavirus with 371 hospitalized and 113 deaths.