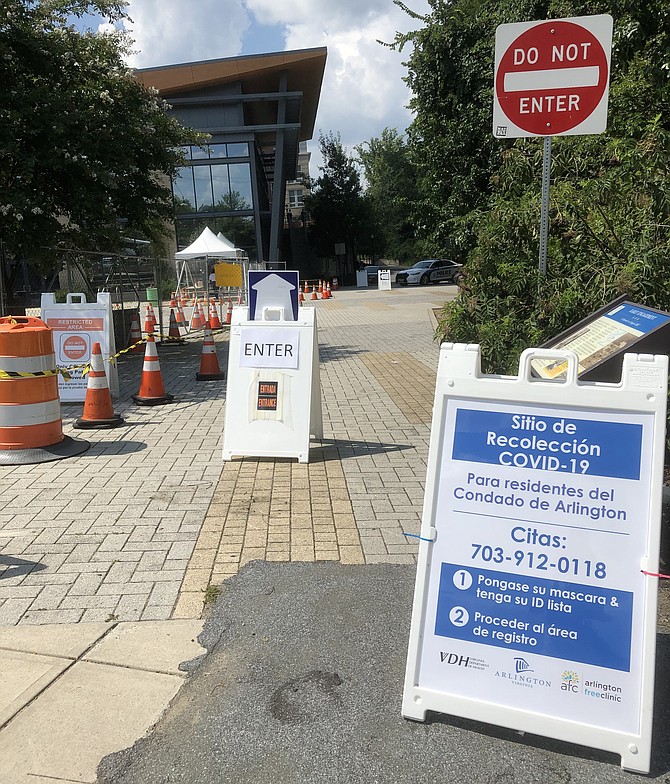 They say the third time's the charm, and it was. This same Arlington resident who had two COVID-19 tests in July, one at INOVA in Lorton because Arlington was too busy, and one at Preston's Pharmacy; one which produced results in a week, one which produced no results; was in need of another COVID-19 test. And as usual, several people in my household needed to know right away if I was positive or negative.
Remember the Doctor's appointment I had to cancel when I had a sore throat and fever in July? I had the rescheduled appointment in mid August. I drove over with my son, who had an appointment too. But right after they took my blood, they said: "Uh oh! You have a fever of 101 degrees."

"Oh," I said, "I think it was about 101 degrees in my car on the way over, I'm probably just hot."
"Let's see what the doctor says," she said.
Appointment canceled. But this time, the doctor wrote me a script for a test and instructed me to get the whole household tested and quarantine at home immediately after the test. That was new.
This time, after a check of the Quincy Street website instructions which indicated that the test would be "self-administered," I went to the Arlington Mill test site because it's hard enough when someone else sticks a Q-tip up into the far reaches of your nostrils, but to do it oneself … nope, leave that up to the pros. The other attractive aspect of the Arlington Mill site is that it partners with the Arlington Free Clinic. I've researched the AFC. They have a top reputation for health care in Arlington.
My household wanted fast results: a return to college depended on it. I called Arlington Mill. They answered right away. Did I need an appointment? (The website says you do.) No. Did I need a prescription? No. Did it cost anything? No. I drove over to Columbia Pike and parked nearby. It was a walk-in site. If I had one complaint, it was the signage to find the actual place to walk in. But there it is, right off the Pike on the plaza.
I was just a little taken aback when a loud voice came over a police megaphone directing me to "STOP!" I almost put up my hands. "Are you here for a test?" the policeman asked from his cruiser.
"Yes," I replied, waving my white flag – my prescription. (Just in case I needed it.) I walked to the tent, was greeted nicely by a volunteer who said apologetically that they were a bit short-staffed, hence the cruiser. I was asked to wait a bit, walked into the testing center, stood twenty feet away from the next person in line, and was tested in both nostrils within 5 minutes.

Here comes the surprising part. I asked how long it would take to get results. "Two days." was the answer.
I almost sneered, "Seriously? Two days? You mean 3-10 days?" No, it was two days, they assured me. You will get a phone call, and then you will get a letter a few days after that. They handed me two pages of guidance. That's right, the first time I'd ever gotten GUIDANCE. It was firm, clear, and helpful. STAY AT HOME until your test results are back. I received a follow up call from Arlington Free Clinic reminding me to stay at home, verifying that my phone was correct so they could notify me right away of results.
This is the irony of all COVID-19 testing. We still don't have a rapid-test available to the general public. With a rapid test, you know within 15 minutes whether you are COVID-19 positive. Without it, most people figure they won't get the results for more than 5 days (the norm is a week and ten days is not unusual) and most are told to "self-quarantine" which from what my 21-year-old son tells me, can mean just about anything: "it does NOT mean stay at home, Mom; you just, like, stay six feet away from people." With such loose rules on mask wearing, correct mask wearing, correct number of mask layers, what quarantine means, and crowded supermarkets where six feet quickly dwindles to one foot as the oblivious shopper reaches over your shoulder to grab something, not having faster test results looks a lot like bailing water with a sieve. It means the person who was tested thinks they can carry on because, after all, they often feel fine.
But getting guidance that makes it clear what to do while you wait is huge, and it took three tests to get it. Arlington County's Arlington Mill Site is now the gold standard, at least for this veteran of COVID-19 testing.
And the best part? I got a phone call less than two days later: negative. While the rapid test is not generally available — it's hard to understand why not — a two-day test is better than a week-long wait.
Experts say it is now important to focus on getting the annual Flu shot in order to minimize the chances of getting Flu and COVID-19 together. Word on the street is to get the Flu shot in mid-September if you are over 65, to make sure it lasts through the season.
For more information about COVID-19 testing in Arlington, see: https://health.arlingtonva.us/covid-19-coronavirus-updates/covid-19-testing/
To read about the author's previous covid testing experience, see http://www.connectionnewspapers.com/news/2020/aug/13/covid-testing-arlington-positively-negative-experi/