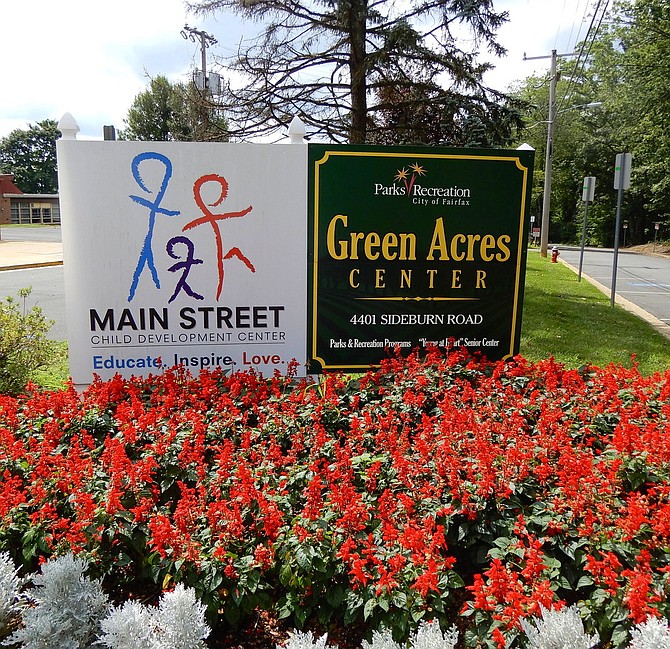 While COVID-19 has forced FCPS to offer distance learning until it's safe to do otherwise, Fairfax City is stepping up to provide working families with a School Age Child Care program for students in grades K-6. It'll be held at the Green Acres Community Center, 4401 Sideburn Road, in Fairfax.
It's offered by the City's Parks and Recreation Department, in partnership with the Fairfax City School Board/Superintendent and Fairfax City Human Services. Registration begins Aug. 17 at campdoc.com.
"The hours will be Tuesday-Friday, 9 a.m.-4 p.m., but we'd evaluate it to see what would work best," said Recreation Manager Karen Lussier. "We know we'll have to be flexible. And this program would continue until there's 100-percent [FCPS] classroom participation."
She was speaking, during the Fairfax City Council's July 28, online work session. She said the goal is to have 80 students, with eight to 10 children, one lead staff member and one assistant per classroom. And, said Lussier, "Safety is our number-one priority."
The daily schedule will include a combination of assisted, virtual learning; health-and-safety monitoring; free play; organized activities; lunch; and socially distanced, group games. Staff will function as homework helpers, rather than teachers, and will also lead the students in both gym and outdoor play, crafts, and cleaning and sanitizing.
PROGRAM COST is estimated at $731,200 and is to be funded by $691,200 in child-care fees, plus $40,000 from CARES Act money. Expenses include building updates to WiFi and security; building repairs; program supplies; adding a portable bathroom; and purchasing PPE, plus first-aid and cleaning supplies. Lussier said community members could also donate, if they'd like.
"The students will have their own desks and laptops," she said. "And they'll receive health-and-wellness checks when they arrive, each day." The Parks and Recreation Department will train the staff, and the Main Street Child Development Center's regular program will also be operating there, at the same time.
"We hope to have approval by the mayor and Council tonight so we can go ahead with it quickly," said Lussier. "Staff would begin work and training, Aug. 24, and the program would begin Sept. 8 – the first day of school."
Pleased, Councilmember Janice Miller said, "I'm proud [City] staff has been able to change quickly to meet this need, and I hope we can go forward with this."
Likewise, Councilmember Jon Stehle thanked the City for coming together to make it all possible "during this changing time. Keep up the great work; I'm looking forward to supporting this program."
"It's an incredible opportunity to show the public how well this City works and how creative we can be," added Councilmember Tom Ross. "It's nice to see this joint venture between Parks and Rec, the City and the school system. And we're lucky Green Acres can be adapted to meet the needs for learning, socialization and physical activity."
Councilmember So Lim asked how this program would be separated from Main Street's program. "Green Acres has two wings that are beneficial to have the two, separate programs there," explained Parks and Recreation Director Cathy Salgado. "And they'll each have their drop-offs at different ends of the building. The students will have different gym and play times, and lunches will be in the classrooms. Teachers won't switch classrooms; they'll stay with the same students all week."
The cost is $60/day per child – $960/month – with financial assistance provided for those who qualify. "We'll be able to subsidize about 22 of the 80 children," said Lussier.
"Childcare isn't cheap, and this price is a great bargain for this area," said Councilmember Sang Yi, a parent of two young children. "And since it depends on what happens with FCPS, this program might go beyond the school year. But we need to tailor the wording to show that it can't go on forever." He also noted that parents should sign some liability waivers since "this is in-person schooling."
Salgado said they'll do monthly billing. And, she added, "If there's any change to the program, we have the flexibility to refund folks their money."
Yi asked if any of the instructors will be capable of handling special-needs children who'll require particular resources. "We can have additional staff, as soon as we know who these students are and what kind of staff and resources they'll require," replied Salgado. "Once they register, we'll know what their needs are."
Regarding how the grade levels will be divided, she said first-graders will be grouped together, as much as possible. "But, depending on the numbers and grades of the students enrolled, there could be some overlap of first and second grades together, and second and third grades together," said Salgado. "But not, for example, first- and fourth-graders together."
"I like what I've seen, this evening, and I'm fully in support of this," said Councilmember Joe Harmon.
THE WHOLE COUNCIL then gave Salgado and Lussier a unanimous thumbs-up to move forward with this program. And it was noted that Miller and City Schools Superintendent Phyllis Pajardo also worked hard to help formulate it.
Mayor David Meyer asked Salgado and Lussier to provide updates between that evening and Labor Day weekend "to let Council know how things are going and if there are any problems. Well done by everyone."