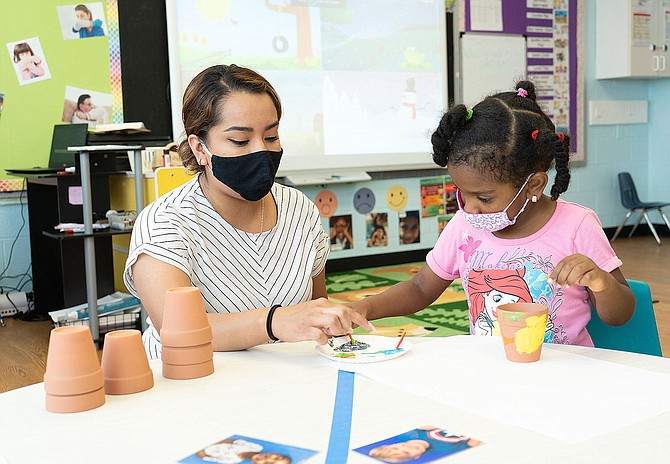 Main Street Child Development Center provides affordable childcare for low-income families in Fairfax City and Fairfax County. Since 1973, it's given more than 3,000 children the school-readiness skills essential for success, while enabling their parents to maintain full-time employment.
It's held in the City's Green Acres Community Center, a former elementary school. In FY 2020, Main Street served more than 150 children and 200 parents/caregivers. Currently, 80 percent of the children are from low-income families, 70 percent of these families speak English as a second language, and 48 percent of the children are from single-parent homes.
"We guarantee an active, nurturing learning environment that prepares students for a lifelong adventure of learning," said Development Manager Christi Esterly Schwarten. "Our highly trained, committed educators equip them with the tools and experiences they need to succeed in kindergarten and beyond."
Main Street offers preschool for children ages 2-5, plus a school-age program, and boasts a 1:6 teacher-to-child ratio. Normally, there are about 90 preschoolers; but with the current pandemic, just 45 are in that program. And Main Street helps their parents, too.
"We know that, without parental support and guidance, children won't do as well in school," explained Executive Director Carol Lieske. "So to engage and support the parents, we provide them with gift cards for food and gas and tell them where to find community resources."
In addition, a mental-health specialist visits the school two days a week. "He helps the children through whatever their classroom challenges are and helps their teachers gain the skills to work with them," said Lieske. "He'll also reach out to the family to talk to them about the problems."
MAIN STREET also has a special-needs teacher who works with children with developmental and learning disabilities. "If a child is hungry, afraid or worried about something, it's difficult for them to learn," said Lieske. "So we have to deal with that first. We want them to become confident and enthusiastic learners, so – besides their education – we also address their social, emotional and physical needs."
The school-age program typically has about 20 children, in grades K through five, before and after school, and all summer. But with increased demand due to the pandemic, five more children and an extra classroom were added. "Usually, this program is only for Daniels Run [Elementary] students because that's our neighborhood," said Lieske. "But because of COVID, we've expanded it to include other schools."
The current school year began Sept. 8, and Main Street instituted many new protocols and procedures to keep the students as safe as possible. Parents and students are screened at drop-off, older children wear masks, and all are in smaller groups.
Preschoolers play with toys within hula hoops on the floor, and each class stays in its own room. "Masks are encouraged for these students, but not required," said Lieske. "And the children are socially distanced at tables while doing activities. Normally, there are six to eight at a table, but now there are three to four."
Furthermore, she said, "We also had to reassure the teachers that they were safe coming back to school. Addressing their concerns has been a big reason for our success. Before school started, we constantly communicated with our parents and teachers and sent videos of the classrooms to explain what they'd look like."
Some limited openings may be available in both programs; for information, call 703-273-1192. "We have a wonderful group of people working here," said Lieske. "And we'll also help qualified families obtain tuition assistance. We're proud of the work we've done in the community, and we encourage people to come here and take a look. We also have a great diversity of students and teachers; at last year's International Night, 29 countries were represented."
Main Street is at 4401 Sideburn Road, and current hours are 7 a.m.-5 p.m. Normally, older students would eat breakfast there, then attend school elsewhere and return afterward. Now, after breakfast, they log on to their online school classrooms. They also receive lunch and two snacks. Special-needs children do the same thing. Online instruction ends at 3 p.m., and then the students get homework help and play outside.
IN 2014, FCPS gave Main Street its Exemplary Inclusive Practices Award for "continually demonstrating exemplary practices for students with disabilities." And since 1995, it's been accredited by the National Association for the Education of Young Children – the gold standard for childcare centers, and an honor earned by less than 7 percent of centers nationwide.
"We value a diverse community where differences are respected, individuality is accepted, sharing is practiced and a caring spirit is embodied," explained Esterly Schwarten. "When Main Street closed for over two months during the pandemic, we distributed thousands of dollars in gift cards for food, prescriptions and household essentials. We checked in with each family multiple times and connected them with resources they needed for additional assistance."
In fact, Main Street distributes more than $35,000 in emergency tuition assistance each year to families in crisis or having special circumstances. This aid ensures that at-risk children receive continuous care and education, even when their families are experiencing difficulties.
All in all, said Lieske, "We have outstanding, well-qualified teachers, and we provide high-quality care and education for our children, plus support services for their families. Children come here and get the enriched attention, nurturing and small-group interaction they need."