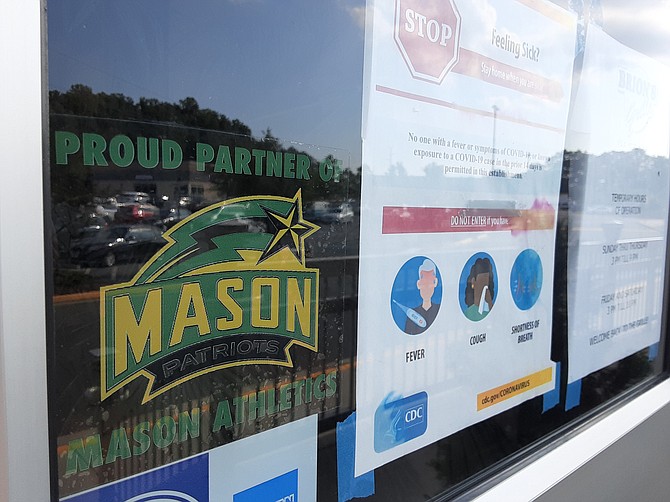 As August rolls in and students get ready for classes at George Mason University, school officials grapple with decisions on classes, campus life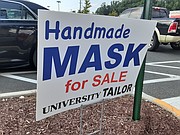 and the pandemic. They've even set up a webpage full of directives for the students to stay well while getting their college degree.
"I've gone through parts of it," said Cindy Anderson, a sophomore who has checked out the GMU website. "They are doing what they can to make it safe," she said.
Charlie Hartman is a senior who works behind the bar at Fat Tuesday's across the street from George Mason, and lives in a townhouse with other students. "My roommates and I are all conscious of it," he said, noting that one of his statistics classes is online and one will be in a classroom setting this year. "They're hybrid, online classes," he said, but wouldn't be surprised if the other class gets switched to online also.
On the GMU pandemic webpage, which is called "Safe Return to Campus," there is a picture of a student working on a laptop with a mask on. "Mason's Safe Return to Campus Plan has been reviewed by the State Council of Higher Education and has been found to be compliant in containing the required components of the Higher Education Reopening Guidance, which was developed in consultation with the Virginia Department of Health," the website states. It has links to various pages that provide information on the coming year.
The plan is a 77-page document full of information on initiation and student activities, health and safety precautions, campus life and services, and recommendations on travel, transportation, dining and events. In March, they implemented a telework policy which stayed in place until June 11, when the Safe Return plan was implemented. It continues to evolve.
"The plan calls for starting the fall semester on time on Aug. 24, and bringing students back for a mix of in-person and hybrid instruction and expanded online classes, as well as the continued advancement of research. Mason's return to campus will be executed in stages to allow for adjustments as new information or revised guidance becomes available," it states. Mason's Safe Return to Campus Plan will evolve as circumstances develop and/or as new information or revised guidance becomes available from federal, state, and local officials and public health experts.
There are five stages of student assimilation, and Aug. 1-23 is Stage 4 where "student and employee support returns," the document states. Stage 5 goes from Aug. 24 through Dec. 19 where "instruction and operations resume under new normal conditions." There is a required Safe Return to Campus Training session listed too, and all faculty, staff, and students are required to complete Safe Return to Campus Training before returning to campus, it says. This includes screening, signage, occupancy restrictions, physical distancing requirements, face coverings, hand hygiene, and enhanced cleaning and disinfection protocols in keeping with Forward Virginia Guidelines for social gatherings, GMU said.
Moving In
The students are allowed to have two guests help them move in, which could very well be mom and dad, but face coverings are required, it says. "Students and their guests will be required to wear a face covering while moving in, in accordance with University Policy 1415 COVID-19 Public Health and Safety Precautions – Face Coverings and the Safe Return to Campus Plan."
According to the guidelines, the university will provide two reusable cloth face coverings to each employee, faculty member, and student returning to campus; it will be the responsibility of the recipients to launder or hand-wash face coverings after every day of use. Reusable cloth face coverings should not be shared with other individuals. There is also a policy for face shield use as well.
If any student or staff member shows any signs of illness, the university document has various ways to approach it, overwhelmingly including the words "self-quarantine." For staff, anyone with a fever or other symptoms or who have been exposed to a COVID-19 positive case within the prior 14 days will stay home and follow instructions for reporting outlined in the Safe Return to Campus Plan, their guidelines state. Testing will be available for all and students showing any signs are requested to first use the university's "telehealth" facility before being tested.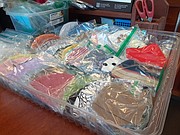 Face Coverings Available
At the University Cleaners over in University Mall, there are reusable face shields available for purchase, and these can be embroidered with any design or message for a price. This includes the GMU logo, although none were pre-made, said the owner.
Fat Tuesday's is still serving beer. They have noticed the attendance at the bar is lower, but the full impact of the students returning is still a few week's away. Nonetheless, steps have been taken to adapt to the new reality everyone is adapting to. "We stopped doing our college nights," said Hartman.