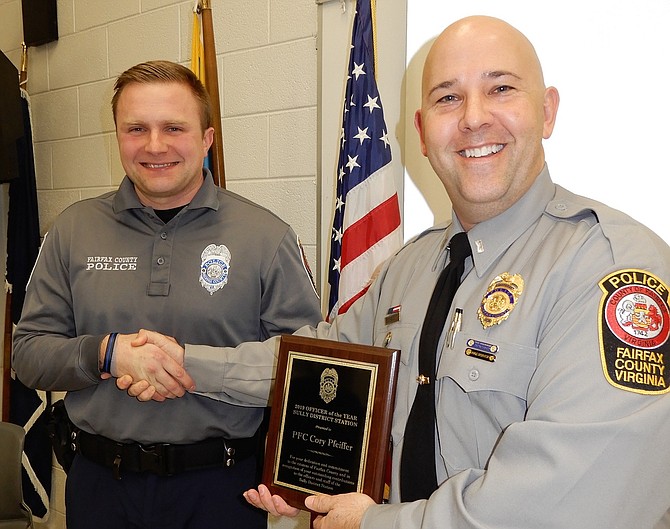 In recognition of his outstanding achievements during the past year, Police Officer First Class (PFC) Kory Pfeiffer has been named the Sully District Station's Officer of the Year for 2019. He was honored during the Feb. 12 meeting of the station's Citizens Advisory Committee (CAC).
"It's to recognize his amazing work enforcing the law and protecting you all," Assistant Station Commander Lt. Josh Laitinen told the residents attending the meeting. "Kory's been with the Fairfax County Police Department four years and joined our bike team a year ago because of his obvious dedication and motivation, plus the support he gives to his fellow officers and his desire to keep the community safe "
Nominating Pfeiffer for this award was Lt. Jonathan Bobel. In his write-up, he said that, when the officer first joined the station's Neighborhood Patrol Unit (bike team), he was its youngest member. But, wrote Bobel, "His skills as a police officer, tactics, knowledge of State Code and applicable case law certainly did not parallel his tenure."
He said Pfeiffer earned his position on that unit by showing "a superior work ethic based on aggressive criminal patrol, supporting his squad mates and a positive attitude. His dedication to familiarization with the high-crime areas and the repeat offenders in the district furthered his ability to disrupt criminal activity that was about to occur or was in progress."

DURING HIS TIME on the Neighborhood Patrol Unit (NPU), wrote Bobel, "He quickly became the informal leader of the team. Pfeiffer set a standard for new members of the team and led by example. The model he set was based on teamwork, safety and aggressive criminal patrol. This benchmark has brought the expectations for incoming members of the team to aspire to operate at PFC Pfeiffer's level of proficiency."
Bobel said that Pfeiffer's work ethic and actions are not only recognized by his teammates, but also by the other officers in the Sully District Station who work indirectly with him throughout his shift. Indeed, he wrote that Pfeiffer leads the NPU in supporting the entire station.

"If high-risk calls for service are dispatched, Pfeiffer, along with NPU, responds to support and assist the patrol officers during the event," said Bobel. "He is quite proficient at formulating tactical plans with the resources available and then safely enacting them. Pfeiffer also works closely with the Criminal Investigation Section Detectives to focus and maximize resources to advance more complex, ongoing cases in the district."
An example of his proactive police work was displayed when NPU was assigned to the Anti-Theft Team during the December 2019 Christmas-shopping season at Fair Oaks Mall. While there, Pfeiffer saw three females enter the mall with empty shopping bags and walk into the Abercrombie and Fitch store.
"While maintaining surveillance in a plainclothes capacity, he was able to observe the subjects removing sensors and filling the empty shopping bags with large amounts of clothing," wrote Bobel. "He simultaneously was communicating with his teammates and coordinating with them to give the team the largest, tactical advantage during further surveillance and the eventual arrest. Pfeiffer staged both the plainclothes officers and uniformed officers to effectively arrest the three subjects without incident, once they attempted to leave the mall."

But that's not all. Via interviews, he identified the vehicle they'd driven there. And once it was found in the parking lot, police discovered a large amount of stolen merchandise from multiple stores in plain view.
Then, through coordination with his teammates, Pfeiffer was able to learn the identities of two more female subjects who were still in the mall. These two were working with the three already arrested, but they had arrived in a separate vehicle. And all five of them were part of the same shoplifting ring, based out of Baltimore, Md.
"Once those subjects were taken into custody, their vehicle was also located in the parking lot," wrote Bobel. "Even more stolen merchandise was found inside of it. Pfeiffer's observations, coordination and investigation led to 27 felony warrants, approximately $14,000 of stolen merchandise recovered and one vehicle seized."
BOBEL said the officer used this same skill set of identifying suspicious activity and in-progress crime and applied it during summer 2019 when he observed two people just sitting idly in a Mercedes in a parking lot. But once they saw him, one of them immediately got out of the front passenger seat and walked away.

"Pfeiffer engaged the driver [in conversation], and it became apparent to him that a narcotics transaction had been taking place when he first arrived," wrote Bobel. "He was able to detain the driver, perform a search of the vehicle, seize the vehicle and seize a distribution amount of cocaine and marijuana." The driver was subsequently charged with possession with intent to distribute cocaine, as well as possession with intent to distribute marijuana.

"These cases are just a snapshot of the work that Pfeiffer has been involved in throughout 2019," wrote Bobel. "He leads by example, not only for the Neighborhood Patrol Unit, but also for the Sully District Police Station."
Furthermore, Bobel noted that Pfeiffer led the station last year with a total of 133 arrests – 37 felonies and 96 misdemeanors. He also led the NPU to a total of 339 arrests during that same time frame.
"Many of these cases involved violent offenders and weapons," wrote Bobel. "During his time on the Neighborhood Patrol Unit, Pfeiffer has gained a reputation for making quick decisions [combined] with good tactics from his training and experience. This has enabled these arrests – although higher-risk, at times – to be affected in a safe and effective manner."
Therefore, said Bobel, "In recognition of his hard work and devotion to duty during the 2019 year, PFC Kory Pfeiffer has been named Officer of the Year for the Sully District Station."