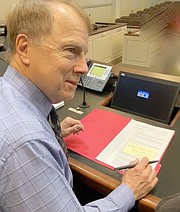 Animal cruelty charges brought against managers of the former Petland-Fairfax pet store reached Fairfax General District Court on Aug. 13. Brothers, Kareem and Ayman Koshok, who owned and managed the Petland-Fairfax pet store franchise, were each charged with three counts of misdemeanor cruelty in September 2019. The charges followed an extensive investigation begun in October 2018. The case drew national attention after reports of several dead rabbits and a dead puppy found in the store's freezer.
In court, Kareem Koshok, waived his right to trial and pleaded guilty to all counts, including one count of Class 1 misdemeanor animal cruelty, and two counts of Class 3 misdemeanor animal cruelty. His plea was accepted and he was found guilty by presiding Judge Michael Lindner. Judge Lindner sentenced Koshok to a fine of $500, with $250 suspended, and 12 months incarceration, with 10 months suspended on the Class 1 misdemeanor charge. On the two Class 3 charges, Koshok was fined $500 each, with $250 suspended. He was remanded into the custody of the Sheriff. Koshok has appealed his sentence to the Circuit Court.
The city's chief attorney, John Kasabian, null processed the three charges against Ayman Koshok, explaining to the court that a key witness in the prosecution had failed to appear, and noting the prolonged period of investigation and four prior court continences of the case.
The store came under scrutiny by a national animal protection group after multiple consumer complaints. Working undercover, their group discovered dead animals in the store freezer and filed a complaint with local animal control authorities who investigated. The Virginia State Veterinary's office assisted, performing necropsies on the animals to determine cause of death. Upon receipt of their findings the managers were arrested, charged, and released on their own recognizance awaiting trial. The trial, long awaited by animal advocates, was continued four times for varied reasons between November 2019 and May 2020, including to provide extra time for the plaintiffs to seek legal counsel, as well as for impacts on court proceeding from Covid-19 precautions.
The investigation and charges prompted Mayor David Meyer and city council leaders to adopt a pet store ordinance in January to tighten puppy store regulations to better protect consumers and dogs, cats, and rabbits sold in pet stores within the city. Ayman Koshok moved to a new puppy store in Chantilly. According to his attorney, Kareem Koshok is no longer in the pet business.