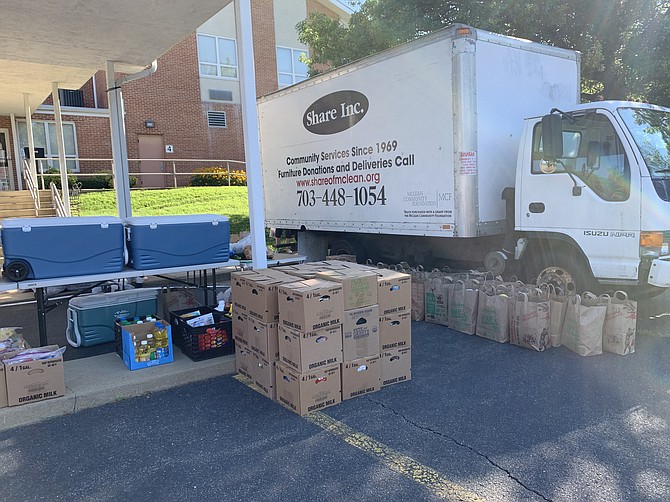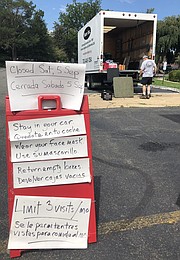 Share of McLean is seeing twice its usual demand for food assistance, and several times its usual demand for emergency financial assistance, as the economic fallout of the COVID-19 pandemic continues to exact a heavy toll on the country's most vulnerable populations.
Nicki Watts, Office Manager and Co-Chair of the Food and Clothing Program, told The Connection that Share is now serving between 100 and 130 clients per week, most of whom are families. Asked how it was able to meet the surge in demand, Watts' answer was simple: the generosity of its donor and volunteer base.
"We go out on our Facebook page, and our communications networks, and people come through for us," she said. "It's an amazing community."
The volunteer-run and community-funded nonprofit has been conducting their twice-weekly food distribution program with socially distant, "grab-and-go" protocols since mid-March. Rather than having clients walk through the food pantry per usual, Share volunteers now bring allotments of food and supplies to clients' cars.
Like the rest of Share's stockpiles, each allotment of food consists entirely of donations. Clients receive meat donated by the local Walmart; desserts and bread donated by Giant; bagels donated by the Chesapeake Bagel Bakery in McLean; and bread donated by Balducci's. The boxes also include miscellaneous materials such as cooking oil, hygiene products, and cleaning supplies, which often come from individual donors, Watts said.
However, though Share is reaching more clients than ever, it is also taking extra outreach measures to reach populations that are less accessible due to the pandemic. Watts said that Share has started delivering food to its senior clients and others unable to leave home.
"I deliver the boxes to them, so that they don't have to leave [home] if they don't want to," Watts said. "We have helped some folks out that just couldn't come in."
THE DEMAND for Share's Family Assistance Program, the nonprofit's emergency financial assistance fund, has also soared in recent months. Carol Mournighan, Family Assistance Coordinator at Share, told The Connection that the fund's budget prior to the coronavirus was $12,000 to $15,000 a month, and it was upwards of $100,000 in both May and June.
Share's costs have been offset by $200,000 in federal funding provided by the CARES Act passed by Congress in March 2020. But even these funds are starting to run out, Mournighan said.
"We are about three-quarters of the way through our [funding]," Mournighan said. "We expect, once this CARES money runs out, we will be hit again with the high numbers."
While families request financial assistance for a wide range of reasons—medical bills, rent, health care needs among them, according to Watts—Mournighan identified widespread unemployment as the underlying cause of this rise in demand.
"These are the people whose jobs were lost first...People just don't have the reserves," she said. "They're busy trying to make sure their kids get school supplies, that their kids go to college. They're working like crazy just to make ends meet."
In addition to its food pantry and Family Assistance fund, Share also operates a school supplies distribution program. Share volunteer Sherry Heile said that the school supplies program has seen an uptick in demand as well, as it is expected to serve upwards of 240 students this year.
The program is tailoring each school supply kit to suit the needs of at-home learning, outfitting each with earbuds or headphones for remote education, and it is reconditioning used laptops for families with limited computer access. It is also gathering extra school supplies in their storage area in anticipation of a possible return to in-person learning later this year.
According to Share's website, the organization's operations require more than 1,000 volunteer hours per month.
VOLUNTEER Carol Sanders, who is involved with several local food pantries, encouraged community members to get involved with Share, noting that they also offer volunteer "homework" for people who want to help but are reluctant to leave home.
"You could do stuff at home, you could go and shop. There's just a lot of different ways you can fit it into your money means, or your time means, or however you feel comfortable," Sanders said.
Heile agreed.
"We're very lucky; Share as a community has a very strong volunteer base. We could not do what we do without people," she said. "A lot of people."
To contact Share
Share of McLean Food Pantry and Clothing Room
McLean Baptist Church
1367 Chain Bridge Road, McLean, VA 22101
(703) 229-1414
info@shareofmclean.org