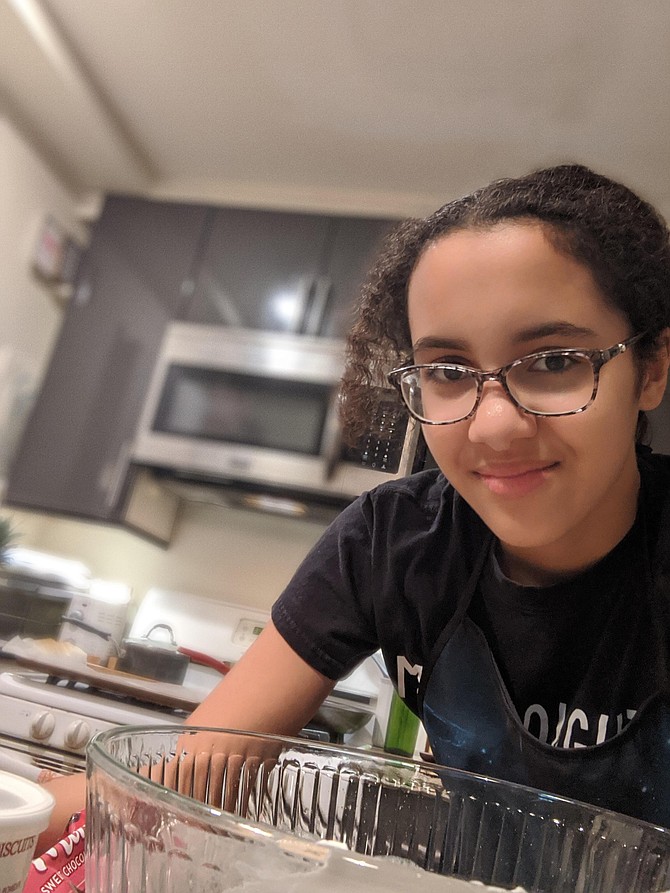 Upcoming eighth grader at Mark Twain MS Iris Nijbroek was so affected by the national racial justice issues this summer, she pulled out her recipe book and started cooking to raise funds for the Black Lives Matter movement. This resulted in the creation of the Racial Justice Bake Shop, where there are 11 items on the menu ranging from Key Lime Pie to Banana Bread to raise funds for various civil rights groups.
She has a list of organizations her customers can choose to benefit when they order. In addition to Black Lives Matter, customers can steer the money to SURJ Northern Virginia, Black Youth Project 100, United We Dream or Black Girls Code. Her first order went out on July 10 and in a few weeks, she had raised more than $1,800 for the cause.
In addition to fundraising, her experience with events this summer have been limited since she is 13 and can't drive. "I have been to some marches," with her mother, she said.
Iris got the idea after hearing about a pastry chef doing a similar thing on National Public Radio, and decided to localize her effort.
Neighborhood Know How
She lives over in the Jefferson Manor neighborhood of Alexandria, and will deliver to houses nearby if requested. The menu includes Zucchini Bread, Key Lime Pie, Chocolate Chip Bran-ana Bread, Brownies, Gluten Free Chocolate Black Bean Muffins, Dark Chocolate Orange Crackle Cookies, Peanut Butter Buckeyes, Cranberry Raisin Nut Granola, Sour Cream Coffee Cake, Carrot Cake Cupcakes with Cream Cheese Frosting and Dog Treats which she recently added.
"Key Lime Pie is a big crowd pleaser," she said.
"We decided to expand the menu a couple of weeks ago," she said. "All the recipes besides the dog treats are family recipes," she added.
All the cooking began with lessons from her mother, and the rule in their household is that each member cooks a meal every week. With the bakery in full swing, Iris has been busy but her last dinner was lasagna. "She thinks it's a big life skill, she wants us to be prepared," Iris said.
Iris is a student at Twain Middle School.
The website was her own creation, using the "Google Sites," application.
She knows about all allergies these days, especially nuts, so she has this statement on her website as a warning to those who may be allergic. "All items are made in a kitchen that houses nuts, gluten, citrus, and dairy."
To order, click here or email at jmracialjusticebakeshop@gmail.com.