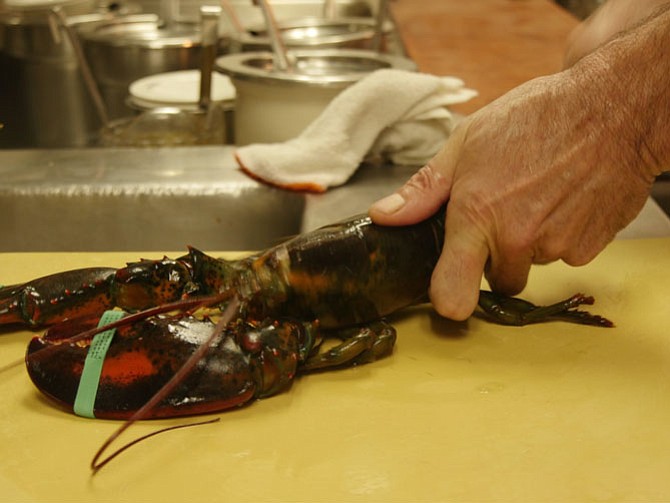 "First I give the lobster a shower." Serge Albert puts the 1.5 pound Maine lobster under running water to get off "whatever is on there." Today he is making Linguine alla Aragosta, one of the customer favorites at Tempo on Duke Street. "We have one customer who comes in twice a week and orders it," he said.
His wife Wendy shares the chef duties in the kitchen. "We're the original husband and wife chefs in Alexandria."
Serge Albert spoons out an ounce of chopped garlic and adds to a skillet with some Bertolli olive oil, a little fresh red pepper, kosher salt and regular black pepper. In a pan on the adjacent burner he has pomodoro sauce waiting for the next step. Usually it is made in five-gallon pots because it is used as a base for a number of other sauces. Today he has made just enough for this dish by adding five cloves of sliced fresh garlic to a pan with olive oil, cooking until golden, adding sliced onions and crushed Italian tomatoes. Then cook 30-45 minutes.
"Italian ones are the best," Serge Albert said. "My grandmother was Italian and she was a very good cook. I'm told when I was 6 years old I could sauté a crepe." Back to the lobster. With a chop Serge Albert removes the legs. "We don't need it." He pierces the back shell with the tip of a large knife to split the shell down the back, open it and remove the guts. Another chop near the end of the claw to make it easier to open.
The lobster goes into a skillet with a splash of Chablis and two ounces of clam juice. "I have full burner for three minutes." Serge Albert turns the burner on high under a medium pot of water to get it ready for the pasta. "I use Delverde pasta from Italy. It cooks in 4 minutes in 4 quarts of water."
"Now the lobster is red." He removes each piece with a second pair of tongs. "These are hot." The meat comes out of the shell and back into the skillet with the coral (eggs), juices and three scoops of pomodoro sauce. "My water is boiling. I'll put in this handful of pasta. I don't cover it. I want it al dente. " He says the lobster will cook in the same time as the pasta.
"What I start to do is plate the lobster." The pink lobster pieces contrast with the large white plate. Serge drains the pasta and reaches for a serving of linguine to place in the center of the plate surrounded by the lobster. "I want to add plenty of the juice. The al dente pasta soaks up the sauce. But I don't want it to be swimming either." A sprig of fresh basil adds a final bit of color.
Wendy Albert says that they have cooked so long together that they don't have defined cooking duties. "We just do things together." Wendy Albert makes most of the desserts, which include a gluten-free chocolate cheesecake, made fresh this morning. She pulls her dessert tray out of the refrigerator and points to a few selections including key lime pie, chocolate- pecan pie, bread pudding, crème caramel and a panna cotta that will change flavors on different days. She said, "We sell dessert to most customers at lunch. People say 'oh, carrot cake is passé' but if I take it off the menu, customers go nuts."
She continued, "Tempo is a great place to come and have a conversation. Some people come at 11:30 a.m. and are still here having an espresso and chatting at 3:30 p.m." She says since the restaurant opened, she has noticed today people eat less and they share dishes. "And gluten is the big thing. But many of our customers are older and have travelled the world so they are adventuresome eaters." She says the fresh seafood is especially popular.
Wendy Albert says they converted an old Shell gas station into the restaurant 26 years ago. The current bar was "a grease monkey place." They left the bathroom in their original state just as fun to remind people of the restaurant's origin. Wendy Albert says she went to college back when women weren't supposed to go to college so she put herself through school by cooking. She went to school in the daytime and then bartended and cooked at night.
Serge Albert says he was raised on a family farm in France going back five generations. When he was 12 years old and said he wanted to be a chef, "my parents weren't too sure about it so they sent me to work for a butcher. I worked 9 a.m.-5 p.m. for 10 francs a day ($2) and then at the end of the week they gave meat to the family and bones for our dog." He went on to culinary school in Mazanet, France at 14 and a half years and graduated at 17 and half years.
The Tempo menu lists the customer favorites and in addition advertises world-class cuisine in the comfort of one's own home. "Dinner in your underwear and no dishes."