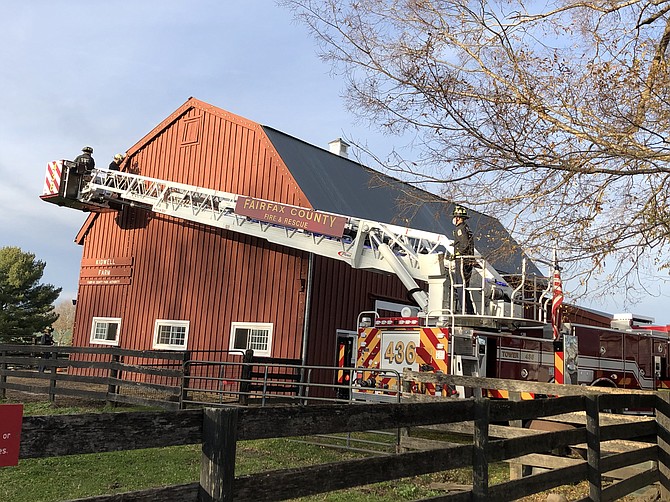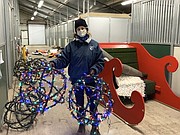 Fairfax County Park Authority recently looked to find ways for people to have a good time during the holiday season with their family. Leadership decided what better way than having a driving tour at Frying Pan Park in Herndon, since it had a good circular route for this operation. "When a creative idea comes up, you make the most of it, said Park Manager Yvonne Johnson.
The decision was made that thousands of lights would decorate a mile-long route through the park on select weekend evenings in December. "We will have some animals out under lights, hopefully, near where you can see them. That's not something you normally get to see on a holiday light trip. We're trying to make it very unique to Frying Pan," she said.
According to Johnson, Frying Pan got the lights and decorations from two other Fairfax County parks, Lake Fairfax and Burke Lake. Through a "wonderful teamwork effort," everybody pitched in to sort and organize all the holiday decorations. First, they tested hundreds of strands of lights. That's where the large stall barns came in handy with their many outlets down the multiple long aisles.
Johnson said the park received very generous support for the project. "We had a nursery company, Baumgardners Tree Care, LLC. They hired a scissor lift for us to help put lights up on the taller barns. They did that as an in-kind donation. Then the Fairfax County Fire Department decorated our barn. It's a good way for them to get practice on their ladder truck. It helps the community," she said.
On Friday, Dec. 4, Chris Goldbecker, Managed Parks Section Manager at Fairfax County Park Authority, and Keith O'Connor, Park Manager at Burke Lake were out in the park, beginning to add more lights. Johnson said that Goldbecker had a lot to do with operations. He said that they had four people working eight hour-days the first week, but the workload dramatically increased for the next week. With volunteers, Goldbecker estimated 800 hours total to set up for the first Friday night, Dec. 12.
THE BIGGEST CHALLENGE, Goldbecker said, was coordinating to the different sites. "Burke Lake Park and Lake Fairfax Park both had winter celebrations...The biggest challenge of the whole thing is just trying to figure out how to take the two different sites, combine them into one, and then figure out how it's going to work with a trail that was designated by this park." O'Connor agreed. "Burke Lake had their event for five years. It's pretty much plug and play. So, we took everything from Burke Lake, moved it over here and figured out where it would go best."
Johnson said guests would arrive at a designated time. The route would go past the Country Store and the lower riding ring, around the equestrian barns, and open field displays with three-dimensional works set up there. In the wooded area, they hoped to create a tunnel of lights. Guests would come out of the woods near the pasture areas, pass the Visitor Center, and then make the final right hand turn into the farm area. "You will have a view from a distance... beautiful outlines of all the different farm structures. Then you'll come into the farm area... a little Christmas Village," Johnson said.
HOLIDAY LIGHTS ON THE FARM is sponsored by the Fairfax County Park Foundation, The Friends of Frying Pan Farm Park, and Home Depot.
Frying Pan Farm Park is located at 2709 West Ox Road in Herndon.
Register for Holiday Lights on the Farm or  Register for a VIP Wagon Ride.
The first driving tour weekend is Fri. Dec.11-Sat. Dec. 12, followed by the next weekend, Fri. Dec. 18- Sat. Dec. 19. According to Johnson, tickets are selling fast. Holiday Lights on the Farm is $20 per car; the maximum vehicle size is 15 passengers. Several dates and times are available. Book an exclusive ride for up to 20 people in a tractor-drawn wagon. For additional information, call 703-222-4664 during business hours.