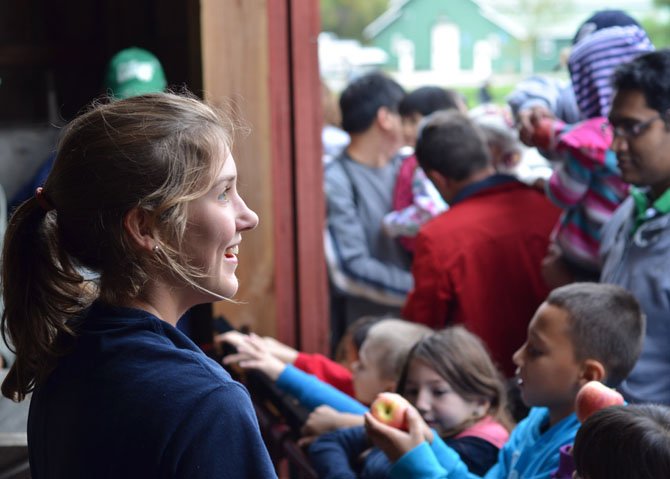 Fall brought busy days to Herndon's Frying Pan Park in October. Carnival rides through Cole Amusement Company, Inc. were at the park from Oct. 17 to Oct. 20. "It is through patrons support of our carnival that allowed us to have free activities on the weekend," said Yvonne Johnson, park manager. "It is great to be able to offer so many free activities to our visitors."
Members of Hoofers & Heifers 4-H Club, Frying Pan's very own 4-H livestock club, helped with showing the farm's animals to visitors. The park's blue butt sow, Stella, had piglets born Oct. 8, and they were on view at Kidwell Barn during the weekend. Gina Tune with her husband Clayton and son Otto were visiting Frying Pan Farm Park from Annandale. "It seems the kids enjoy the events," said Tune.
Frying Pan Farm Park Manager Paul Nicholson was present to help direct activities. Several pieces of farm machinery and equipment were on display. "We were able to display the firewood saw," said Nicholson. "We also showed how machinery was used to harvest corn." The antique cider press was also put into action. Wrapped in coarse cloths that strain out the pulp, apples were layered between slat frames and pushed under the press.
Kipp Coddington, a member of the Blacksmiths' Guild of the Potomac Inc., was at the event on Saturday and demonstrated some blacksmith techniques. The forge was moved to Frying Pan Farm Park in 1975 and contains much of original equipment. Coddington took up blacksmithing after his children left home for college. "Blacksmithing has some similarities to pottery, as an art," said Coddington.
Another activity visitors could participate in were the creation of scarecrows. Lynn Roepe, employee at Frying Pan Farm Park for six years, was assisting with the scarecrow craft and design. "We had a steady stream of participants today," said Roepe. Vendors also came to the event to sell foods and merchandise. "We have had good traffic, sales have been good," said Michael Antony from Fossil Rock Farms.
The park also had some visiting alpacas from the farm Capital Alpacas located in Vienna. Other events included a puppet show and bee hive display. David Gurfein, a resident of Arlington, attended the event along with some other friends and family members. "It is always great to get the kids outside to the park, it is good fun," said Gurfein. Another upcoming Frying Pan event will be the evening Halloween wagon rides on Oct. 26-27 and November 2-3.
To learn more about Frying Pan Farm Park, visit the webpage at www.fairfaxcounty.gov/parks/fryingpanpark.