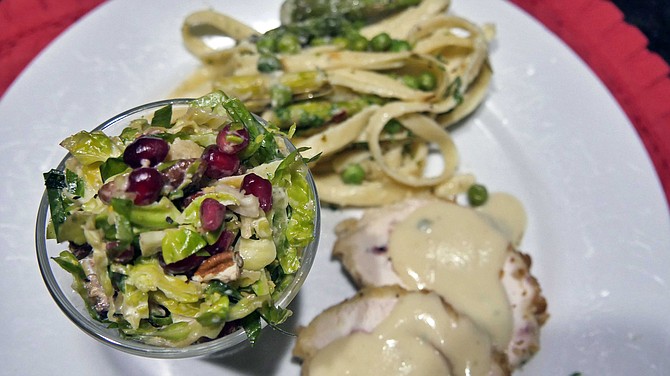 Erin White has just returned from delivering 50 boxed chicken kabobs, couscous salad and cornbread lunches to hospital workers at Inova Alexandria Hospital on Nov. 17. She says the hospitals are suddenly busy again with COVID patients, and the workers are so glad to be recognized and to have a good meal.
Erin and her husband Bobby White, who live in Del Ray, own Mindy's, a catering company based in D.C. in the Palisades. They have dramatically switched gears since the pandemic hit in March. She says, "It was as if someone turned off the faucet. All of the offices who ordered lunch, all the events were suddenly gone." They had just bought out their partners in the business six months before COVID hit. "After 19 years we were ready to start a new era."
The Whites shut down the business until May 1 while they decided how to move forward. All of the employees were furloughed to unemployment. When Mindy's reopened it offered delivery dinners for 2, 4 or more guests on three days a week so they could still do some catering on the weekends.
She explains that they couldn't afford to offer dinners for more than three days because they had to keep the staff at a basic level with a chef and three cooks. "My husband and I do everything else. He makes all of the deliveries. We do the bookkeeping, ordering, and there is still some event planning."
Erin says there have been a few micro weddings. "That's the lingo in the business these days." This kind of wedding will be for 10-20 guests with each dinner plated and served — no buffets. When they arranged a Cherry Blossom riverboat wedding in Alexandria this summer each guest received an appetizer box with three-to-four nibbles or tastes. When they did an Arlington backyard wedding on Vacation Lane in July, they had a buffet but the host had arranged one way in and one way out with groups related to each other entering together.
She says the business they are doing right now allows them to do 30-38 percent of their previous business, "just enough to keep us open." When they started the new home delivery model, they promoted it to their neighbors in the D.C. Palisades neighborhood who knew them.
"Just on a whim we let our friends and neighbors know in Del Ray where we live, and it just spread like wildfire. We mentioned it to some of our friends and boom." Now she says 75 percent of their customers are in Alexandria and N. Arlington." Although the business is based in D.C., she says they pay taxes to the localities where the exchange takes place like Alexandria and Arlington.
Erin continues, "Almost everyone is a repeat customer. We have a woman who has ordered every week for 28 weeks since we started. She says Friday is her favorite day of the week. It is Mindy's day."
Some folks who live out of town order for customers who live locally. One person from Colorado sends a meal to Alexandria so her mother gets good food every week. "We do a lot of gift certificates, someone who just had a baby, to thank a teacher, to cheer up a sick neighbor."
Mindy's delivers about 100 dinners a week and has the capacity to almost double it. They were preparing to deliver about 100 Thanksgiving dinners in one day. "We have never catered Thanksgiving or Christmas dinners in 20 years because that three weeks was always so huge for us with holiday parties."

Now this year those holiday parties are not taking place, and Mindy's is overwhelmed by Thanksgiving orders. Erin says she thinks things have changed with people not traveling this year due to the pandemic. "They are staying home instead of going to mom's where she cooked the dinner so they are ordering a Thanksgiving dinner this year."
Erin says their food is meant to satisfy a variety of tastes. "We try Italian, Mediterranean, Asian so you can order week after week and not get tired of it." She says they have done 28 weeks of dinners so they will do some rotating. She has enjoyed experimenting, like with the beet and feta salad. And people ask for repeats. "A 13-year-old neighbor walked by our home the other day and said 'I miss your meatloaf', so meatloaf is on the menu of choices this week.
"The dips such as pimento cheese or hot mushroom and caramelized dip have been ridiculously popular." She says beef bourguignon is always one of the top picks the week when they have it, and fish has been a big seller. "I think people are intimidated by cooking fish, so we always have choices like scallops, salmon, cod, halibut."
Each week offers several appetizer choices such as interesting and inventive mixed salads, dips and soups; main courses including a beef, a fish as well as vegetarian main course and a choice of two side dishes. A dessert such as s'more bars, magic bars or chocolate covered macaroons from Maribeth's Bakery in Alexandria are also included.
"Maribeth's is in the same shape we are and continues to do wholesale for people who need it. Vendor partners are super important." She said that it's been amazing, the community support for local restaurants in Alexandria and Arlington.
On a delivery day Bobby pops out of the lobster truck wearing his apron and his large Irish smile. Erin says Bobby immigrated from Ireland to America in 1988 and became a citizen on St. Patrick's Day in 1996. Erin credits Bobby's Irish gregariousness for much of their success. She says they have two sons, one at William and Mary and the other at George Washington Middle School who have promoted the business through their social media friends.
Erin says that catered food is meant to be transported and then reheated. Also, the portions are generous, which is how caterers think; 10 percent overage rather than a plated meal. "I think people like this. This means you might have leftovers and things like the curry couscous will keep for the next day. People order the soup which is an appetizer choice but save it for lunch the next day."
Mindy's can't operate long term on its current home delivery model base. "My optimistic hope is that when things go back to normal that we are building a new customer base, that the customers who have been getting home delivery will mention us to their office for lunch or remember us for the 50th anniversary party."
Erin concludes, "making a small business work in this atmosphere is hard but I feel like Alexandria and Arlington embrace the small business owners more than others, and for that we have been very lucky."