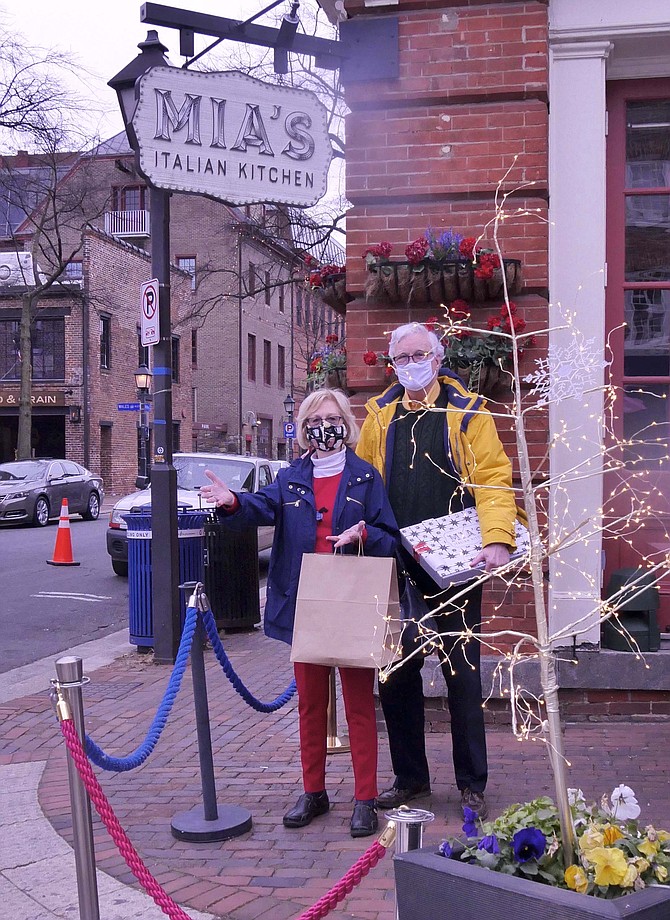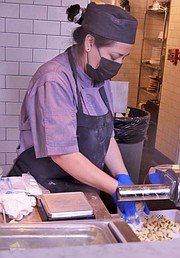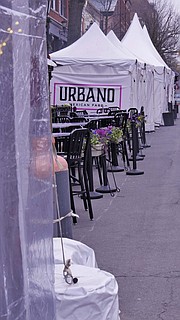 It's a cold Monday morning Jan. 25, but Frank and Nancy Camm are on their lunch excursion to pick up their favorite pizza at Mia's on King Street during Alexandria's Restaurant Week. The Camms used to be frequent in-person Alexandria restaurant diners until Covid hit. Now they have switched to carry out instead. Frank says they have a list of 12-15 regular spots including City Kitchen, Delias, The Warehouse, Smokin' Kow BBQ, Haute Dogs, and Cheesetique in Del Ray. "It was time for Mia's."
Bill Musante, one of the managers at Mia's, says that despite the pandemic they are generally full on weekends with reservations but he points out the tables are six-feet apart so they can accommodate fewer people. "And if we are full, people request to eat outside. We have lots of heaters. And people in Alexandria love their dogs and still want to come out and eat."
Dave Nicholas, an Alexandria Restaurant partner, says business at Mia's has been good "but I always add 'considering.'" He says "to go" orders have me up for the loss of half of the seats. He points to the food case just inside the front door that offers short rib or mushroom lasagna and homemade rigatoni. "We make the lasagnas in individual dishes instead of big pans and sell a ton of those to go."
He says they have pivoted and changed things, and they have a lot of loyal customers.
The soft plop of fresh rigatoni hits soundless from the stainless steel pasta machine as Celia Hernandez works in the upstairs kitchen. She is packing individual rigatoni servings for the Rigatoni Bolognese Restaurant Week special. Nicholas says the choice for the $49 three-course meal for two includes choice of a Caesar salad or their hallmark giant meatball for appetizer, the bolognese or eggplant parmesan for the main course and panna cotta for dessert.
More than 60 restaurants are participating in Alexandria's Restaurant Week this year during an expanded 17-day period from January 22-February 7. The set price for a three-course "to go"meal is $25 for an individual or $49 for two. This year half of the participating restaurants are offering lunch as well as dinner specials.
The restaurant offerings range from City Kitchen's menu of fresno artichokes or Vermont goat cheese as appetizers with spinach gnocchi, chicken pot pie or pork chop with cherry bourbon sauce for main course and devil's latte cream cake to Dishes of India's appetizer of punabi samosa and main courses of shaljam gosht or pahadi murg tikka tandoori as with mango rasmalai for dessert.
Check visitalexandriava.com for more information.