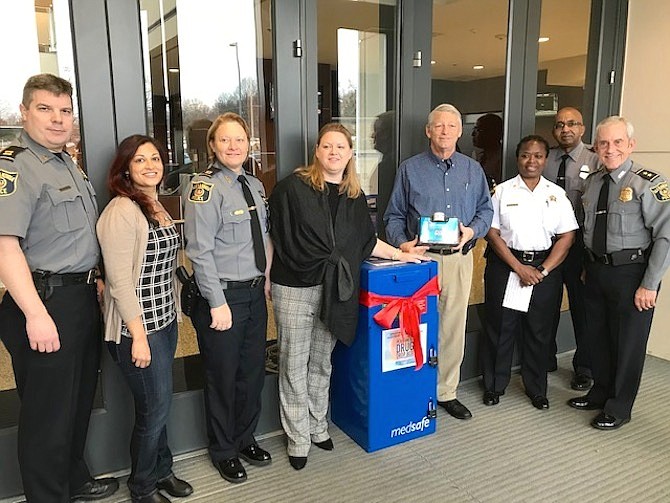 Don't know what to do with your leftover medication? Wonder if you can flush medication down the toilet or the sink?
The City of Alexandria has alternatives for safe disposal, both through drug take back days and permanent disposal boxes located around the city.

The City of Alexandria holds Prescription Drug Take Back Days quarterly. Saturday, Jan. 25 Officer Matt O'Malley sits at a table just inside Police Headquarters with a bin for disposal of unused medications. Along with the collection of medications on site, he is handing out packets of DETERRA, which deactivates drugs safely and quickly at home for people who can't make it to a disposal site.

Emma Beall, Coordinator of the Substance Abuse Prevention Coalition of Alexandria, says they work with Alexandria Senior Services to dispense these packets along with Meals on Wheels. "If you think about it, who probably has unused medications. It's senior citizens."
O'Malley says DETERRA is easy to use. Just open the bag and put in the pills, liquids or patches. Fill halfway up with warm water and wait 30 seconds. Then seal tightly and gently shake pouch and dispose in the normal trash.
During the take back event they accept unused, expired or unwanted prescriptions and over the counter medications including pet medication. The Sheriff's Department drops off the medication collected at Covanta, a waste management company, where it is destroyed.
Alexandria began participating in the National Prescription Drug Take Back Day in September 2010. They have expanded from spring and fall events to quarterly drug take back days and are now the only locale in the nation to hold four take back days annually. Beall says, "It's really interesting when people drop off their unused medications, you get their vignettes. Sometimes people have had their wisdom teeth out and didn't know what to do with their leftover medications. They are so glad; they didn't know they could return the medications."
Officer O'Malley says sometimes you have people who have had cancer and have a huge bag of leftover medications that they bring for disposal. He says usually they have collected several bags full of drugs by the time the morning is over.
Drop off sites include First Baptist Church, Alexandria Police Department Headquarters, Fire Station 210 and the Neighborhood Pharmacy of Del Ray.

Permanent drop boxes are located at the Neighborhood Pharmacy of Del Ray every day with differing hours, Inova Alexandria Hospital from 5 a.m.-9 p.m. daily, and the Alexandria Police Department just inside the entrance 24 hours a day.





















































SAPCA works with police, fire department, sheriff, and health officials as well as the City Opioid Work Group to sponsor the take back events. SAPCA is a community coalition made up of law enforcement, schools, City health and recreation agencies, non-profits, parents and youth who dedicate their efforts to reducing underage substance use and abuse in the City of Alexandria.

The availability of medications in family medicine cabinets can inadvertently make access easier for those struggling with addiction. Statistics released by SARPCA indicate that 54 percent of individuals who abused painkillers got them from a friend or relative. In addition, improper disposal of drugs can harm the environment, as sewage treatment plants are not equipped to filter dissolved drugs out of wastewater.
In 2019, Alexandria collected over 1,600 pounds of unused medication at drug take back events. Currently the U.S. is experiencing an opioid epidemic exacerbated by the over prescription of medications, and there were 59 opioid overdoses in Alexandria last year, 11 of which were fatal.

According to Beall, they collected 240 pounds of unused and expired medication at drug take back day on Saturday.