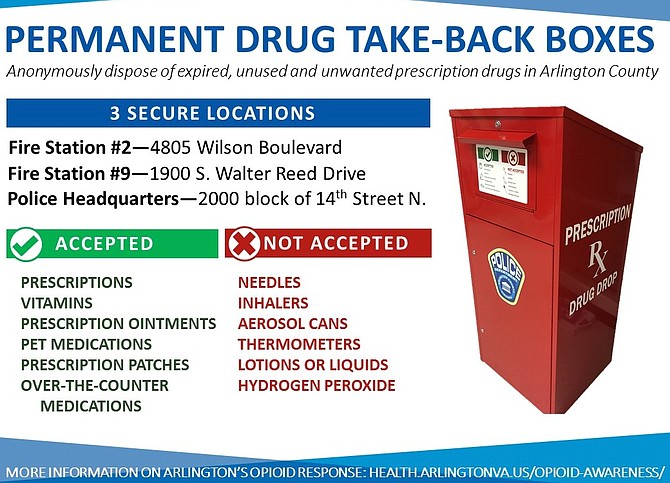 Arlington County installed three permanent drug take-back boxes in June to address a public safety and public health crisis facing communities across the country – prescription drug abuse. In the first three months of the program, the public safely disposed of 407 pounds of unused, unwanted or expired prescription medications. Due to the success of the program, the police department is exploring expanding the program to provide residents with additional access to safe and secure disposal locations.
Excess prescription medications can potentially lead to accidental poisoning, overdose, and abuse. According to the 2016 National Survey on Drug Use and Health, 11.5 million people in the United States misused prescription opioids in 2016.
In 2018, Arlington County Police have investigated 111 incidents involving opioids, with seven incidents being fatal.
That's why residents and visitors of Arlington County are encouraged to continue safely disposing of prescription medications. Permanent take-back boxes are available 24 hours a day, 7 days a week, 365 day a year with no questions asked at the following locations:
Arlington County Fire Station #2 – 4805 Wilson Boulevard;

Arlington County Fire Station #9 – 1900 S. Walter Reed Drive;

Arlington County Police Department – 2000 block of 14th Street N.
Items accepted at the drug take-back boxes are prescriptions, vitamins, prescription ointments, pet medications, prescription patches and over-the-counter medications. Items not accepted are needles, inhalers, aerosol cans, thermometers, lotions or liquids and hydrogen peroxide.
In addition to the permanent drug take-back boxes, the Police Department will once again participate in the Drug Enforcement Administration's National Take-Back Day on Saturday, Oct. 27, from 10 a.m. to 2 p.m. Event locations will be announced on a future date.
To find help for those struggling with addiction, visit https://health.arlingtonva.us/opioid-awareness/.