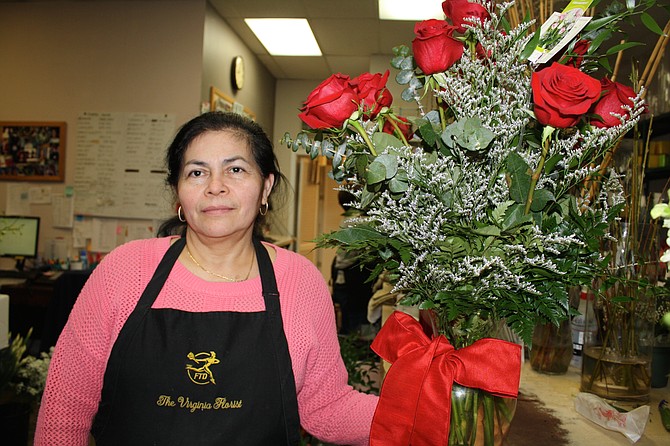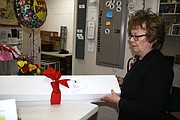 As Valentine's Day approaches, the designers, sales people and cashiers at The Virginia Florist in Belle View know the routine all too well. It's one of the biggest sales days of the year for florists, and "people make a line at the door," said Ledis Reyes, a floral designer that's been at the Belle View shop for the past 15 years.
Owner Kevin Green said the red roses are the big seller, and they sell about 200-300 dozen red roses each year. "Never seen so many roses," he said.
The backroom at The Virginia Florist in Belle View gets so full of flowers on Valentine's Day, they can't even see from one side to another. They pull out an extra table, and hire extra help for this one day. This year, with the low unemployment numbers, they have had trouble bringing on the extra hands.
Even delivery driver Greg Harvilla knows the chaotic nature of the holiday. "It's pretty much non-stop for 12 hours," he said. "Insanity, but fun," he admitted.
According to the Society of American Florists, Valentine's Day is the number one holiday for florists and for floral purchases, and second to Christmas/Chanukah in dollars spent. Of the purchases on that day, 28 percent of American adults (37 percent of men, 19 percent of women) purchased flowers or plants as gifts for Valentine's Day In 2019, 69 percent of all flowers bought on Valentine's Day are red roses. They estimate that more than 250 million roses are produced for Valentine's Day.
This year, Valentine's Day is a Friday so they are recommending getting the bouquet a few days ahead. Sometimes the fresh dozen roses on the desk at work is a must, they say. "Everybody wants it at work so they can show it off," said Anne Allen, the sales representative at The Virginia Florist.
There are some things that don't change from year to year. The line at the door on Valentine's Day, or the boyfriend or husband stopping by on the way home from work remains an annual thing. There's also a dual purchase they sometimes see at The Virginia Florist.
"We even have orders going to the wife and the girlfriend, they always pay cash," she said Keiko Cox, a florist there for five years. That one got a few giggles from the flower room.
The Virginia Florist
1632 Belleview Blvd (Belle View Shopping Center)
703-765-3355