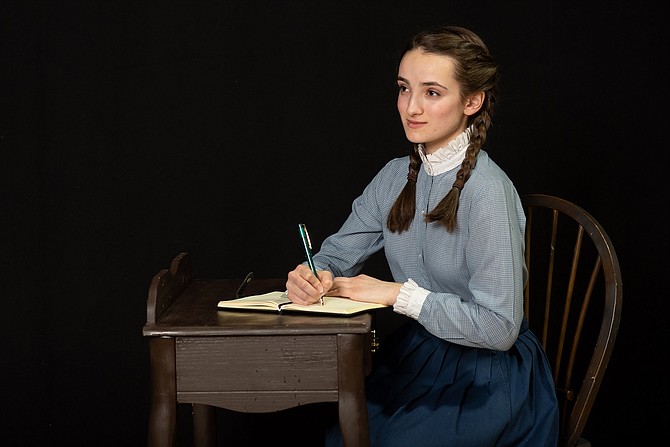 Reston Community Players (RCP) next production is the heart-wrenching drama of The Holocaust from the perspective of a brave 13-year-old Jewish girl. It is "The Diary of Anne Frank." Adapted from the pages of the original book, CenterStage audiences will be able to see and hear "Anne Frank" as an impassioned drama.
"'The Diary of Anne Frank' holds themes of family, fear, and love; all seen through the eyes of a young girl," said Jolene Vettese, President, RCP. "They are themes that resonate particularly in today's world; ones we believe are very important for today's audiences."
The RCP's production of "The Diary of Anne Frank" aims to capture the claustrophobic realities of the daily existence of eight people hiding from the Nazis in a concealed storage attic for two years. Anne's spirit is revealed as she voices her belief, "in spite of everything, that people are truly good at heart."
"Anne Frank" is directed by the notable regional director Gloria DuGan. In the title role of Anne is Sophia Manicone. Veteran actor Michael Kharfen portrays her father, Otto Frank.
"This is a story about real people and their lives. It's based on the actual words that Anne wrote in her diary," said Manicone. "It's a story not unlike many millions of other young girls and people who died in the Holocaust."
The role of Anne "is such a challenge. There are many monologues and I am on stage for almost the entire show," noted Manicone. "I want to honor Anne and others who suffered her same fate by sharing her story in a way that touches the audience and makes it feel real to them."
Manicone added, "I think the fact that this story is the story of a young person with all of the emotion and hopes and dreams that teenagers today feel provides a rare perspective to this historical event and helps people my age feel a personal connection to this story."
For Steve Palkovitz, who portrays Mr. Dussel, a dentist forced into hiding, "My hope is that the play will touch everyone, in some way, regardless of the knowledge they possessed when they walked into the theater."
"As humans, we really are all connected regardless of race, religion or any other differences. I urge you to remember Anne's story as you go about your life," said Madison Chase who plays Margot Frank, Anne's older sister.
Where and When
Reston Community Players present "The Diary of Anne Frank" at Reston Community Center's CenterStage, 2310 Colts Neck Road in Reston. Performances Feb. 28-29, March 6-8, and March 13-14, 2020. Curtain time 8 p.m. except for a 2 p.m. matinee on March 8. Tickets: $28 (adults), $24 for students and seniors. Call (703) 476-4500 or online at www.restonplayers.org. Notes: CenterStage is accessible and offers listening devices for the hearing impaired. This performance has simulated war sounds and cigarette smoking.