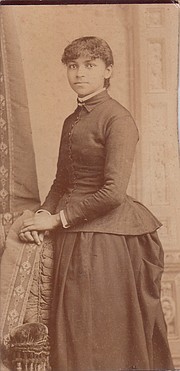 The 19th Amendment became law in 1919, giving women the right to vote in the 1920 November elections. For women in Virginia, the General Assembly withheld its ratification until 1952.
Many African American women in Alexandria took advantage of the 19th Amendment and registered to vote. Those women who registered in 1920 made history. They were part of a movement that was labeled "Women's Suffrage Movement." Although this period was during the height of the segregation era, the African American women had their own Women's Suffrage Movement to address their own needs within the movement.
Mary E. Dorsey along with her sister and mother were women who were independent in their own career paths. These women became politically involved in women's rights. She was a beautician and sometimes a domestic worker who was educated during the school segregation era. She was a businessperson who often engaged in political exchanges at her beauty shop.
Mary registered to vote on Sept. 23, 1920 at third District – Fire Engine House and the 4th District – Friendship's location. Mary's sister, Laura M. Dorsey was a well-known 19th and 20th Century teacher in Alexandria at the Hallowell School for colored girls and at Parker-Gray School. Laura registered to vote on Sept. 22, 1920 at the third and fourth Districts. Mary and Laura's mother Hannah V. Lyles Caldwell also registered to vote on Sept. 30, 1920 at the fourth District. All three women lived at 622 South Columbus Street.
In the mid-1920s, Mary's second job was as a domestic. Her employer died and left her a large sum of money. The Dorsey sisters combined their finances and purchased land on Dec. 29, 1927. They built their house and moved in on Jan. 17, 1928 at 319 North Alfred Street.
They were very sociable, giving parties and hosting political figures of the day. They traveled to their summer homes in New Jersey and visited relatives throughout the east coast. They were independent women that attended intellectual events with their close circle of friends. The three women were members of Roberts Chapel Methodist Church. At Roberts, they participated in political debates with many political figures of their time.
Mary and Laura never married and they were very close to their mother, Hannah. The women always lived together, but on June 29, 1934, Hannah V. Lyles-Dorsey Caldwell died. She was the daughter of the late Reverend Richard H. Lyles and Mary Elizabeth Beckley. Mary E. Dorsey and her sister continued to live together until Mary took ill and died on May 17, 1958.
Laura M. Dorsey was left alone for the first time in her life without her mother or sister. She continued to be active in her church until she moved into a nursing facility in Washington, D.C. She died at the age of 89 in 1968.
Once again, mother and daughters were together; they were all buried at the Presbyterian Cemetery in Alexandria where their names appear on one large headstone.
These three women were born in the 19th century and lived to see important events unfold in their lifetime. Those women witnessed major civil rights achievement for women in general.
This year marks the 100th year anniversary of the 19th Amendment. We should stop and think about the many women who fought to get this Amendment passed so all women can have the right to vote.
For the Dorsey women, their descendants still live in the area among the Lyles, Beckley and Dorsey families.
Char McCargo Bah is a published author, freelance writer, independent historian, genealogist and a Living Legend of Alexandria. She maintains two blogs, http://www.theotheralexandria.com and http://www.findingthingsforu.com.