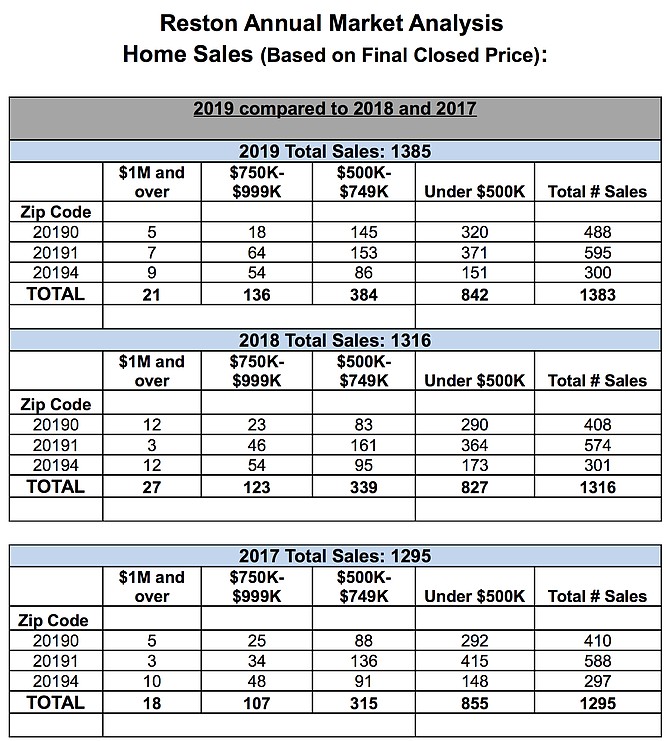 We reached the end of a decade and the statistics for 2019 real estate transactions in Reston have been tallied. The news is good! The numbers are up 5 percent from 2018, with 1,383 total transactions* in 2019, an increase from 1,316 total transactions in 2018. That's on top of a 2 percent increase in total transactions from 2017 to 2018. So the Reston market has had considerable improvement in the past three years in all three zip codes.
There are a number of economic factors that affected real estate in 2019. First, interest rates have bounced around, yet remain at historic lows. As interest rates rise (which could happen in 2020), buyer's purchasing power is affected and they can afford less. The positive side of that is buyers feel urgency to purchase and lock in their interest rate. Second, in most price segments inventory levels are low relative to demand. In the lower price points, buyers do not have many choices available, and those priced at under $500,000 will sell quickly.
In analyzing the price segments (see chart), the $1M and over market was the only bracket that experienced a decrease in sales from year to year. There were a total of 21 sales in 2019 compared to a total of 27 in 2018. Half of the over $1M sales were single family homes in North Reston 20194. Conversely, the $500K to $750K market experienced the biggest increase in number of transactions, going from 339 sales in 2018 to 384 sales in 2019, an increase of 12 percent.
One of the key factors contributing to the double digit increase in the $500K to $750K bracket is the new construction of condominiums at Wiehle Metro, the Lofts at Reston Station. There were 29 sold in 2019 ranging in price from $535,000 to $822,500! This represents the changing face of Reston, and more new construction is on the horizon for 2020 with townhouse projects planned for North Reston Tall Oaks and South Reston Sunrise Valley.
Reston zip code 20190, which includes in and around Reston Town Center (and also includes the aforementioned new construction at Wiehle Metro Station) experienced the biggest volume increase, from 408 sales in 2018 to 488 sales in 2019, a whopping 16 percent increase. The two market segments that led the charge is the under $500K price point and the $500K to $750K price point.
South Reston zip code 20191 experienced a much needed increase in number of sales after a slight dip from 2017. There were 596 home sales in 2019 compared to 574 in 2018. Their largest increase was in the upper brackets, $750K to $999K, up 28 percent. One factor that contributed is the new construction luxury townhomes at Sunrise Valley Dr. which started construction in 2018.
As we move into the new year of 2020, there are strong indications that Reston homes priced well and in good condition will sell for solid prices. If demand in Reston continues to remain strong relative to supply, some market segments may continue to experience multiple offers and price appreciation.
Home Buyers in the area can still purchase with the confidence that buying in an up market cycle frequently proves advantageous over time. Now is the time to work with a professional agent to be in your new home in 2020!
Jenny McClintock is with HBC Group at Keller Williams and is an active and experienced Realtor in the Northern Virginia market place. Jenny resides in Reston and she and her team work with sellers, buyers, investors and builders in all price ranges. 703-731-2412, Jenny@HBCGroupKW.com
*includes Single Family Homes, Townhouses, Condominiums