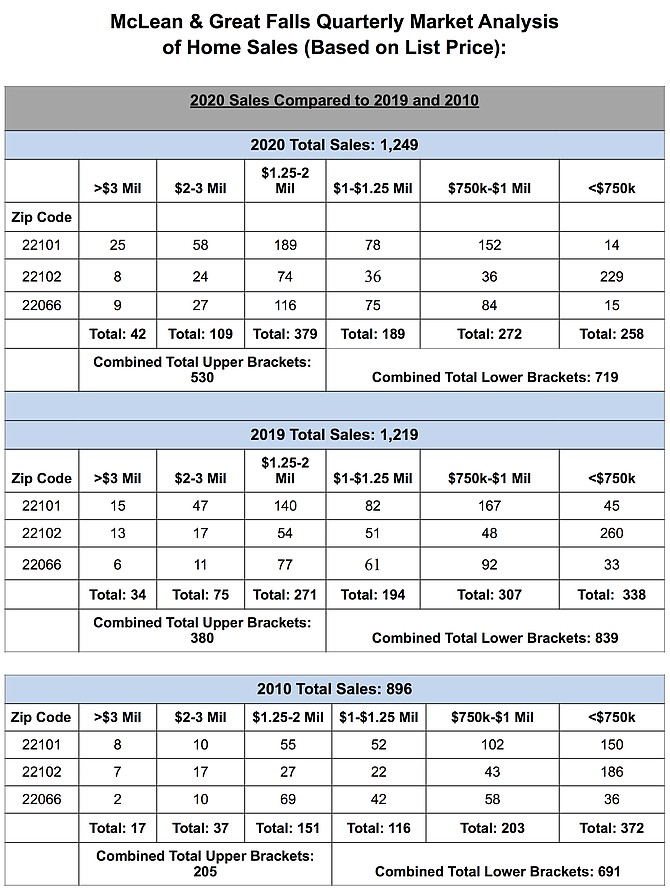 The ball has dropped on 2020 and the calendar has flipped over to the new year of 2021. It is time for the McLean and Great Falls real estate market annual year in review. Year over year, there has been marginal improvement in the number of home sales with a total count of 1,249 in 2020 compared to 1,219 in 2019. Compared to one decade ago in 2010, there is significantly better news as sales are up 39 percent over that time frame.

There are buyers ready, willing and able to purchase a home in Northern Virginia and in 2020 have found that there is considerably less supply than in previous years. This is most likely attributed to the stay-at-home orders due to the global pandemic from March through June, which is the traditional spring selling season. During that time frame, homes were not going on the market at the pace of a typical selling season. It was mostly vacant properties and sellers who were really motivated who listed their homes for sale. In conclusion the number of sales could have been significantly higher had there been more available homes for buyers to select from.
The greatest impact in 2020 occurred in the upper brackets; for this market, that is homes priced over $1.25 million. There were 530 total sales in the year compared to previous year of 380, that's an improvement of almost 40 percent. Upper bracket homes and properties commonly include estate type properties which offer the advantages of more physical space for interior living as well as outdoor areas. Homes in good show condition and priced correctly for the market are in low supply. With strong demand and lower supply, many segments are experiencing price appreciation for the first time in over a dozen years. These market conditions are advantageous for sellers considering a move.

The real estate community continues to serve customers and clients safely by following CDC guidelines. More than ever during the pandemic, people have sought the security of home as a safe haven. To meet this need, agents continue to list houses for sale, show houses to buyers, write contracts and settle on transactions. Technology is cutting edge in the real estate arena offering virtual tours, Zoom meetings, secure digital document execution as well as online notary cam and drive through closings. Traditional in person meetings are available following safety protocols.
Looking forward to the first quarter 2021 if the weather remains mild, the traditional spring selling season is likely to begin in January. There is still considerable pent-up buyer demand in many segments of McLean and Great Falls. Even more so now, home represents the place where people live, work, play, educate their children, as well as enjoy physical activity and entertainment. As our nation and world navigate the impact of COVID-19, people still find themselves in situations where they have a need to make a move!

Karen Briscoe and Lizzy Conroy with HBC Group at Keller Williams are active and experienced Realtors® in the Northern Virginia marketplace. Along with the team, they work with sellers, buyers, investors and builders in all price ranges. They are available to assist with your real estate needs. https://www.hbcgroupkw.com/index.html, 703-734-0192, Homes@HBCGroupKW.com.