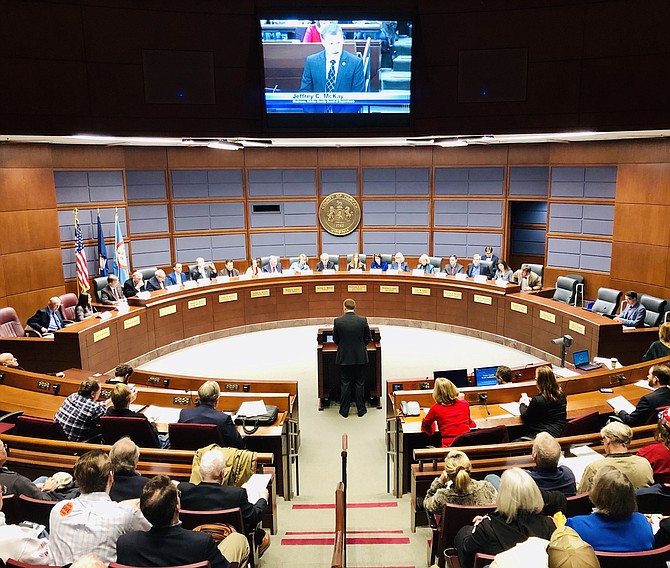 When they were in the minority, Democrats were mostly united in their views about everything from gun control and reproductive rights to the Equal Rights Amendment. Now that they've seized power, though, members of the newly minted majority are hearing from opposite sides on everything from gerrymandering and labor rights. That push and pull was evident during a legislative hearing of the Fairfax delegation, the largest in Virginia and home of the new speaker of the House and the Senate majority leader. The hearing was dominated by dozens of firearms enthusiasts sporting orange "guns save lives" stickers from the Virginia Citizens Defense League.
"It's important that our board be given the authority to keep guns out of our rec centers and government centers," said Fairfax County Board of Supervisors Chairman Jeff McKay, the first to testify, drawing jeers from the heavily armed crowd.
McKay went through a number of gun control measures Democrats campaigned on last year: universal background checks and limitation on how many firearms an individual can purchase a month as well as a ban on assault weapons to include suppressors, bump stocks and high-capacity magazines. That prompted loud and extensive heckling from the crowd, who responded by yelling loudly that he was a "traitor" and a "communist." Later in the hearing, when gun advocates took the microphone, they warned of "a civil war" if Virginia took action to limit what they view as their Second Amendment rights.
"It's a lot like looking at modern art," said Vincent Dory, who described himself as a rank-and-file member of the Virginia Citizens Defense League. "Modern art and gun control are both extremely confusing to look at, extremely pretentious and extremely ridiculous."
THE DEBATE OVER GERRYMANDERING is one of the thorniest questions before lawmakers, an issue that divides Democrats as they prepare to take control for the first time in a generation. On one side of the debate is supporters of a group called Virginia 2021, which struck a compromise last year between Democrats and Republicans to craft a constitutional amendment that would take the power to draw legislative districts out of the hands of lawmakers and give it to a bipartisan commission. One volunteer with Virginia 2021 even broke into song, crooning to the tune of "God Rest Ye Merry Gentlemen."
"All rest ye merry gentle folk, let nothing you dismay. Remember gerrymandering will let us get our way," sang Michael Martin. "And save us from all others hopes. They do not have a say. Oh, tidings of corruption and joy."
The proposed amendment passed last year, and because of the amendment process in Virginia it has to pass again this year and then go to voters. But now that Democrats have control of the General Assembly, they would be the ones drawing the maps. Many Democrats say they would be squandering their newfound power by yielding that power to a commission, especially because the maps would likely end up before the Republican-dominated Supreme Court of Virginia. Advocates of the amendment say that can be fixed by enabling legislation that would require a special master draw the districts. But many people associated with Indivisible groups in Northern Virginia are urging lawmakers to vote no on the amendment.
"If I could rid myself of the concerns that I have with respect to that amendment and some of the backdoor was this could work against Democrats, in particular, I would support it," said Luke Levasseur of McLean. "I cannot support it, and I believe that the amendment that we have is not a step forward. It's a step in the wrong direction, sideways, potentially off a cliff."
LABOR ISSUES have long been a sticking point in Richmond, where the Republican majority and their allies in the business world have resisted the agenda of labor leaders. Now things have changed, and labor unions across Virginia are pressing lawmakers on a lengthy list of agenda items. SEIU Virginia 512 president David Broder asked members of the Fairfax delegation to raise the minimum wage, allowing collective bargaining for public employees and pass a homecare workers bill of rights — slate of bills to make sure homecare workers under the state's Medicaid program get a living wage, benefits and health care.
"Many of us are working longer hours for less pay with fewer benefits than ever before with virtually no rights on the job," said Broder. "Many of us have two or three jobs just to put together the income that one job used to provide, and so it's no surprise that under the previous Republican majorities OXFAM America ranked Virginia as the worst state for working people two years in a row."

Notably absent from the SEIU's list of priorities was repealing Virginia's infamous right-to-work law, a 1940s era restriction on employers from compelling employees to pay union dues. Broder says his organization has always been in favor of repealing the law, which he says hurts working families. But, he adds, it's not a top priority because it wouldn't help as many people as raising the minimum wage or allowing collective bargaining for public employees. Representatives of the American Federation of Teachers and the Fairfax Education Association, however, both outlined repealing the right-to-work law as a top priority.
"They would be more appropriately named right-to fire-laws or right-to-work for less laws," said David Walrod of the Fairfax County Federation of Teachers. "By stripping employees of the right to collectively organize and have a collective voice, the power is returned to CEOs rather than employees."