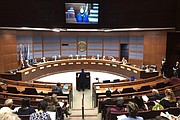 Teachers deserve a pay raise, and Virginia desperately needs to hire more school counselors. These were two of the most prevalent concerns voiced by constituents to members of the Fairfax County legislative delegation, the largest in the Virginia General Assembly.
During a marathon public hearing at the Fairfax County Government Center last weekend, lawmakers heard about everything from raising the minimum wage to reducing restrictions on solar power. But it was the coordinated push for education funding that remained a common theme, as one speaker after the next called on members of the House of Delegates and state Senate to invest an expected windfall of new revenue into the classroom.
"K-12 funding is again our top priority for this legislative session," said Fairfax Board of Supervisors Chairman Sharon Bulova, speaking at her last public hearing before stepping down at the end of 2019 from a position she's held since 2009. "We have over 55,000 students receiving free-or reduced price lunch, over 36,000 students learning English as a second language and over 26,000 students receiving special education services. We need adequate funding to provide services for these higher need students."
Gov. Ralph Northam has signaled that education funding will be one of his top priorities this year too, a move largely prompted by a $300 million windfall of new revenue from the Trump tax cuts. Because changes at the federal level create new incentives for high-income earners to take a standard deduction rather than itemizing, that means more state tax filers will be taking a standard deduction rather than itemizing — creating a new pot of money for lawmakers to spend. At the top of the agenda is a 5 percent raise for Virginia teachers.
"Obviously the governor's budget seeks to retain the best educator workforce," said Melanie Meren, a candidate for the Hunter Mill District on the Fairfax County School Board. "And that means pay increases for teachers."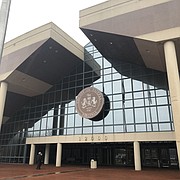 AFTER THE PARKLAND shooting last year, Republican leaders in the House created a select committee on school safety to come up with recommendations to increase school safety. The group did not consider any new firearm restrictions, choosing instead to look at hardening school facilities and creating a new tip line allowing students to alert authorities about potential problems. One of the key recommendations of the committee is reducing administrative duties of school counselors, freeing them up from duties like administering standardized tests. The committee did not recommend hiring any new school counselors though, even though Virginia falls far short of the recommended ratio of one counselor for every 250 students. That would cost about $86 million, and Northam has a three-year plan to start moving toward that goal by spending $36 million this year.
"Governor Northam recently said that our school counselors are the ears of the education system," said Laura Jane Cohn, a candidate for the Springfield District of the Fairfax County School Board. "They are indeed the ears that hear about bullying and trouble at home."
Specifics of one of the governor's budget proposal that is troubling school officials here is to increase funding for a pool of money known as the "at-risk add-on," a way to increase funding for school divisions with a high percentage of students who live in poverty. Although Fairfax County has 55,000 students who qualify for free or reduced price lunch, that's only 29 percent of the student population — far below the statewide average of 41 percent. So the governor's plan to add $35 million to the at-risk add-on would not benefit Fairfax County.
"Because the at-risk add-on is based on division-wide percentages of poverty rather than our actual numbers of eligible students, Fairfax is disadvantaged by its overall size," said School Board Chairwoman Karen Corbett Sanders.
"The truth is that many working people across our community are struggling," —David Broder, president SEIU 512
HELPING LOW-WAGE WORKERS was another theme to emerge from the five-hour hearing. Several speakers from the Service Employees International Union 512 spoke about raising the minimum wage to $15 an hour, ensuring workers have access to paid family leave and removing what they see as unnecessary restrictions on workers who want to unionize. They also spoke in favor of making the Earned Income Tax fully refundable. Virginia is one of the few states that does not make its earned income tax credit refundable, which harms families earning less than $50,000 a year.
"The truth is that many working people across our community are struggling," said David Broder, president of SEIU512. "The fastest growing jobs are often low-wage and lack basic benefits such as health care, paid leave and retirement plans."
Carpenter Jose Frias appeared before lawmakers to urge them to take action against wage theft. Virginia is one of the few states that does not allow workers who are victims of wage theft to receive lawyers fees, which harms low-wage workers who would otherwise have no way to pay for a lawyer. Maryland allows for triple damages, and D.C. allows quadruple damages plus legal fees. But in Virginia, people who have not received all the money coming to them have a hard time finding a lawyer willing to work for free.
"Pass laws that give us the right to private cause of action," said Frias. "We need these tools to defend our jobs and provide for our families."
SEVERAL SPEAKERS urged lawmakers to scale back recently passed restrictions on homeowners who rent out their houses short term through services like Airbnb. Other speakers called for instituting universal background checks for people who purchase weapons at gun shows. A handful of people arrived at the government center to ask lawmakers to "close the puppy mill loophole," a legislative effort to create new restrictions on businesses that sell animals. One speaker urged lawmakers to reject efforts to fork over up to $1.1 billion worth of incentives to Amazon.
"This deal was conducted without any public input, and so this deal has no mandate," said Helen Li, a Fairfax County resident who is part of a group known as For Us Not Amazon. "Please fight for a fair process instead of rubber-stamping a secret business deal that was made without Virginia residents in mind."
Lawmakers also heard from several speakers on both sides of the Equal Rights Amendment. After Illinois became the 37th state to pass the ERA last year, advocates for and against started targeting Virginia as the potential 38th state — the magic number needed to put the ERA over the top and add it to the Constitution.
Arthur Purves of the Fairfax County Taxpayers Alliance raised concerns that the ERA might "make men's and women's bathrooms unconstitutional." Many more speakers, though, said it was long past time for Virginia to join the other states that have approved the amendment.
"We have a historic opportunity this year to ratify the ERA and get it passed and include women in the Constitution of the United States as equal," said Shyamali Hauth, a veteran who is active in Democratic politics. "I ask you to do the right thing and ensure equality of rights under the law shall not be denied or abridged by the United States or by any state on account of sex — those are the exact words of the Equal Rights Amendment."