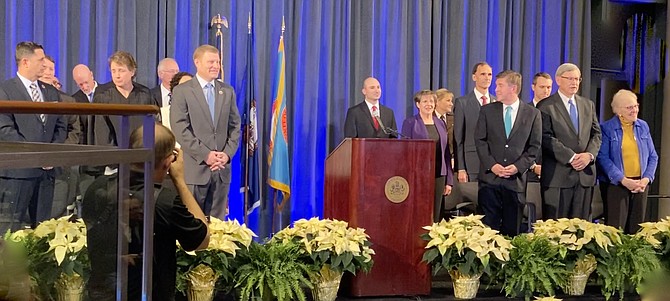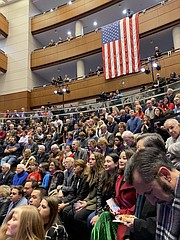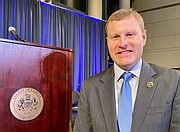 The Government Center auditorium was packed with well-wishers as Fairfax County's Board of Supervisors, Constitutional Officers, and Soil and Water Conservation District Directors took their oaths of office on Dec. 16.
Speaking to those gathered, new Board Chairman, Jeffrey C. McKay, touted Fairfax County's top ranking in most statistical categories. He said those positions were "rooted in two fundamental beliefs that have made us successful: one, being a welcoming and accepting community that accepts everyone regardless of their backgrounds; and two, investing in people, by providing first rate services including outstanding public schools, parks, libraries, safe communities, and sophisticated wrap around services for all of our residents."
The Board consists of nine supervisory districts and the Chair at-large position. Judge Penney S. Azcarate, Fairfax Circuit Court, administered the oath to:
Supervisors: Walter L. Acorn, Hunter Mill; John W. Foust, Dranesville; Penelope A. Gross, Mason: Pat Herrity, Springfield; Rodney Lusk, Lee; Dalia A, Palchik, Providence; Kathy L. Smith, Sully: Daniel G. Storck, Mount Vernon; and James R. Walkinshaw, Braddock;

Commonwealth's Attorney: Steve T. Descano

Sheriff: Stacey A. Kincaid

Northern Virginia Soil and Water Conservation Directors: Monica A. Billger, Chris E. Koerner, and Gerald Peters Jr.
McKay reflected he still embraces the motto sown on his high school shirt, "Advance always." He pledges that "we'll do just that. …view every decision …through an equity lens. Every community member in every corner of this County deserves an equal opportunity to succeed." He highlighted the areas of priority for the Board: affordable housing, combating climate change, transportation, public schools, and responsible budgeting. "Education has always been, and will always be our Board's number one priority."
McKay acknowledged the mentorship and leadership of outgoing Chairman Sharon Bulova, whom he described as his public service role model and close friend; and also, the role model provided by his high school government teacher, present in the audience.
Opening the event, U.S. Rep. Gerry Connolly, former Fairfax County Board Chairman, reminded the board members-elect, "Having the title is one thing, earning it is another. Successful local government is learning to satisfy the annoyed, without annoying the satisfied."
The elected officials took office on Jan. 1, 2020.